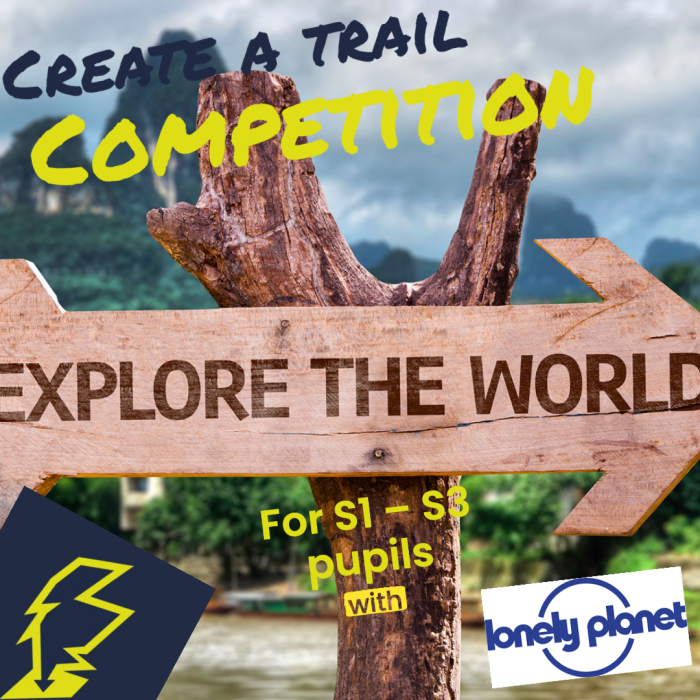 Love your town? Love your local area? Want to share your favourite experience, places to go, and the best places to eat?
Tell us all about it and you could win the chance to have your recommendations from a trail or tour on the Scotland Starts Here website which is seen by travellers worldwide. How awesome would that be?
That's not all, Lonely Planet has also kindly donated some of their world-renowned travel guidebooks and a chance to have a 1-to-1 Q&A with one of their team, your opportunity to ask all about what they do but also how they got there.
The Scotland Starts Here team will work with you to get your trail up on the website complete with your name. And we'll show you how we will market it to our global audience. You will have the opportunity to ask us questions about working in travel and tourism.
This is a great opportunity to get some skills FOR YOUR CV and find out about working in an amazing industry that is key to the Scottish economy.
If you were talking to a visitor to our amazing region where would you recommend people go? We are looking for a tour of a trail from a half day up to two days maximum.
It can be as fun and quirky as you like, but ideally, it would include no more than 4 attractions or activities in any one day (perhaps less if they were long activities like a long bike ride or walk) and of course the all important food and drink stops, you might want to include a few of those. Don't worry about where they stay, but if there is anything else, like a beautiful view or interesting building, they could see while they were following your trail then remember to include that. Oh and don't forget to give it a memorable or fun name!
Here is a trail we have built to give you some inspiration - Dark Skies Adventure
Remember the trail can be a day or even a half day around your town or village on foot or bike, it can be a driving route or even a horse-riding route over 2 days. There are so many options.
How to enter: Entries can only be accepted by our online form or by email. (If you are unable to submit in this format for any reason please talk to us at info@ssdalliance.com and we will see how we can help). Entries close at 12:00 pm on 21st August 2023. The winner will be notified within 3 weeks of the closing date.
Prize(s): The winner will win the opportunity to have their trail or tour featured on the Scotland Starts Here website and app under the itinerary section. Scotland Starts Here is THE destination guide to the South of Scotland, with over 70'0000 followers on social media and a busy website. The winner will also have the opportunity to talk to Tom Hall a Vice President at Lonely Planet UK about the opportunities in travel and tourism.
Eligibility criteria: The competition is open to S1 to S3 pupils in the Scottish Borders and Dumfries and Galloway. Entries are accepted from individuals or from teams of up to 4 people.
Judging process: The winner(s) will be chosen by a panel from SSDA staff and board members. This may involve a team vote, a panel of judges, or a combination of both.
Disqualification: Any trails or tours identified as being copies of any other trail or tour published electronically or in print.