SOUTH OF SCOTLAND SUPERCHARGED IS READY TO GO
The future success of our activity, campaigns and developing the South of Scotland into a leading first class destination relies on your business getting the absolute most from us as your DMMO for the South of Scotland.
Below you will see events that are currently in the calendar with more coming soon. Please note our events will be a combination of virtual webinars/workshops and where possible face to face due to the current circumstances.
Sign up today.

Package Travel & Linked Travel Arrangement Compliance
Friday 1st December @ 1:00 pm

-

2:00 pm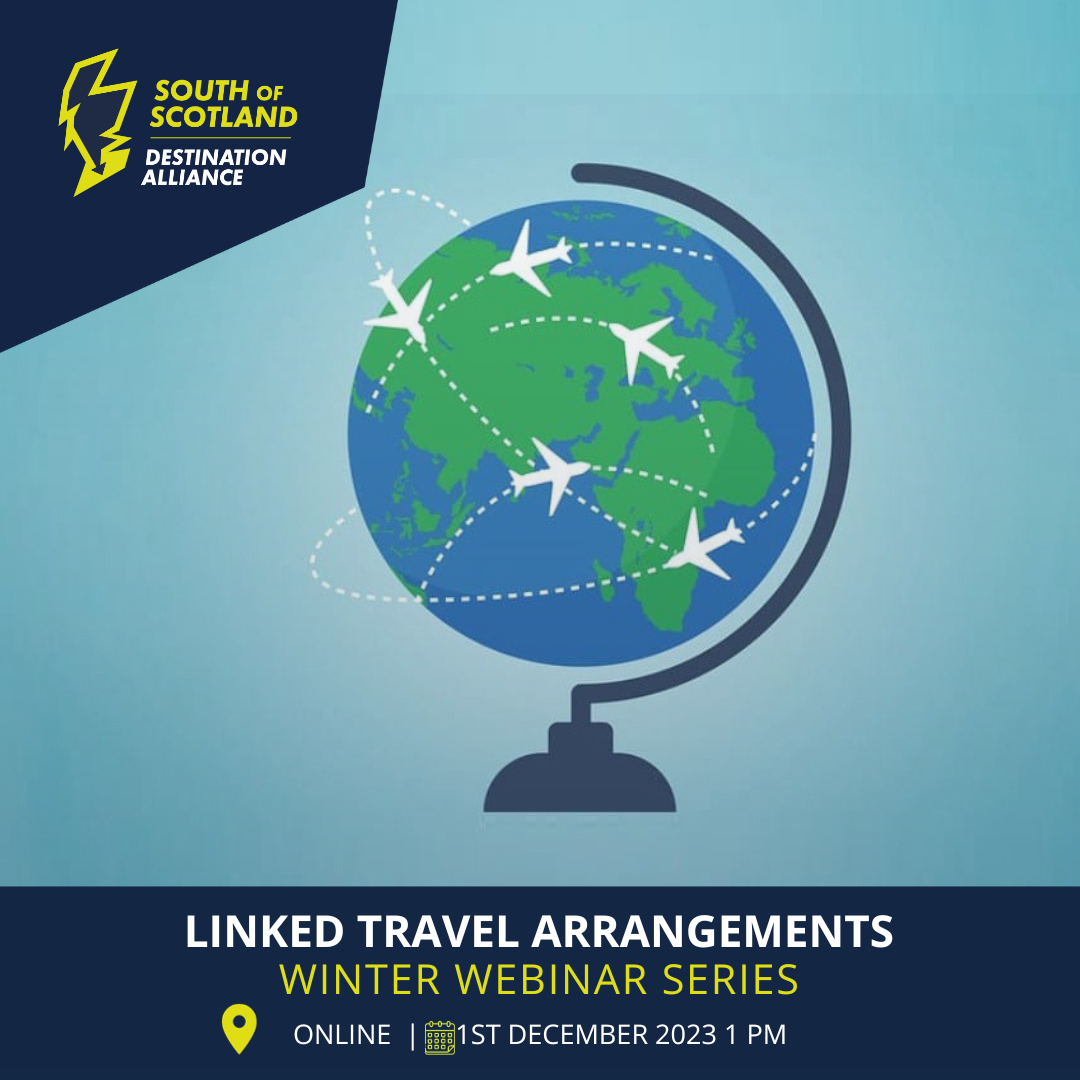 🌟 Package Travel & Linked Travel Arrangement Compliance: Join Our Exclusive Webinar on Package Travel Regulations🌟 
 In a busy tourism industry, staying abreast of regulations can be challenging, do you know if the current regulations affect you, or how proposed changes may open up new opportunities? If you are offering add-on and extras, the regulations may affect you.  
 That's why we invite you to an essential webinar on Package Travel & Linked Travel Regulations, featuring insights from industry experts Matt Gatenby, Senior Partner at Travlaw, Erika Miller, Package Travel Lead and Andrew Powell, Package Travel Advisor from the UK Government's Department for Business & Trade. 
 📅 Date & Time: Friday 1st December at 13:00hr 📍 Book Here: LINK  
 Why Attend? 
Current Regulations Decoded. Explore how these regulations could directly affect your business operations. From booking processes to customer communications.

 
Insights from Travlaw: Matt Gatenby, a leading authority in travel law, will dissect the proposed changes to the existing regulation. 

 
Government's Call for Evidence: Get a first-hand account from Andrew Powell and Erika Miller, representing the UK Government's Department for Business & Trade. Understand the current call for evidence on Package Travel Regulations and learn how your input can shape the future of industry compliance.

 
What are the Package Travel and Linked Travel Arrangements Regulations 2018
The Package Travel and Linked Travel Arrangements Regulations 2018 provide consumers with protections for two types of holiday booking – packages and linked travel arrangements (LTAs). Packages are formed of two or more elements (such as transport and vehicle hire) made under one booking. The Regulations place requirements on package holiday organisers, including that they will be responsible for the performance of all elements that make up the package.  
 An LTA is formed when a looser connection of travel services is purchased in relation to the same trip. The regulations require businesses to make clear at the time of booking whether an LTA is being purchased and what protections are associated with it.  Travellers who purchase LTAs do not benefit from the same rights that they would do if they bought a package. For instance, there is no requirement for any one party (such as the trader that facilitates the LTA) to be liable for the performance of all the travel services that are part of an LTA. This reflects the nature of an LTA as a looser booking of connected services.   
  The Department for Business and Trade launched a twelve-week Call for Evidence on the Package Travel Regulations 2018 on September 20th 2023, open until 13th December 2023. Please see Press Releaseand Package Travel Call for Evidence. 
  The Call for Evidence tests whether existing regulation is proportionate and effective. We are seeking views on the scope of the rules, including whether the same protections should be in place for international and domestic holidays and whether a minimum cost threshold for the rules to apply would make the regulatory burdens more proportionate.  We are also seeking feedback on areas where the regime could be clearer, such as by changing the approach to currently named "Linked Travel Arrangements" and how other tourist services form part of a package. Throughout the Call for Evidence, we are inviting views on how the rules have operated across the last five years, particularly through the Covid pandemic. This includes inviting views on whether reforms should be brought forward so the rules can work better for consumers and businesses when there are extreme extenuating circumstances.   
  Looking forward to engaging with you on this, and if anyone wants to reach out to us outside of the Webinar they can contact us on PackageTravel@businessandtrade.gov.uk 
Related Events