SOUTH OF SCOTLAND SUPERCHARGED IS READY TO GO
The future success of our activity, campaigns and developing the South of Scotland into a leading first class destination relies on your business getting the absolute most from us as your DMMO for the South of Scotland.
Below you will see events that are currently in the calendar with more coming soon. Please note our events will be a combination of virtual webinars/workshops and where possible face to face due to the current circumstances.
Sign up today.

Local Product Awareness Showcase – Webinar 1
26th January 2021 @ 3:00 pm

-

4:00 pm

Free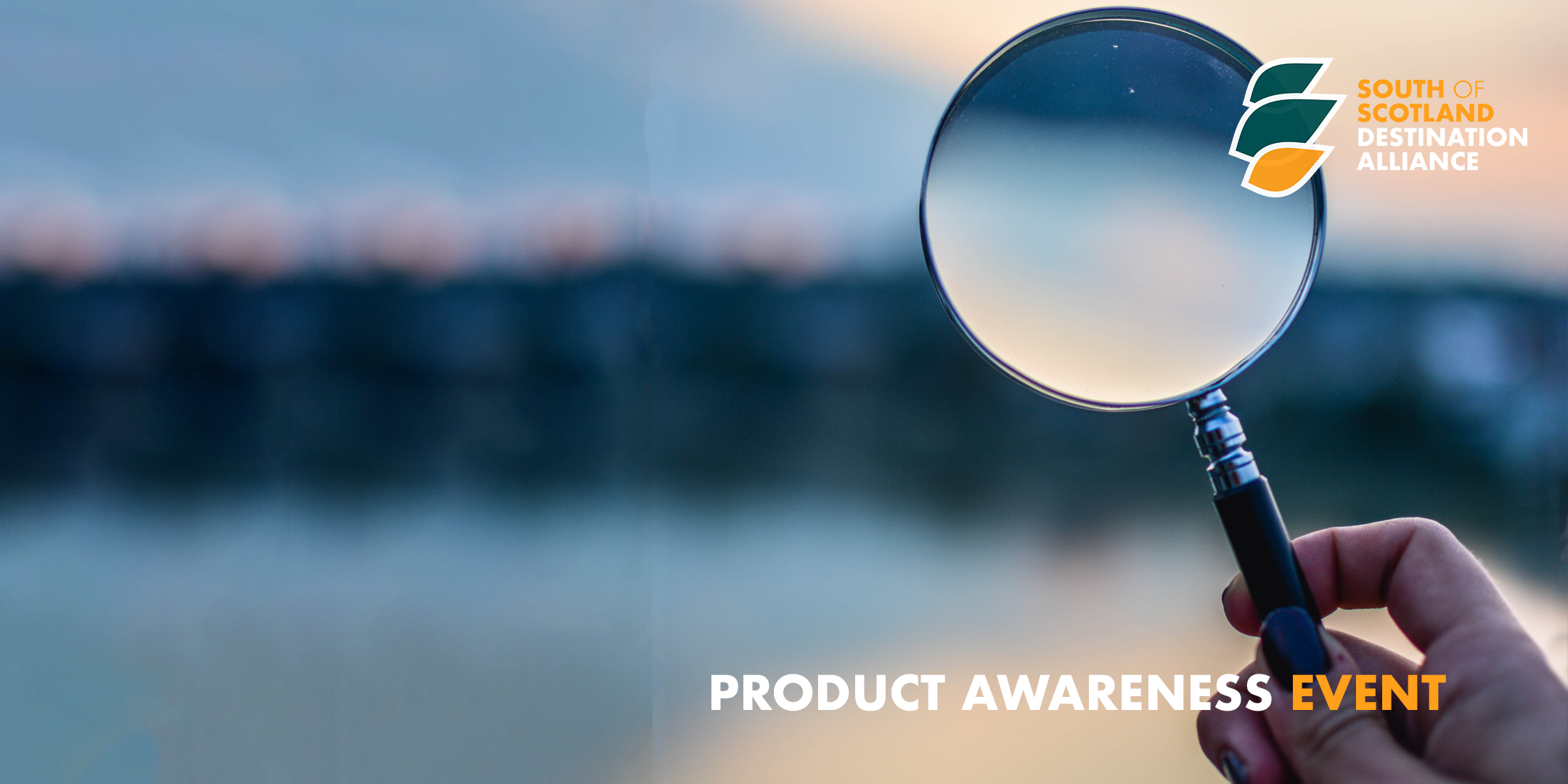 South of Scotland Destination Alliance (SSDA) are holding a series of virtual Local Product Awareness Showcase Webinars starting January 2021
The first of these events is on 26th January at 3-4pm.
Read more below and register today.
We have a fantastic panel of speakers lined up to give us insight into some outstanding businesses from across the South of Scotland Tourism community. Our speakers will kick start our Local Product Awareness Series, designed by the SSDA team to help strengthen the collective resilience of our region, encourage local collaboration, networking and help us all get to know each other a little better.
The panel of Speakers for this event are:
Abbotsford Trust, Giles Ingram – The Abbotsford trust are celebrating the 250th anniversary of Sir Walter Scott.
Cringletie, Will Heageland – Cringletie is a luxury 28-acre estate with hotel, fine dining, and extensive garden.
Dell Mar BnB, Susan Barker – Dell Mar BnB combines a homely and comfortable interior, with stunning natural beauty outside, a grand Victorian Bed and Breakfast that is the perfect place to relax and unwind, and to experience all that the ancient Spa town of Moffat has to offer.
Devils Porridge Museum, Judith Hewitt – The Devil's Porridge Museum is a 5-star rated attraction which regularly tops the list of things to do in Dumfries and Galloway on Trip Advisor
FishPal, Ann Woodcock – FishPal have everything you need to go fishing in the Scottish Borders
In Our Nature, Liza Cole – In Our Nature deliver nature tours, talks training and countryside advice on the Berwickshire Coast and surrounding areas.
Peebles Golf Course, Ross Duncan – Peebles Golf Club is one of the Scottish Borders premier golf clubs with a picturesque Harry Colt designed course overlooking the town and the Tweed Valley, a modern clubhouse, floodlit driving range and short game area.
St Abbs Charters, Sally Walsh – St Abbs Charters provide boat charter, diving, snorkelling and open water swimming at Berwickshire marine reserve, St Abbs.
The Whithorn Trust, Julia Muir Watt – The Whithorn Trust operates a museum and visitor centre which includes the earliest Christian monument in Scotland.
Windlestraw – John Matthews – Windlestraw is a small independently owned 5* Luxury hotel and 3 AA rosette restaurant.
Register today to learn more from these neighbouring businesses of the South, their latest news, and perhaps be inspired to create collaborative and innovative new partnerships, that could help you to sustainably grow visitor numbers and champion the South of Scotland Tourism community.
Please complete your registration by the 25th January at the latest.
Once registered, you will receive joining instructions for this virtual showcase 3 days before the event. Please note that there are only 2 places available per company and spaces should be registered in the name of the person attending. Spaces are allocated on a first come first serve basis, so booking is recommended ASAP.
We will be delivering future series based on needs and requirements. Participating in SSDA Product Awareness Showcase Webinars is a membership benefit that can help you to keep your business visible and your messaging current, as well as exposing you to potential new and innovative collaborative local partnership and growth opportunities; all of which will help strengthen the foundation of your markets. If you would like to have the opportunity to platform your business in this way and are not already a member, please consider our membership options available at no cost to you until June 2021, more details can be found here.
To make the most of all our events and training opportunities please keep an eye on our website here, where we will be adding new listings over the coming weeks, and where you can also find details of broader industry events that you may wish to take advantage of.
Should you have any additional questions please contact SSDA Development Agent and Project Coordinator –
Marianne Bailey – marianne@ssdalliance.com
We will also at this time update you on SSDA (South of Scotland Destination Alliance). Our ambition is to develop the region into a year-round, first class destination, growing tourism spend in the region to £1bn by 2030 and we need to work together to achieve this. From the outset, the SSDA programme is focused on supporting the tourism, leisure and hospitality industry and building our membership community across the region. Initially this will be focused on recovery post Covid-19, but will also include business, product and skills development programmes, travel trade programmes and consumer destination marketing campaigns. All with the aim of becoming self-sustainable through memberships, sponsorships, partnerships, and commercial agreements, within five years. You can read more about the SSDA here.
*Speakers may be subject to change depending on the current circumstances.
Related Events