SOUTH OF SCOTLAND SUPERCHARGED IS READY TO GO
The future success of our activity, campaigns and developing the South of Scotland into a leading first class destination relies on your business getting the absolute most from us as your DMMO for the South of Scotland.
Below you will see events that are currently in the calendar with more coming soon. Please note our events will be a combination of virtual webinars/workshops and where possible face to face due to the current circumstances.
Sign up today.

Local Product Awareness Showcase – Webinar 2
9th February 2021 @ 10:00 am

-

11:15 am

Free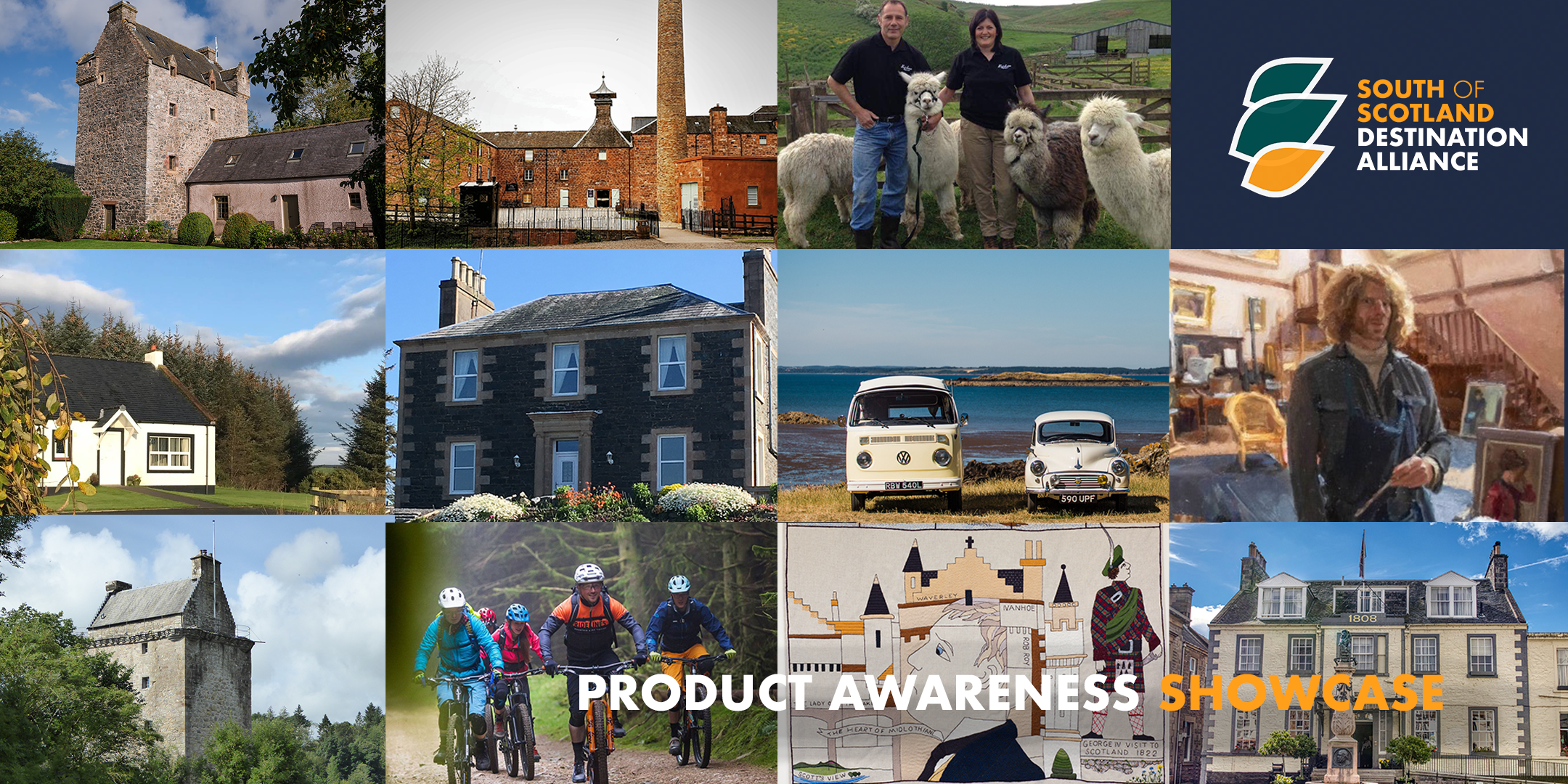 South of Scotland Destination Alliance (SSDA) are holding a series of virtual Local Product Awareness Showcase Webinars starting January 2021
The second of our events in this series is on 9th February between 10-11.15am.
Read more below and register today.
We have a fantastic panel of speakers lined up to give us insight into some outstanding businesses from across the South of Scotland Tourism community. Our speakers will continue our Local Product Awareness Series, designed by the SSDA team to help strengthen the collective resilience of our region, encourage local collaboration, networking and help us all get to know each other a little better.
The panel of Speakers for this event are;
Aikwood Tower, Vicki Steel – Aikwood Tower, a grade A-listed traditional Border Reiver Tower, is steeped with 500 years of history and medieval charm. It has been sensitively restored in a sumptuous 21st Century style to offer luxury self-catered accommodation with 5 en-suite bedrooms. Surrounded by the rolling hills, woodland trails and rivers of the Ettrick and Yarrow Valleys, Aikwood is perfectly placed for unique holidays, short breaks, weddings and special events.

Annandale Distillery, Andrew Nicholson – Producing single cask single malt whisky, established 1830. The iconic 5 Star visitor experience at the gateway to Dumfries & Galloway. Our authentic Scottish experience welcomes coach parties & independent travellers. Guests travel through tales of whisky since 1700 & enjoy an immersive Tour of the Distillery & whisky production. Taste award winning whisky in the Bonded warehouse. Superb Maltings Cafe in the original 1800's Malt House provides hospitality from an artisan menu. Combine your stay with fine dining at the world-famous Globe Inn (since 1610) in Dumfries, the 'howff' of poet Robert Burns.
Beirhope Alpacas, Lynne Jobes – Beirhope Alpacas offers visitors a variety of alpaca activities within the stunning surroundings of the Cheviot Hills.
Culmore Bridge Cottages, Jaqui Service – A Collection of three, sleep 6, Accessible cottages set in 9 acres of woodland close to the sea and beautiful Sandhead in the lovely Rhins of Galloway.
Fordbank House, Lesley Miller – Bed and Breakfast Guest House, in Galloway's beautiful countryside, within easy reach of the coast.
Gilknockie Tower, Ian Scott Martin – 16th century Scots Tower house recently repaired, complete with period furniture. Exhibition of Neil Alden Armstrong, Apollo 11 moon man, who visited March 1972. Ancestral home of the Armstrong family and an integral part of the Original Reiver Trail.
Kippford Classic Car Hire, Paul Ballamy – Classic car and camper hire- Self-drive classic car hire, Classic VW camper hire, Chauffeured wedding car hire.
Kirkcudbright Art Tours, Fiona Lee – Guided walk through the streets of historic Kirkcudbright, Scotland's Artist's Town, learning of the lives of the famous artists of the past and present.
Ridelines, Allan Doyle – Award winning Mountain Bike Tuition delivers everything from mountain bike skills courses to guided mountain bike rides.
The Great Tapestry of Scotland, Sandy Maxwell-Forbes – The new national Great Tapestry of Scotland gallery and visitor centre is where Scotland's story will begin when it opens in Galashiels this summer. Recently featuring in a number of national newspaper's as one of "the top 10 events for 2021", it is providing an opportunity to shine a global spotlight on the south of Scotland. Purpose built to house one of the world's longest tapestries telling 160 different stories of Scottish history, heritage and culture from millions of years BC to present day, the visitor experience will also host workshops, visiting exhibits and events.
The Tontine Hotel, Kate Innes – The hotel in the heart of Peebles. 36 bedrooms. Elegant Adam dining room. Bistro & Bar. Lounge. Function suite.
Register today to learn more from these neighbouring businesses of the South, their latest news, and perhaps be inspired to create collaborative and innovative new partnerships, that could help you both to sustainably grow visitor numbers and champion the South of Scotland Tourism community by working together.
Please complete your registration by the 8th February at the latest.
Once registered, you will receive joining instructions for this virtual showcase 3 days before the event. Please note that there are only 2 places available per company and spaces should be registered in the name of the person attending. Spaces are allocated on a first come first serve basis so booking is recommended ASAP.
We will be delivering future series based on needs and requirements. Participating in SSDA Product Awareness Showcase Webinars is a membership benefit that can help you to keep your business visible and your messaging current, as well as exposing you to potential new and innovative collaborative local partnership and growth opportunities; all of which will help strengthen the foundation of your markets. If you would like to have the opportunity to platform your business in this way and are not already a member, please consider our membership options available at no cost to you until June 2021, more details can be found here.
To make the most of all our events and training opportunities please keep an eye on our website here, where we will be adding new listings over the coming weeks, and where you can also find details of broader industry events that you may wish to take advantage of.
Should you have any additional questions please contact SSDA Development Agent and Project Coordinator –
Marianne Bailey – marianne@ssdalliance.com
We will also at this time update you on SSDA (South of Scotland Destination Alliance). Our ambition is to develop the region into a year-round, first class destination, growing tourism spend in the region to £1bn by 2030 and we need to work together to achieve this. From the outset, the SSDA programme is focused on supporting the tourism, leisure and hospitality industry and building our membership community across the region. Initially this will be focused on recovery post Covid-19, but will also include business, product and skills development programmes, travel trade programmes and consumer destination marketing campaigns. All with the aim of becoming self-sustainable through memberships, sponsorships, partnerships, and commercial agreements, within five years. You can read more about the SSDA here.
*Speakers may be subject to change depending on the current circumstances.
Related Events