SOUTH OF SCOTLAND SUPERCHARGED IS READY TO GO
The future success of our activity, campaigns and developing the South of Scotland into a leading first class destination relies on your business getting the absolute most from us as your DMMO for the South of Scotland.
Below you will see events that are currently in the calendar with more coming soon. Please note our events will be a combination of virtual webinars/workshops and where possible face to face due to the current circumstances.
Sign up today.

Local Product Awareness Showcase – Webinar 3
9th March 2021 @ 10:00 am

-

11:15 am

Free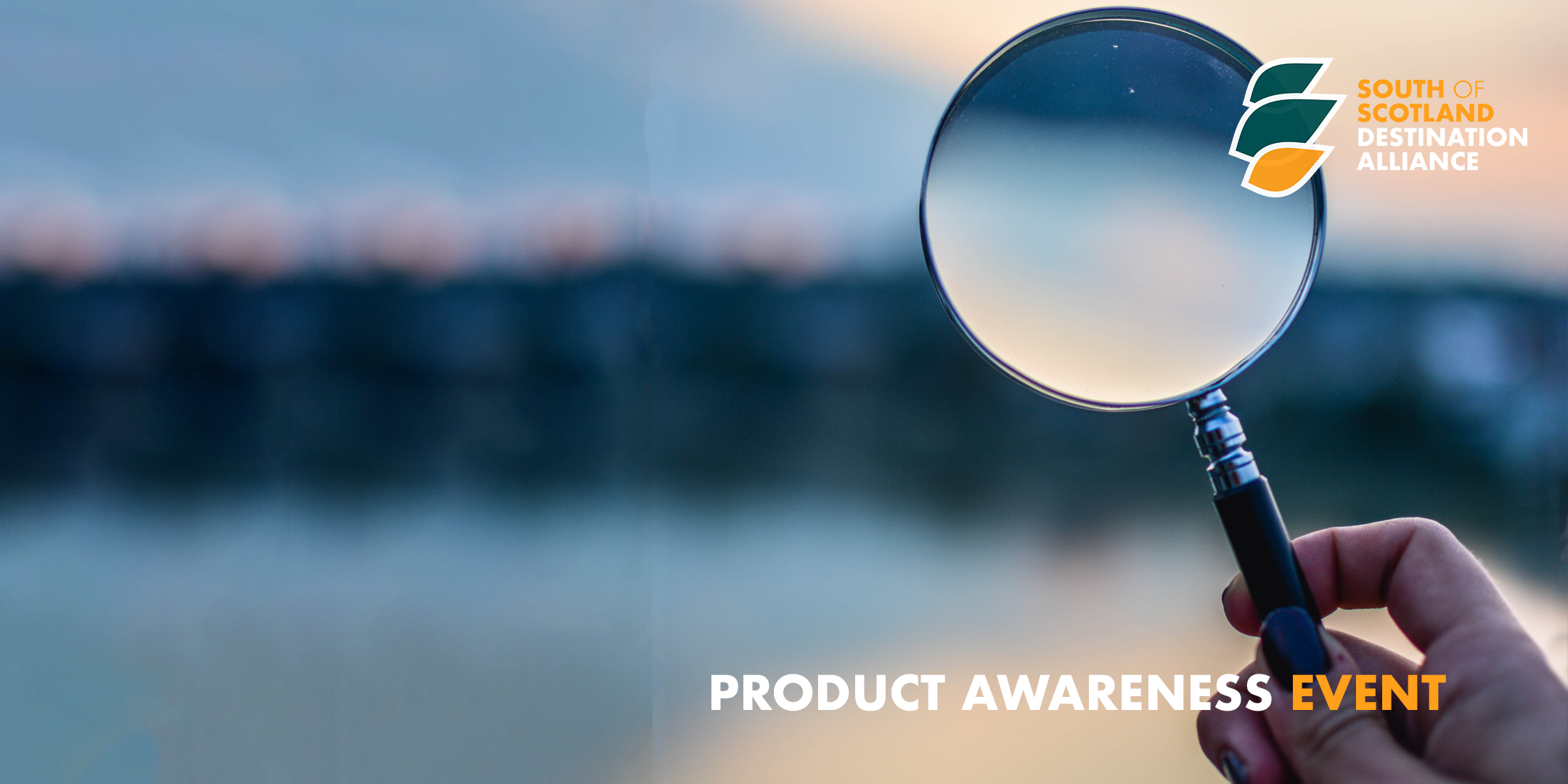 South of Scotland Destination Alliance (SSDA) are holding a series of virtual Local Product Awareness Showcase Webinars starting January 2021
The third of our events in this series is on 9th March between 10-11.15am.
Read more below and register today.
We have a fantastic panel of speakers lined up to give us insight into some outstanding businesses from across the South of Scotland Tourism community. Our speakers will continue our Local Product Awareness Series, designed by the SSDA team to help strengthen the collective resilience of our region, encourage local collaboration, networking and help us all get to know each other a little better.
The panel of Speakers for this event are as follows:
Dark Sky Spirits, Idy Davidson – Dark Sky Spirits is a boutique blender of Scotch Whisky. We make whiskies to spark conversations. Our flagship Whisky, the Moffat blended Malt Scotch, was released in 2018. Since then, we have bottled three new products in our Auld Special Edition range. The future of Dark Sky Spirits is the Moffat Distillery, which is currently being built. As one of the first stopping-off points for visitors from the South, we aspire to become Ambassadors of Scotch.
The Eastgate, Caroline Adams – The Eastgate is an innovative, energetic, and enterprising small charity at the heart of community life in the town of Peebles and its extensive rural hinterland in the Scottish Borders. It is an organisation that believes in the power of creative work to engage, excite, educate and inspire people of all ages and abilities; and works hard to bring artists, participants and audiences together to share experiences, exchange ideas, and enrich their understanding of the world. The Eastgate's year-round programme helps the local community to thrive both socially and economically, and contributes to a strong sense of local identity.
Eyemouth Rib Trips, Tim Grimshaw – Coastal boat trip in our 10m rigid inflatable along the wonderful Berwickshire coast, visiting St Abbs Harbour and and St Abbs Head seabird breeding site. Frequent wildlife spotting, and for the thrill seeker, a 30 min Fast Blast trip, flying over the wave tops at up to 40mph.
Famously Hawick, Fiona Drane – For the finest collection of premium Scottish products, there's only one town to visit. Hawick in the Scottish Borders has a rich manufacturing heritage and an international reputation for producing quality goods. From the 'Home of Tweed' and some of the best cashmere and knitwear producers in the world today to the first whisky distillery to open in the Scottish Borders since 1837. This special collection of weavers, knitters and distillers are all located between the four bridges of Hawick, and quite simply, nowhere else will you find such a wide range of premium Scottish products all made in the same town. Made here. Sold here. Unmissable.
The Five Turrets, Gethin Chamberlain – Glamorous exclusive use self-catering property at the heart of the Scottish Borders.
Gilknockie Tower, Ian Scott Martin – 16th century Scots Tower house recently repaired, complete with period furniture. Exhibition of Neil Alden Armstrong, Apollo 11 moon man, who visited March 1972. Ancestral home of the Armstrong family and an integral part of the Original Reiver Trail.
Gretna Green Ltd., Kevin Stewart – Founded in 1885, Gretna Green Ltd has been a family business for over 130 years. Beginning with the Famous Blacksmiths Shop at Gretna Green, renowned for its romantic history as a haven for runaway lovers since 1754, the Gretna Green Brand continues to be a popular wedding destination for couples from across the globe. The business is now a multi-award winning 5-star visitor attraction, accommodation provider and shopping destination. Developed to include three hotels, a suite of wedding venues, museum, unique retail and hospitality offer and global e-commerce store.
The Love Bug, Linny Oliphant – South West Scotland's Classic VW Company with Tours division.
Nithbank Country Estate, Melanie Allen – Nithbank Country Estate is an Award winning 5-star Country House B&B set in secluded grounds, and combines the personal service of a luxury hotel with the freedom and privacy of home. Nithbank was awarded Scotland's Best B&B at the Prestige Hotel Awards 2020. Nithbank Country Estate is located within the Galloway and Southern Ayrshire UNESCO Biosphere.
TrailSkills MTB Coaching and Guiding, Liz Peacock – TrailSkills MTB Coaching and guiding provides mountain bike lessons to individuals or groups of all ages. Guided mountain bike experience days are also available, to make the most of the awesome array of trails in the Dumfries and Galloway region.
Register today to learn more from these neighbouring businesses of the South, their latest news, and perhaps be inspired to create collaborative and innovative new partnerships, that could help you both to sustainably grow visitor numbers and champion the South of Scotland Tourism community by working together.
Please complete your registration by the 8th March at the latest.
You will receive joining instructions to access this virtual showcase within the registration confirmation, this will be in the form of a Zoom link to be used on the day. Please note that there are only 2 places available per company and spaces should be registered in the name of the person attending. Spaces are allocated on a first come first serve basis so booking is recommended ASAP.
We will be delivering future series based on needs and requirements. Participating in SSDA Product Awareness Showcase Webinars is a membership benefit that can help you to keep your business visible and your messaging current, as well as exposing you to potential new and innovative collaborative local partnership and growth opportunities; all of which will help strengthen the foundation of your markets. If you would like to have the opportunity to platform your business in this way and are not already a member, please consider our membership options available at no cost to you until June 2021, more details can be found here.
To make the most of all our events and training opportunities please keep an eye on our website here, where we will be adding new listings over the coming weeks, and where you can also find details of broader industry events that you may wish to take advantage of.
Should you have any additional questions please contact SSDA Development Agent and Project Coordinator –
Marianne Bailey – marianne@ssdalliance.com
We will also at this time update you on SSDA (South of Scotland Destination Alliance). Our ambition is to develop the region into a year-round, first class destination, growing tourism spend in the region to £1bn by 2030 and we need to work together to achieve this. From the outset, the SSDA programme is focused on supporting the tourism, leisure and hospitality industry and building our membership community across the region. Initially this will be focused on recovery post Covid-19, but will also include business, product and skills development programmes, travel trade programmes and consumer destination marketing campaigns. All with the aim of becoming self-sustainable through memberships, sponsorships, partnerships, and commercial agreements, within five years. You can read more about the SSDA here.
*Speakers may be subject to change depending on the current circumstances.
Related Events