SOUTH OF SCOTLAND SUPERCHARGED IS READY TO GO
The future success of our activity, campaigns and developing the South of Scotland into a leading first class destination relies on your business getting the absolute most from us as your DMMO for the South of Scotland.
Below you will see events that are currently in the calendar with more coming soon. Please note our events will be a combination of virtual webinars/workshops and where possible face to face due to the current circumstances.
Sign up today.

Local Product Awareness Showcase – Webinar 4
13th April 2021 @ 10:00 am

-

11:15 am

Free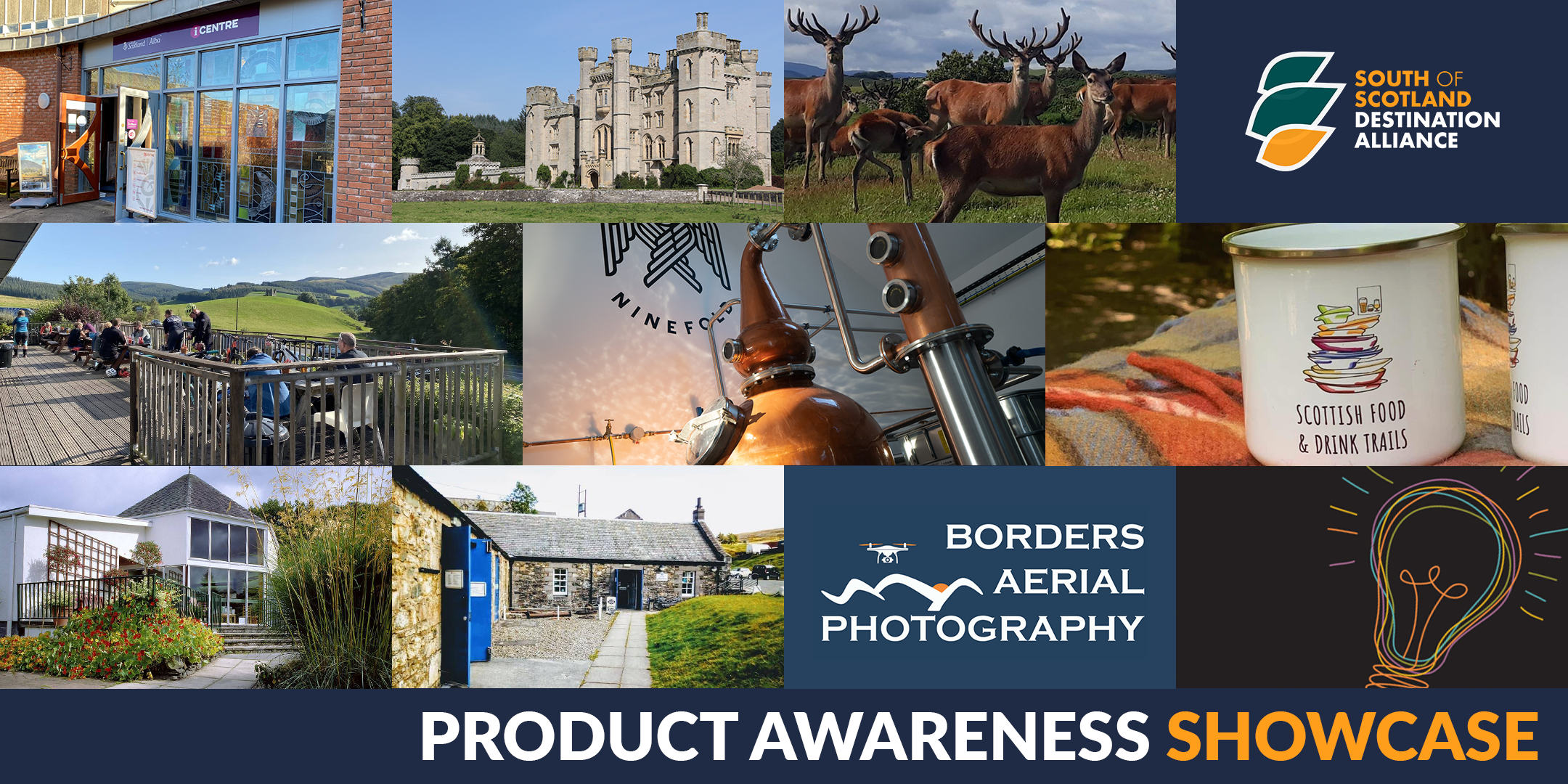 South of Scotland Destination Alliance (SSDA) are holding a series of virtual Local Product Awareness Showcase Webinars starting January 2021
The fourth of our events in this series is on 13th April between 10-11.15am.
Read more below and register today.
We have a fantastic panel of speakers lined up to give us insight into some outstanding businesses from across the South of Scotland Tourism community. Our speakers will continue our Local Product Awareness Series, designed by the SSDA team to help strengthen the collective resilience of our region, encourage local collaboration, networking and help us all get to know each other a little better.
Register today to learn more from these neighbouring businesses of the South, their latest news, and perhaps be inspired to create collaborative and innovative new partnerships, that could help you both to sustainably grow visitor numbers and champion the South of Scotland Tourism community by working together.
The panel of Speakers for this event are as follows:
Visit Scotland iCentres, Jackie Hill & Andrew Robertson – National Tourism organisation – focussing today on iCentres in Jedburgh and Dumfries
Duns Castle, Aline Hay – Duns Castle is a unique 14th century exclusive use venue, welcoming guests from around the world to the Scottish Borders. Home to the Hay family since 1696, the castle has 12 bedrooms and sits within a private 1,800-acre estate with its own lake and extensive woodland. There are 5 additional holiday cottages on the estate sleeping 2 – 8. Make your stay complete with outdoor activities including croquet, clay pigeon shooting, off road driving, mini highland games, and falconry. Duns Castle is an ideal venue for weddings, events, parties, and filming/photo shoots.
Gledpark, Rupert Shaw – UNESCO Biosphere Certified, Assured Park Venison Producer offering Safari tours of 'wild plus' Red Deer Enterprise.
Glentress Hotel, Murray Nisbet – The Glentress Hotel is based at the bottom of Glentress Forest with great views, locally sourced food and drink and a licensed bar.
Ninefold Distillery, Kit Carruthers – Ninefold Distillery is the South of Scotland's first and only rum distillery, making small batch artisanal rums from scratch. The distillery offers a range of unaged, spiced and barrel aged rums, all made on site using sugar cane molasses. The distillery also gives guided tours, including rum tastings and cocktails.
Scottish Food and Drinks Trails, Isobel MacEwan – Unique Private Food and Drink Tours and Experiences
Threave Garden& Estate, Michelle Robertson – NTS Threave Garden, a garden for all seasons and a haven for wildlife, with an osprey platform and bat reserve. The only Scottish garden dedicated to the training of horticulturists, home of the school of Heritage Gardening since 1960. Discover the unique garden design where each 'garden room' showcases a different gardening style and planting scheme.
Wanlockhead Museum Trust, Kate Linsell – Heritage visitor attraction representing the historic social and industrial history of the Wanlockhead and Leadhills lead mining community.
Borders Aerial Photography, Mark Field – Aerial photography and video.
Bright Light Marketing, Fiona Drane – Bright Light Marketing are a South of Scotland based marketing company, with a strong knowledge of the South of Scotland, working with communities and businesses to maximise their current and future potential.  We are passionate about the South of Scotland and the potential tourism has for the area. Before setting up Bright Light Marketing in 2007 we all worked for both VisitScotland, Edinburgh and Lothians Tourist Board and the Scottish Borders Tourist Board.  Fiona Drane is also a fellow of the Chartered Institute of Marketing.  One of the founding members of Scotland Hour on Twitter and still part of the team today.
Please complete your registration by the 12th April at the latest.
You will receive joining instructions to access this virtual showcase within the registration confirmation, this will be in the form of a Zoom link to be used on the day. Please note that there are only 2 places available per company and spaces should be registered in the name of the person attending. Spaces are allocated on a first come first serve basis so booking is recommended ASAP.
We will be delivering future series based on needs and requirements. Participating in SSDA Product Awareness Showcase Webinars is a membership benefit that can help you to keep your business visible and your messaging current, as well as exposing you to potential new and innovative collaborative local partnership and growth opportunities; all of which will help strengthen the foundation of your markets. If you would like to have the opportunity to platform your business in this way and are not already a member, please consider our membership options available at no cost to you until June 2021, more details can be found here.
To make the most of all our events and training opportunities please keep an eye on our website here, where we will be adding new listings over the coming weeks, and where you can also find details of broader industry events that you may wish to take advantage of.
Should you have any additional questions please contact SSDA Development Agent and Project Coordinator –
Marianne Bailey – marianne@ssdalliance.com
We will also at this time update you on SSDA (South of Scotland Destination Alliance). Our ambition is to develop the region into a year-round, first class destination, growing tourism spend in the region to £1bn by 2030 and we need to work together to achieve this. From the outset, the SSDA programme is focused on supporting the tourism, leisure and hospitality industry and building our membership community across the region. Initially this will be focused on recovery post Covid-19, but will also include business, product and skills development programmes, travel trade programmes and consumer destination marketing campaigns. All with the aim of becoming self-sustainable through memberships, sponsorships, partnerships, and commercial agreements, within five years. You can read more about the SSDA here.
*Speakers may be subject to change depending on the current circumstances.
Related Events