SOUTH OF SCOTLAND SUPERCHARGED IS READY TO GO
The future success of our activity, campaigns and developing the South of Scotland into a leading first class destination relies on your business getting the absolute most from us as your DMMO for the South of Scotland.
Below you will see events that are currently in the calendar with more coming soon. Please note our events will be a combination of virtual webinars/workshops and where possible face to face due to the current circumstances.
Sign up today.

Unlocking Success: Mastering Funding and Sponsorship for Your Events
Wednesday 15th November @ 10:00 am

-

1:00 pm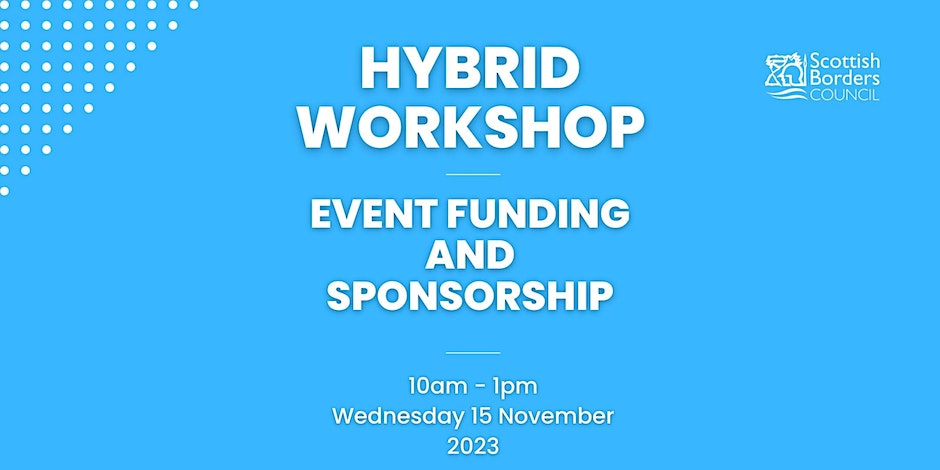 Scottish Borders Council is launching a series of workshops to share best practice and information with the local events and festivals industry, for event organisers aiming to create unforgettable experiences that leave a lasting impact on our communities and visitors alike.  You are invited to join us for a hybrid workshop that demystifies event funding and sponsorship.
With the financial pressures being experienced by the events and festivals industry, understanding the intricacies of financing and partnership acquisition has never been more crucial. A line-up of speakers will be announced soon. In the meantime, please reserve your place and hold the date in your diary.
Aims of the workshop:
Fuel Your Vision: To make your event dreams a reality, you need resources. Whether you're planning a cultural festival, a musical extravaganza, or a community gathering, securing the right funding can turn your vision into a reality.
Elevate Your Event: Sponsorship can elevate your event to new heights. It's not just about financial support; it's about creating meaningful partnerships that enhance your event's reach, reputation, and overall impact.
Thrive and Grow: In a competitive events landscape, staying ahead requires adaptability and innovation. Learning best practices in funding and sponsorship will empower you to thrive, grow, and ensure the sustainability of your events for years to come.
Our workshop will feature industry sponsorship experts, marketing strategists and funding providers. They will share their invaluable insights, practical strategies, and proven techniques to help you target the funding and sponsorship you need and take your event to the next level.
Don't miss this opportunity to connect with like-minded organisers and contacts from Scottish Borders events and festivals industry.
Related Events