Beyond the offerings of our Core Membership, this level offers a quarterly opportunity to be promoted across our social media channels, a feature on our experience finder (which is a popular tool amongst locals and visitors alike), and complimentary passes to our annual conference. In addition, you'll be able to showcase your business on our listings page, have the opportunity to present your organisation at our product awareness webinars, and gain discounts across digital marketing activity, training and more. This membership brings you into our organisation as a key partner, including an annual CEO check-in to ensure you're getting the most out of your experience.
Some of our partner members
Some of our partner members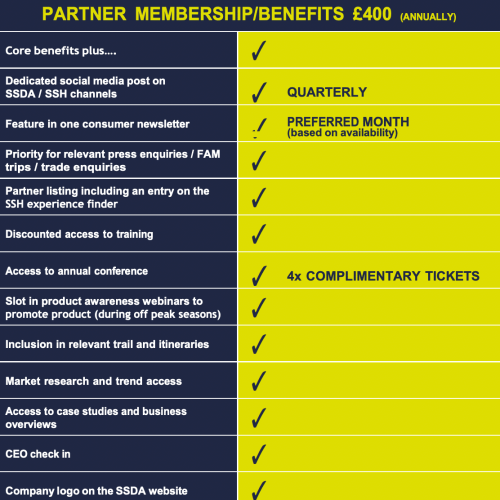 BECOME A MEMBER OF THE SSDA
We'd love to have you join as a member, which will bring a host of tangible benefits to individual businesses, suppliers and social enterprises.
SSDA believe that working together collaboratively is the best way to secure the most opportunities for our members. Join our growing network to be a part of a community, where you'll receive ongoing support, the opportunity to learn
and hear from industry experts and peers, reach audiences outside the scope of your regular marketing activity, gain access to specific data, trends, and insights allowing you to make better informed business decisions and much more.
Any business can join SSDA and start receiving immediate benefits, but more importantly, substantial long term benefits to your business and the region.
Becoming a member doesn't just benefit you or your business, it helps to develop and support the wider business community and the region as a whole.