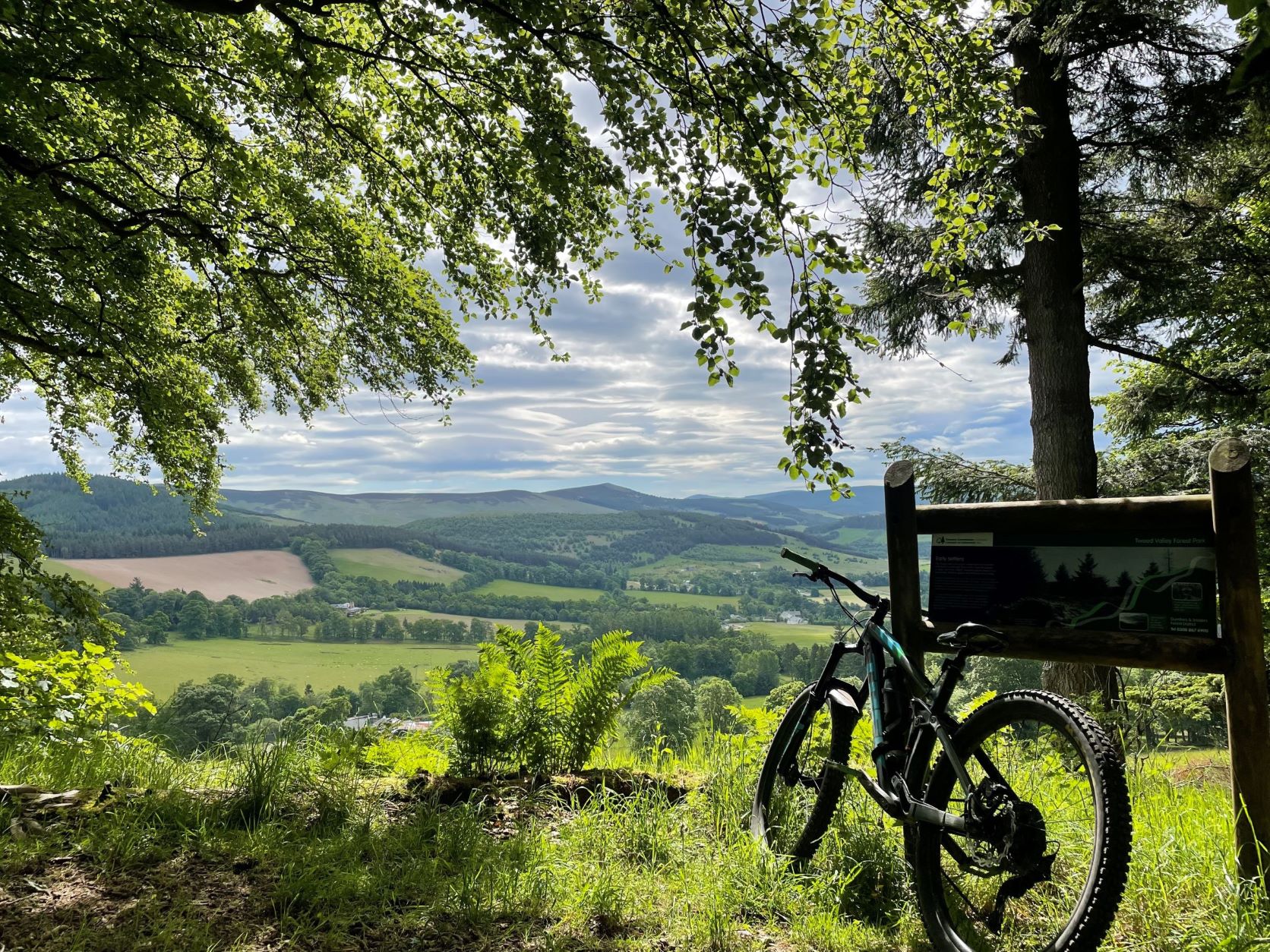 Borders businesses and residents are being encouraged to create window displays and land and roadside art to welcome the 2023 UCI Cycling World Championships to the Scottish Borders.
 The Championships are taking place in Glasgow and across Scotland, with the mountain bike cross-country events being held at Glentress Forest and the Tweed Valley in early August.
 Businesses and farmers, landowners and residents across the area are being asked to come up with eye-catching creations, large and small, in support of what will be the world's biggest cycling event ever.
Businesses can enter a Borders-wide window dressing competition, with the winner receiving a week of advertising on Greatest Hits Radio (Scottish Borders and North Northumberland) worth over £500.
To take part, all you have to do is:
Decorate a window at your business premises based on a cycling or the UCI World Champion rainbow jersey theme
Complete a short online entry form, uploading an image of the window display before midnight on Monday 31 July. The form can be accessed through the business information pages at www.scotborders.gov.uk/cyclingworlds
Keep your window dressed until Sunday 13 August to enable in-person judging of shortlisted entries
Creative, TV-catching ideas
From cycling scarecrows to decorated bikes and even banners welcoming the Championships, there are lots that individuals and communities can do to help make our area stand out in the worldwide television coverage and for visitors to the Scottish Borders.
Councillor Scott Hamilton, Scottish Borders Council's Executive Member for Community and Business Development, said: "The 2023 UCI Cycling World Championships are going to attract an enormous worldwide audience through TV coverage and we are also expecting thousands of visitors to the area too, with many likely to be exploring beyond just the Tweed Valley where the racing takes place.
"I'd encourage people to get creative and help us to welcome the competitors and visitors and make our area really stand out, both along the short road sections of the marathon route but also right across the Scottish Borders.
"Hosting the 2023 UCI Cycling World Championship is an incredible honour for the Scottish Borders and we want our communities, businesses and residents to maximise the opportunities and benefits that are created by it, and most of all, enjoy it."
All the mountain bike cross-country events take place in Glentress Forest, with the exception of the marathon, which also covers a number of the local forest trails. The route, which will start at Traquair House, will take the riders through Traquair, Yair and Elibank forests before crossing the A72 at Walkerburn. The route then heads back on to forest trails before a short road section along the B709 Granites road to the north end of Glentress Forest. The riders will snake through and down the forest to the finish line.
Information for businesses and residents can be found at www.scotborders.gov.uk/cyclingworlds including a local business guide and links to toolkits to help support and promote the Championships. Further local information can also be found at www.glentress2023.com