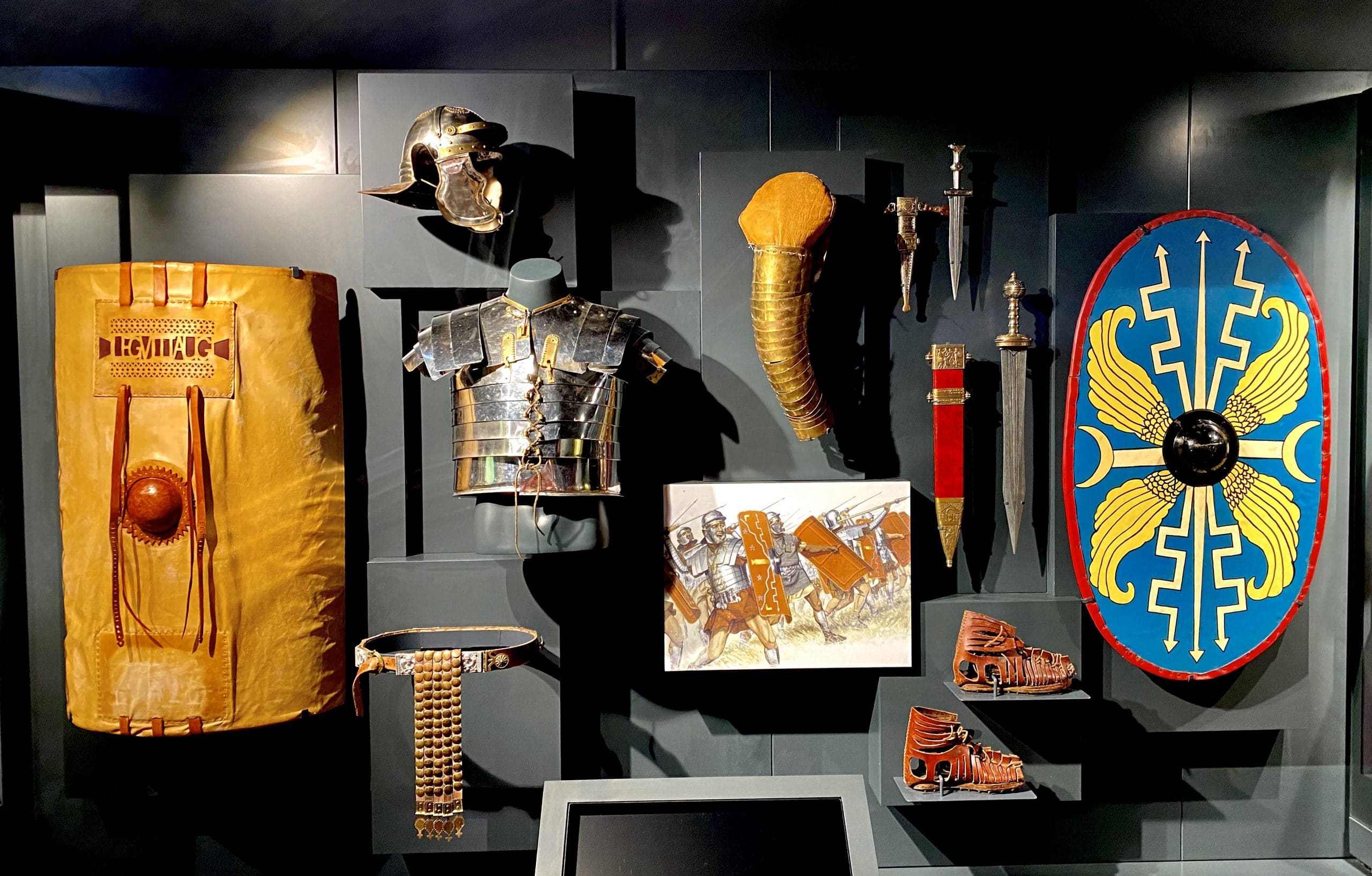 On 2nd August 2021  the new Trimontium Museum will open its doors on one of the finest collections of Roman military objects on display anywhere in the UK. This remarkable achievement by the Trimontium Trust is the end result of many years of dedication, hard work, fundraising and meticulous planning.
Expert professional support and funding has been critical in the success of this £1.4 million project from multiple organisations including, National Lottery Heritage Fund, Scottish Borders Council, Live Borders, South of Scotland Enterprise, Scottish Government, National Museums Scotland & Museums and Galleries Scotland.
Contractors have worked their magic on the Ormiston building, transforming the old museum space into a modern gallery worthy of both the objects on display and the story being told, while curatorial and other museum professionals have reinterpreted and redisplayed the stunning objects on loan from the National Museum in Edinburgh, the Scottish Borders Council and beyond.
The story of the most important Roman fort north of Hadrian's Wall is fundamentally intertwined with the history of the indigenous people who shaped the landscape for centuries before the Roman invasion, and who for more than three hundred years alternately collaborated with then resisted the might of the world's first superpower.
Alongside aspects of the Roman occupation that are well understood are riddles revolving around the constant cycle of construction, occupation & destruction of this enigmatic Roman fort. There is the puzzle of the many pits discovered at the Trimontium fort site, over one hundred of them, containing all kinds of Roman material from skulls and bones to armour and weapons, helmets and swords to everyday cooking utensils and personal objects. Why the Romans should abandon and conceal so much valuable material on their departure remains one of the enduring mysteries of the site.
This story has been interpreted through a strong and mutually beneficial partnership with National Museums Scotland and supplemented by collections from Live Borders and our own collections. These, alongside loans from private benefactors support our claim that here in Melrose we have one of the finest collections of Roman-period militaria on display anywhere in the UK.
The museum has a new online booking system, and also allows for drop-in visitors. The Trust runs guided fort and town trail history walks and a series of online talks. More information about these and other associated events and activities focusing on archaeology and the local heritage landscape can be found on the museum website www.trimontium.co.uk
…………………………………………………………………………………………………………………………………………………………….
"Live Borders is delighted to welcome the opening of Trimontium as a new visitor attraction to the Borders. Live Borders sees the phased re-opening of a number of our museums this month, and the launch of Trimontium adds an exciting addition to the regional visitor experience. We look forward to working with Trimontium to develop an exciting joined up visitor experience across all our museums, galleries and archives."
Shona Sinclair, Curator – Live Borders
……………………………………………………………………………………………………………………………………………………………
"The opening of this wonderful, revitalised museum, supported by funds from National Lottery players, will showcase our fascinating Roman past and bring new visitors to the Borders, boosting the area's tourism economy.  We congratulate all involved in this impressive project, which will enable so many more people to enjoy and learn about this important part of our history. We particularly recognise and appreciate the commitment and expertise of the many dedicated volunteers who have driven this project forwards over the years to create this success."
Caroline Clark, Director Scotland, The National Lottery Heritage Fund
……………………………………………………………………………………………………………………………………………………………
"It is fantastic news that this expanded and refurbished museum will reopen next month and I am delighted that the Council was able to support this project through financial and in-kind support. The reopening comes at a crucial time in our region's recovery from the Covid-19 pandemic, with tourism able to drive significant economic benefits in our towns and villages across the Scottish Borders."
Councillor Euan Jardine, Scottish Borders Council Executive Member for Culture, Sport & Wellbeing
…………………………………………………………………………………………………………………………………………………….
"The new Trimontium Museum is a shining example of the energy and passion of trustees, patrons and volunteers who have worked for many years to share this important period of our history with the wider public. We are delighted to have been supported in this venture by our partners and funders without whom this would never have been realised. We look forward to welcoming visitors from near and far to experience the treasures and mysteries of our past."
Dr John Reid, Chairman, Trimontium Trust.
…………………………………………………………………………………………………………………………………………………………….
"We congratulate all at Trimontium on achieving this milestone after exceptional hard work by the volunteers there. It has been our pleasure to collaborate with the Trust in the conservation, interpretation, and loan of over 200 items from our collection as part of our ongoing National Programme. Trimontium was one of the key sites in Roman Scotland, and its story is one of European significance. This new display tells its tales in exciting new ways, with spectacular finds. We look forward to further collaboration with the Trust as they continue delivering on their ambitious plans"
Dr Fraser Hunter, Principal Curator, Prehistory & Roman Archaeology at National Museums Scotland.