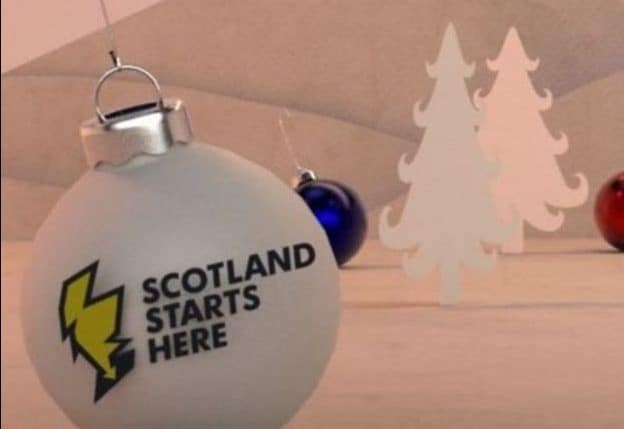 Christmas Starts Here
It's the most wonderful time of the year!
Things have been busy for the team: We have been working behind the scenes to shine a light on the South of Scotland at a time when it's needed more than ever.
Read more below on our Christmas campaign, new events and plans for 2021.
Thank you for your incredible support! We wish you and your loved ones a wonderful Christmas and a successful holiday season when it arrives. We look forward to working with you all in 2021 – a better year for all on the horizon.
CHRISTMAS STARTS HERE
We are excited to reveal our Christmas campaign 'Christmas Starts Here'! From the 1st to the 24th of December, website visitors will have the chance to bag a range of exclusive offers by local tourism businesses. All offers are available on day one, and only available through Scotland Starts Here.
Get involved by spreading the word, using #ChristmasStartsHere and sharing our campaign video from tomorrow – more info will be available on Scotland Starts Here and the SSDA website shortly.
To make the season even more festive, we are also running a Christmas Competition. Six individual prizes are up for grabs, each promising fantastic days – and even weekends – out in South Scotland.
CHRISTMAS CONTENT
In addition to our stunning Advent Calendar, we are creating a series of three blog posts on Scotland Starts here. Our roundup of local Christmas events has already gone live, and we welcome input for the following:
Getting into the festive spirit with local walks, decorated towns and attractions, seasonal treats and dining, and online experiences
Local gift guide to South Scotland, with a special focus on supporting small and independent businesses
Get in touch with our Digital Marketing Coordinator Vanessa to submit ideas.
STERG SURVEY – WE NEED YOUR INPUT
STERG is conducting research with tourism businesses to monitor the effects of COVID-19 on our industry to provide insightful information about your current and future support needs.
Please take 10 minutes of your time to complete this new survey. The more businesses that take part, the more useful the information will be. STERG are especially looking for responses from the hotel sector so if you run a hotel, we'd appreciate your time.
The survey will close on 6 December 2020.
WHAT ELSE IS HAPPENING:
We are busy preparing for Dumfries & Galloway's integration into Scotland Starts Here, launching March. As part of this we are:
Creating and adding new functions to the Scotland Starts Here website
Adding businesses from D&G to the website and app
Growing our databases to share with trade and industry partners
Developing and sharing new content such as blogs and social media assets
Working with our developers and partners behind the scenes
So much more! Keep an eye out for more updates.
JOIN OUR NEW SUPPLIER DATABASE
We are building a new supplier database to improve the local supply chain in South Scotland.
Do you provide services and products to tourism businesses in the South of Scotland? Sign up as a supplier today and our team will be in touch.
CALL FOR CONTENT
To promote our destination, we need great images, videos and stories – and your help!
We are building a content database with photos, videos, songs, stories and more to share your products with the world. Send us your high quality media files to be part of it.
You can find the full requirements, release forms and help on how to send across your files on the SSDA website.
CALL FOR DRIVING ROUTES
As part of the new content we are developing for Scotland Starts Here, we are looking for input on driving routes. Whether it's a coastal day out, a circular of picturesque towns or a leisurely drive following in the footsteps of a local icon, we want to hear about it!
Email us your suggestions and we will feature the best ones on the Scotland Starts Here website and app.
NEW EVENT SERIES
January to March will see the launch of a new series of events to support tourism businesses in the destination. The events will cover:
Digitalisation – Including Social Media, Online Bookability, Content Development and more
Product Awareness Sessions
Package Regulation Webinar
Trade Workshop Series 2
Interactive Speed Networking
Themed Workshops
And more!
Keep an eye on our website and social media for date announcements and further details.
WHAT'S OPEN
VisitScotland have put together handy guides on winter openings in South Scotland. Check the documents below for more information.
NEW TEAM MEMBER
Meet our Digital Marketing Coordinator
Earlier this month, Vanessa Wegstein joined us as Digital Marketing Coordinator from her previous role at MBTAG. She will be looking after our digital communications on social media, the website, through newsletters and beyond. Got ideas for a collaboration?
To read our latest newsletter please click the link below, and don't forget to subscribe to our newsletters;
SSDA November Update – Christmas Starts Here