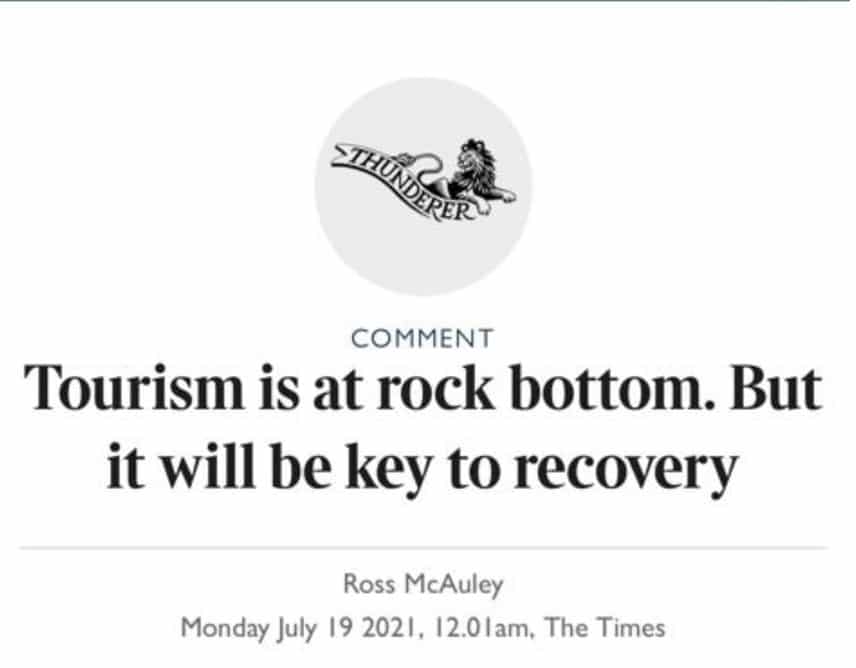 The SSDA is driving forward the national tourism agenda. In a recent article in The Times our CEO wrote about the importance of tourism to the national recovery and the fantastic opportunities it affords from a career perspective. What is needed is a change in approach so that tourism is pushed up the national agenda. 
Time to Change the Way We Think About Tourism
Many tourism and hospitality businesses are on their knees – emotionally and financially drained. A recent survey claimed, ten per cent of Scotland's hotels may never re-open – burdened with debt and short of staff.
Yet rock bottom could be a foundation to re-build a world leading sustainable tourism industry at the sharp point of a national economic recovery.  But only if we change our approach to a sector which did account for 1 in 12 jobs and see visitors spend more than £11 billion in our communities every year.
As hotels, 'B and Bs', and visitor attractions re-open their doors they immediately face a recruitment crisis – spread by COVID and hastened by Brexit.  Ninety per cent of Scotland's hotels have more than 10 staff vacancies.
We need to attract talent, especially young people, who can help these businesses get back on their feet.    We need a tourism worker visa scheme that enables the industry to survive.  We need to end historic snobbery and disdain towards working in the sector.  We need those who don't think of pointing people to a career in tourism and hospitality to think again.
A job in the sector is not just pulling pints at the pub or washing dishes in the hotel kitchen.  It's about helping Scotland to become world leading in sustainable tourism.  It's about developing agritourism, workcation, and growing opportunities around the staycation boom. It's about adventure holidays, nature guides, dark sky parks, and innovative events and festivals.
It is about being proud of your country and your culture and welcoming guests to share in the uniqueness of Scotland.  There are very few places in the world which have the amazing blend of history, scenery, character, and friendliness that we have in Scotland. Yet as international tourism consumer behaviours are disrupted in the post COVID world, we face losing our place in the global marketplace.  What do we need to do to realise the opportunity that sits right in front of us on our doorsteps?
We need urgent and co-ordinated action to help our sector survive and solve our recruitment crisis.  We need an all-Scotland approach to release the untapped potential of areas like the Borders and Dumfries and Galloway to balance the overtourism in the traditional markets of Edinburgh and the Highlands and Islands. We need to wake up from our complacency and innovate on service and digital experience to make us meet and surpass the expectations of the modern visitor.
This means a 'Team Scotland' approach.  It means the myriad of tourism bodies coming together with Government, enterprise, skills, and education to put Scottish tourism at the heart of the country's green recovery. It's time to change our mindset towards Scottish tourism.
Ross McAuley is the Chief Executive of the South of Scotland Destination Alliance.