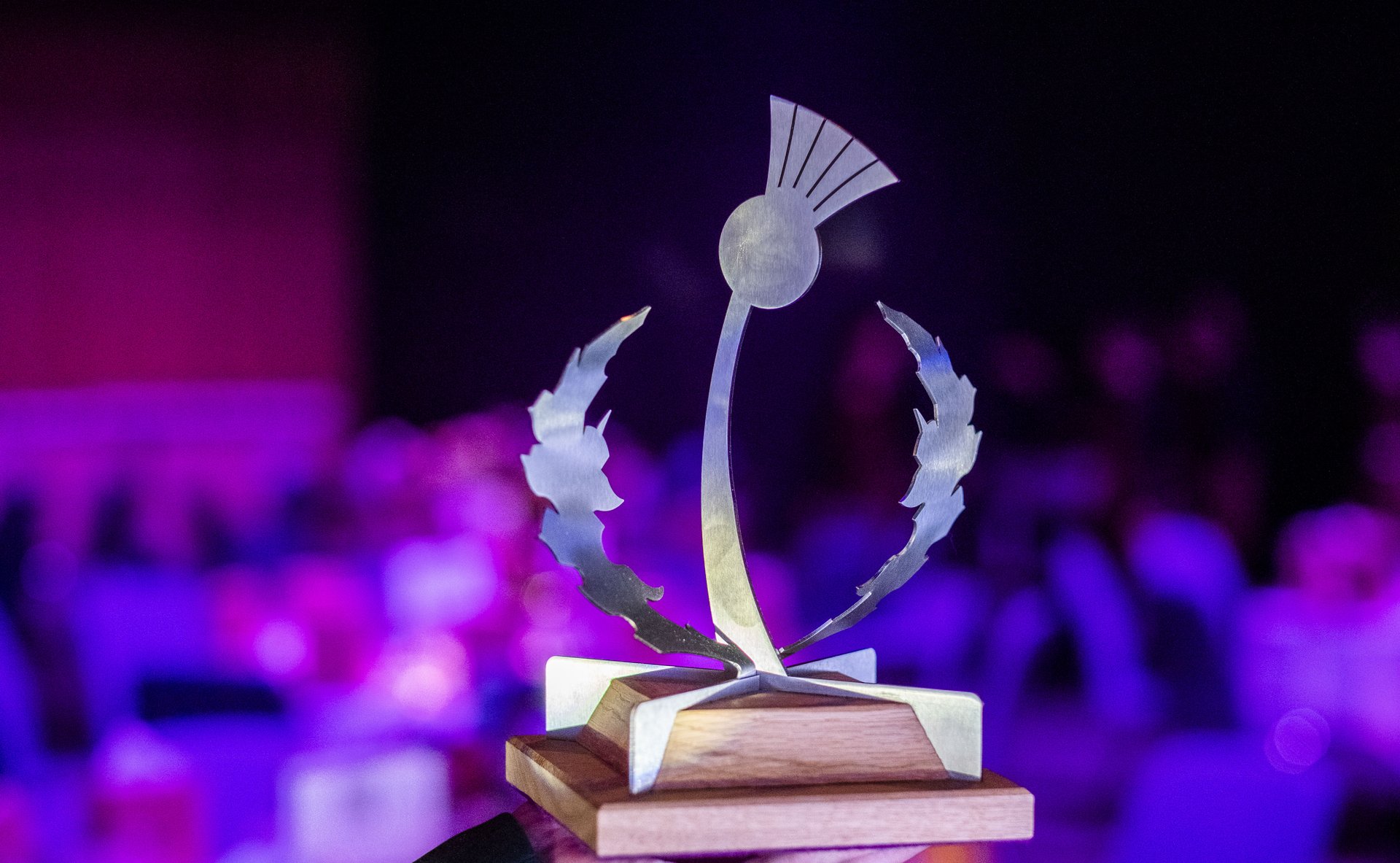 The South of Scotland is to have its own dedicated regional tourism awards, as part of the prestigious annual Scottish Thistle Awards, celebrating excellence in Scottish tourism and events, it was announced today.
David Hope-Jones OBE, new-in-post Chief Executive of the South of Scotland Destination Alliance (SSDA) revealed the Thistle Awards news as he welcomed guests to the SSDA's second major annual conference, held this year at Peebles Hydro.
In previous years, tourism and events businesses in Dumfries and Galloway were recognised as part of the 'West' region also covering Glasgow and Ayrshire, while Scottish Borders businesses have been celebrated as part of the Lothian and Borders category, which includes Edinburgh.
South of Scotland Thistle Awards
This year will see the introduction of a dedicated South of Scotland Thistle Awards, delivered in partnership with the SSDA and supported by South of Scotland Enterprise (SOSE), which will invite nominations and entries from the tourism and events sectors in the Scottish Borders and Dumfries and Galloway.
Regional South of Scotland winners will then compete as finalists against businesses from across the country in the national VisitScotland Thistle Awards, due to be held by the end of 2023.
VisitScotland Director of Industry and Destination Development, Rob Dickson, said: "We look forward to working with our regional partners on the new Scottish Thistle Awards programme for 2023 that, for the first time, will see the introduction of a dedicated South of Scotland region.
"The Scottish Thistle Awards champion the very best of Scotland's tourism and events industry, helping to shine a light on the positive impact it brings to our country. I would encourage people in the South of Scotland to nominate a tourism business, event or individual and help them to earn the recognition they deserve in making the region such a fantastic place to visit, live and work.
"Tourism is a force for good. It creates jobs, sustains communities and contributes significantly to the economy."
'Must-See Destination for 2023'
Professor Russel Griggs, SOSE Chair, said: "With the South of Scotland one of Lonely Planet's must-see destinations for 2023, it is fitting we will now have a new regional Thistle Awards to recognise all that is great about tourism across our region.
"SOSE is delighted to be working with our partners on these new Awards and would encourage everyone to think about the best tourism businesses currently operating in the South and nominate them."
David Hope-Jones OBE, SSDA Chief Executive, said: "The creation of the new regional South of Scotland Thistle Awards to celebrate excellence in tourism is a fantastic endorsement of all our region has to offer. For the first time, businesses in the south will be competing against similar rural businesses at the regional stage of the prestigious Thistle Awards. This allows us, as a region, to show the very best of what we can offer visitors, under the banner of #ScotlandStartsHere.
"I'm immensely grateful to VisitScotland and SOSE for their support and our partnership: we are working together, as one, to help transform the visitor economy in the south.
"Nominations open tomorrow  and I'd urge everyone to take a moment to nominate the D&G and Borders tourism and hospitality businesses who go above and beyond to make sure visitors have a fantastic, memorable experience here. And let's bring a well-deserved national accolade back to the south of Scotland when the finals come around!"
Marc Crothall, CEO of the Scottish Tourism Alliance said: "The announcement that the South of Scotland will have its own regional awards reflects the ambition of the area and its tourism businesses in putting the area very firmly on Scotland's map as a must visit destination.
"Despite the challenges of the last few years for all businesses within our industry, the South of Scotland has retained its strength of vision in becoming a major Scottish destination, attracting visitors not only from around the world, but from all over Scotland and the Central Belt."
Councillors encourage nominations
Councillor Scott Hamilton, Scottish Borders Council's Executive Member for Community and Business Development, said: "The creation of this new regional section of the annual Scottish Thistle Awards is fantastic recognition of the volume of excellent tourism businesses and events operating within the South of Scotland.
"Hopefully being able to recognise the best of the best across the region will inspire others to strive for similar success, and this healthy competition will drive up the overall quality and consistency of our tourism offering, which is already very high."
Councillor Ian Blake, Chair of Dumfries and Galloway Council's Communities Committee said: "It is fantastic that the South of Scotland is to receive its own dedicated Thistle Awards, where the efforts and achievements of those in the tourism and events sectors may be recognised."
Councillor Jackie McCamon, Vice-Chair of Dumfries and Galloway Council's Communities Committee said: "I welcome the new South of Scotland Thistle Awards and encourage as many people as possible to nominate those in tourism and events to recognise the fantastic work that is happening in our region."
Nominations for the 2023 Scottish Thistle Awards will be open from Wednesday 15 March.