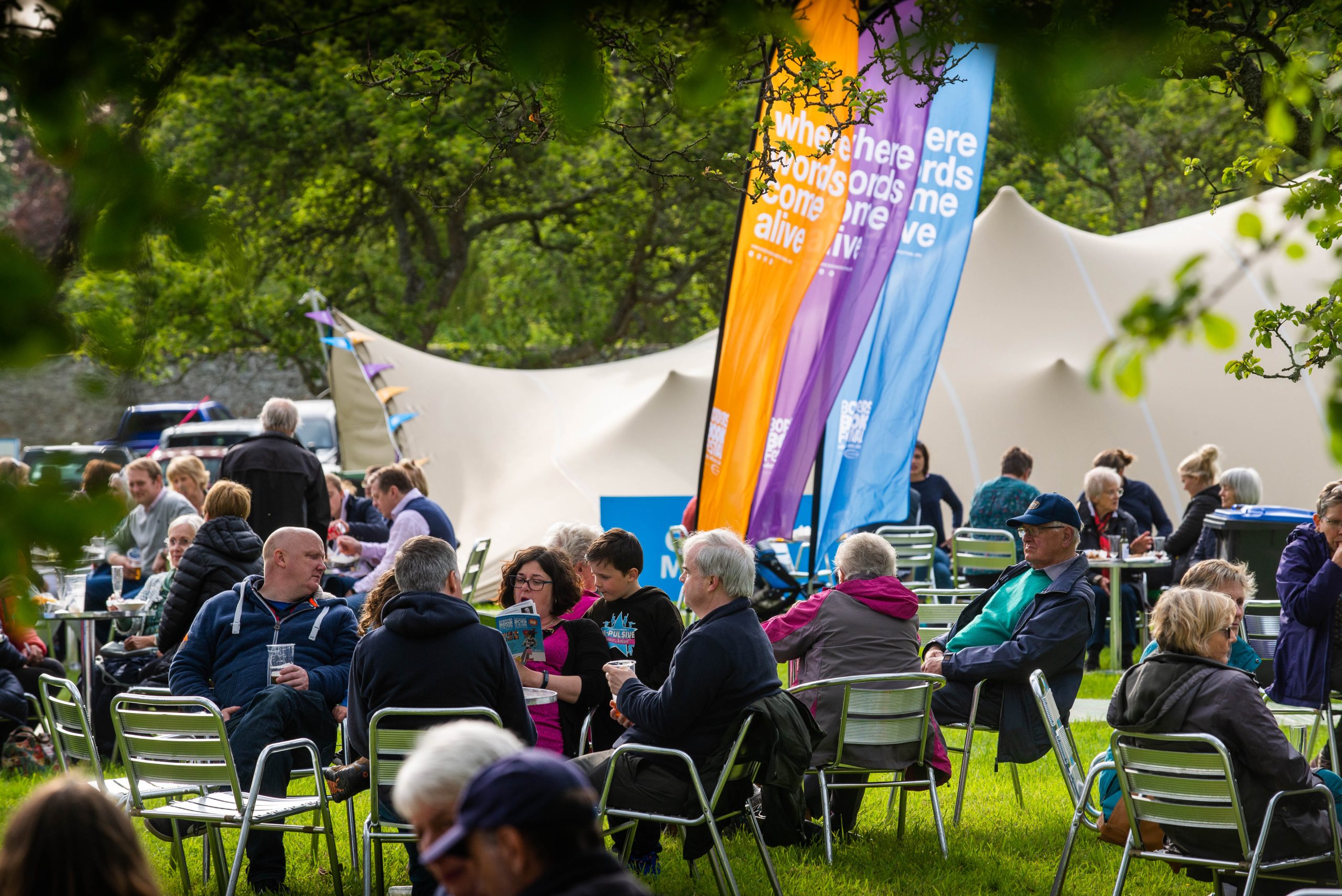 The Borders Book Festival programme is announced today and tickets go on sale, as the annual extravaganza gets ready to celebrate its 20th edition this year, with well-known faces (and voices) from the worlds of television, current affairs, politics, literature sport, history and children's writing – and many more besides — all set to join the party.
The book festival runs from Thursday 15th to Sunday 18th June, against the stunning backdrop of Melrose's Harmony Garden, in the Scottish Borders.
Headline acts
Highlights of the packed four days of events include: from politics, Mayor of Manchester Andy Burnham, ex Labour Leader and former Prime Minister Gordon Brown and leading political analyst Prof. John Curtice; actor and impressionist Jon Culshaw; comedian and ventriloquist Nina Conti (and Monkey); prize-winning novelists Douglas Stuart, Robert Harris and Sebastian Barry; beloved sports commentators Archie Macpherson and Andrew Cotter; Scottish football legend, now pundit, Pat Nevin; tennis champion and coach turned novelist Judy Murray; civil rights campaigner and distinguished lawyer Baroness Helena Kennedy KC; peeress and socialite Lady Anne Glenconner; Britain's greatest archaeologist Sir Barry Cunliffe; and dance sensation Dame Arlene Phillips.
Festival favourites
Joining the line-up, too, will be stars of the TV hit show The Great British Bake Off Peter Sawkins, Giuseppe Dell'Anno and Rahul Mandal; long-time festival favourites Sally Magnusson and Jim Naughtie; award-winning Kenyan-Scottish storyteller Mara Menzies; multi-million-selling novelist Jenny Colgan; and crime-writing royalty Val McDermid, Christopher Brookmyre, Mark Billingham and Doug Johnstone.  Veteran Borders Book Festival guest Rory Bremner will do a very special event with fellow comedian Shaparak Khorsandi about their shared diagnosis of ADHD.
Sponsors' specials
Principal sponsor, Baillie Gifford, will be sponsoring a number of events, including with maritime archaeologist Mensun Bound about the discovery of Shackleton's ship Endurance.   And as national media partner, The Financial Times will host events, including: former Celtic and Ireland manager Martin O'Neill on his football career spanning five decades; The FT's chief economics commentator Martin Wolf explaining the crisis of democratic capitalism and how to fix it; navigating the cost of living crisis with practical money saving advice and habit changing tips from The FT's consumer editor Claer Barrett; and The Batch Lady Suzanne Mulholland.
The McInroy & Wood Lecture is this year with Kate Bingham, who has written a compelling account of her role as Chair of the UK's Covid-19 vaccine taskforce and the race to get Britain vaccinated and out of lockdown.  She'll be in conversation with journalist Tim Hames and book festival chairman Michael Moore.
The book festival will mark the Tercentenary of the birth of Scottish philosopher and economist Adam Smith, with events sponsored by the Scottish Mortgage Investment Trust, including prominent French-British writer Philippe Sands KC and ex Bishop of Edinburgh and broadcaster Richard Holloway paying tribute to the pioneering political thinker.
20 year mile-stone
Festival Director Alistair Moffat said:  "We could not be more excited about our programme this year, which brings some of the best-known and most respected thinkers, writers, leaders, commentators and personalities from around the UK – and beyond – to our beautiful Harmony Garden at the height of the Scottish summer.
"This year's book festival feels even more special because we have the absolute pleasure of celebrating our 20th edition, a milestone that I could not, in my wildest dreams, have imagined reaching when I started the festival back in 2004.
"The endurance of the Borders Book Festival is testament to the phenomenal array of devoted writing talent on offer in Scotland and beyond; to the dedicated book festival team who work tirelessly year-round to ensure the festival's success; to the many sponsors and funders who make the festival possible; and, not least, to the hordes of loyal, audiences who continue to push us to bring even bigger and better events to them every year.  Thank you to you all, from the bottom of my heart.
"Now, make sure you come and join the party in June!"
Children's programme
The Children's Programme, sponsored by Baillie Gifford, takes place throughout the day on the Saturday and Sunday (17th & 18th June), packed with exciting author events, including: award-winning author and illustrator Lauren Child; firm-favourite Vivian French; Martin Brown celebrating 30th years of Horrible Histories; and the wildly entertaining Kjartan Poskitt.  In addition, there will be free kids' craft activities, storytelling and interactive creative workshops – everything that curious young minds could wish for to get those imaginations buzzing.
Walter Scott prize for Historical Fiction winner
The winner of this year's prestigious £25,000 Walter Scott Prize for Historical Fiction is to be announced at a special event at the book festival, chosen from a shortlist of seven books: These Days by Lucy Caldwell; The Geometer Lobachevsky by Adrian Duncan; Act of Oblivion by Robert Harris; The Chosen by Elizabeth Lowry; The Sun Walks Down by Fiona McFarlane; Ancestry by Simon Mawer; I Am Not Your Eve by Devika Ponnambalam.
Throughout the four days, there will also be live music, the Orchard tented food village, and a plethora of free, fun activities, making the Borders Book Festival a great day out for all the family to enjoy.
Paul Bush OBE, VisitScotland's Director of Events, said:  "We are delighted to be supporting the 20th edition of Borders Book Festival, as part of EventScotland's National Events Programme. To celebrate this landmark anniversary, the festival brings together an exceptional line-up of renowned writers and thinkers to share their stories with locals and visitors alike, all against the picture-perfect backdrop of Melrose's Harmony Gardens. Scotland is the perfect stage for events and cultural gems like the Borders Book Festival showcase the vibrancy and quality of our country's enviable events portfolio."
Creative Scotland's Literature Officer Viccy Adams said:  "Two decades of celebrating Scottish writers and bringing literary delights to Scottish readers in the Borders is a wonderful achievement. This year's programme is another classic, set to bring together audiences, entertain the whole family, encourage conversation, and do what the Borders Book Festival does so well – a fantastic, fun-packed day out in beautiful surroundings, with brilliant writers."
Sponsors and support
The book festival welcomes the continued support of Principal Sponsor Baillie Gifford and Lecture Sponsor McInroy & Wood, as well as Bell Financial Planning, BCCA, Borders Vets, Borders Distillery, Cullen Kilshaw, CSY Architects, Davidson Chalmers Stewart,  EcoSafety, Eildon Housing Association, Gall Robertson, The FT, Knight Frank, Mainetti, M&J Ballantyne Ltd, the Melrose Stove Co., Scottish Mortgage Investment Trust, Thomson Roddick Auctioneers and the on-going funding of Scottish Borders Council, The National Lottery through Creative Scotland, EventScotland as well as many other loyal supporters including The Turtleton Charitable Trust and The Dr David Summers Charitable Trust.