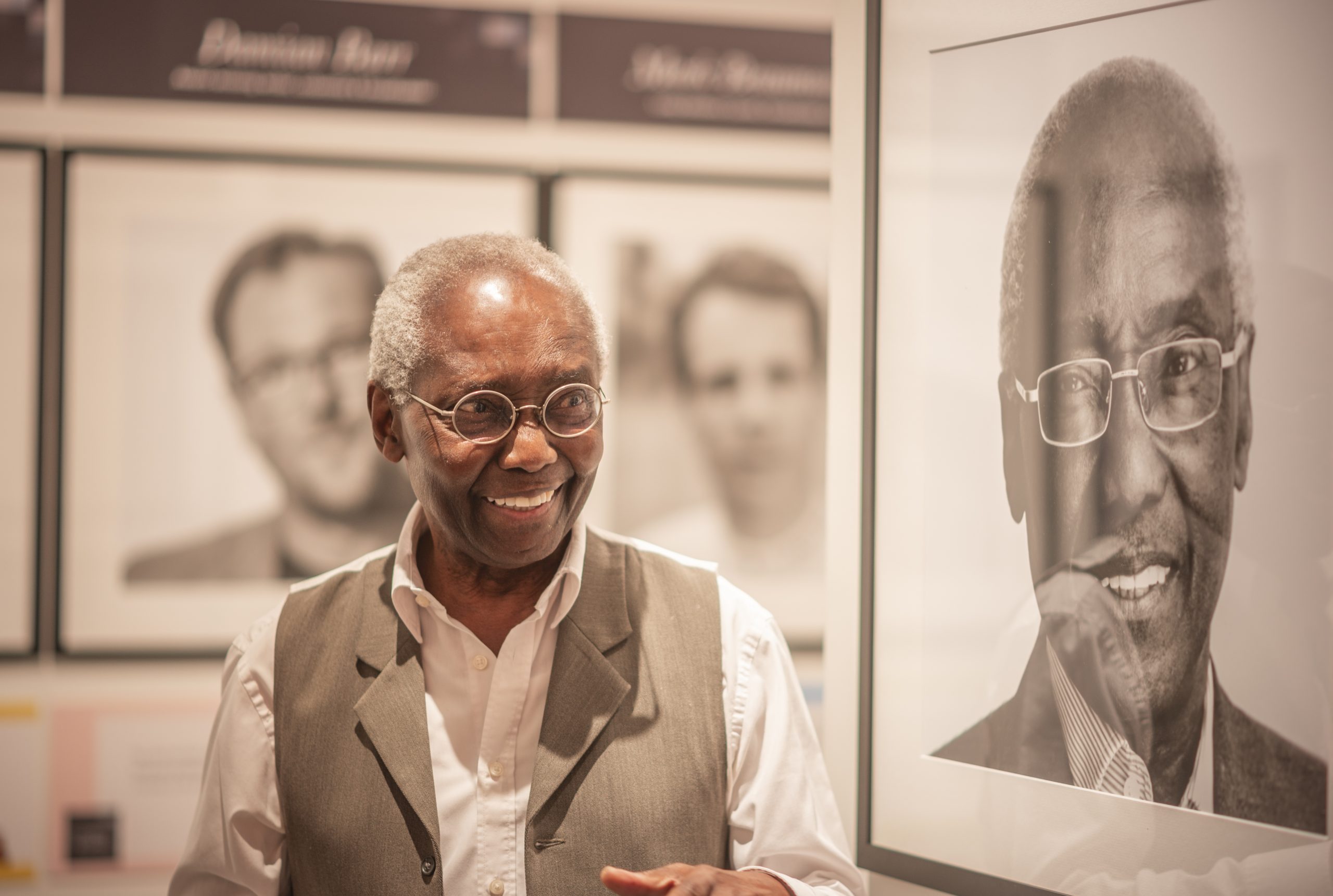 Iconic Scotland Exhibition.
Ahead of its public opening on 26 August, the latest addition to Scotland's cultural and heritage scene – The Great Tapestry of Scotland – has today revealed a new exhibit telling the people's story of Scotland through the reflections and photographs of over 40 national icons, pioneers and inspiring individuals.
Iconic Scotland is the first in a series of visiting exhibits to be housed alongside The Great Tapestry of Scotland in a new purpose built visitor centre in Galashiels, the heartland of the Scottish Borders. The interactive visitor experience will be where Scotland's story begins for many visitors.
Housed in the new visitor centre's Gallery 1420, the Iconic Scotland exhibit also displays some artefacts relating to some of the individuals appearing in the exhibit including Drew McIntyre's WWE Championship belt, items donated by Outlander star Sam Heughan, an eighteenth century purse embroidered by one of the daughters of the 4th Earl of Traquair, a salwar kameez worn by pioneering human rights activist Saroj Lal and a Great Tapestry of Scotland kilt created by leading kilt designer Howie Nicholsby at 21st Century Kilts, in an exclusive fabric designed by Lochcarron of Scotland.
Designed to inspire and uplift people after its opening, the Iconic Scotland exhibit will be free to visit, though numbers will be limited for the enjoyment and reassurance of those visiting.
Those contributing stories for the new exhibit include Outlander star Sam Heughan, brewing science pioneer and human rights activist Sir Geoff Palmer, Cbeebies star Mimi Robertson, actress Joanna Lumley, Shetland author Ann Cleeves, athlete Liz McColgan, rugby hero Doddie Weir, WWE Champion Drew McIntyre, charity Tiny Changes (with words from the late Frightened Rabbit singer Scott Hutchison), NHS Borders Clinical Director Dr Jonathan Aldridge and sports broadcaster Jill Douglas.
Through a series of quotes and images, Iconic Scotland will continue the Tapestry's own story, as told by 1,000 stitchers from across Scotland, and will showcase some of the country's greatest achievements.
Revealing the new exhibit, Great Tapestry of Scotland Centre Director Sandy Maxwell-Forbes said: "The Great Tapestry of Scotland is an artwork truly born from the love of the places, people and stories that feature within it. I'm delighted to reveal that this great love and world-renowned story telling continues into our opening Iconic Scotland exhibit. We have received wonderful contributions from some of the most inspiring and iconic people.
"People are such a big part of Scotland's story. It is the people of Scotland, their achievements and their warmth of welcome that really put our much loved small country on the map. It is their accounts throughout history and their continued passion and pride that give us our identity. Indeed this is why the Great Tapestry of Scotland has received global acclaim and also why there will be so much to celebrate in the Year of Stories in 2022.
"We want to ensure our new national gallery and exhibition space will always be where Scotland's story truly begins." 
Unveiling the new Great Tapestry of Scotland kilt and tartan for the first time, kilt designer to the stars, Howie Nicholsby from 21st Century Kilts added: "It was a real honour to be invited to feature in Iconic Scotland exhibit and to create this very rare edition kilt using the exclusive Great Tapestry of Scotland tartan designed by Lochcarron of Scotland. There are only two of these kilts in existence, the one in the exhibit itself and another now belonging to Outlander star Sam Heughan."
 Speaking of her involvement actress Joanna Lumley said: "I am delighted to feature in the Iconic Scotland exhibit to help inspire and uplift people following such a tough year.
 "The Great Tapestry of Scotland is all about telling the people's story of Scotland, so it seems only apt that my contribution to their opening exhibit showcases how inspired I was when I visited the childhood home of one of Scotland's best loved authors, JM Barrie. I get goose bumps every time I visit!"
Jill Douglas, national sports broadcaster and CEO of the MY Name'5 Doddie Foundation added: "It's fantastic to see the latest addition to Scotland's cultural scene celebrate some of our sporting greats through the Tapestry itself and the Iconic Scotland exhibit. It's a privilege to feature alongside them and share the drama and excitement of one of my most memorable moments, being trackside when Sir Chris Hoy won his first Olympic gold medal."
"I'm particularly thrilled to see that the new exhibit features Doddie Weir. He was an outstanding rugby player and is now facing one his greatest challenges. After being diagnosed with motor neuron disease, he has worked tirelessly to raise awareness of this devastating disease through his charity, My Name'5 Doddie Foundation. A remarkable individual, Doddie deserves to be included among Scotland's greats."
In the Iconic Scotland exhibition guide foreword, Jenny Gilruth MSP, Scottish Government Minister for Culture, Europe and International Development said: "Just three miles from Abbotsford, the Home of Sir Walter Scott, it is incredibly fitting that this is where Scotland's story will begin for many people visiting the area as we celebrate Scott 250 and build up to the Year of Stories in 2022. Scotland is world renowned for its wonderful culture, innovation, diversity, compassion and warmth of welcome for all."
"The sheer diversity of contributions celebrated here in The Great Tapestry of Scotland's new Iconic Scotland exhibit truly showcases the significant mark we have made, and continue to make, on the world in so many different ways."
Other well-known names revealed among those featuring in the exhibit include renowned percussionist Dame Evelyn Glennie, footballer John Collins, TV chef Tony Singh, ultrasound pioneer Tom Brown, solar chemistry pioneer Professor Emeritus Lesley Yellowlees, author Damian Barr, Arbroath Smokie producer Iain Spink, former Scotland international rugby star Chris Paterson and the Duke of Argyll. It also features the words of NHS Borders Clinical Director Dr Jonathan Aldridge reflecting on what it has been like for him and his team to work at the frontline of the Covid-19 pandemic.
 A number of those appearing in the exhibit originate from the Scottish Borders, where The Great Tapestry of Scotland is now permanently based, including multi award winning theatre actor, best known for his role as Rupert Mackenzie in Outlander, Grant O'Rourke.
Speaking about the significance of the new visitor centre to the area he said: "It makes me immensely proud that the people's story of Scotland is being told in my hometown in this way. The spirit of the Borders and our whole nation is forged in our stories. Having a national cultural resource like this in Galashiels is a great way of connecting the people of the Borders to Scottish culture and hopefully connecting the people of Scotland (and further) to the Borders."
The new visitor centre has been purpose built to house The Great Tapestry of Scotland, one of the world's largest community arts projects. The brainchild of Alexander McCall Smith, designed by artist Andrew Crummy, the Tapestry was hand-stitched by a team of 1,000 people from across Scotland led by stitcher coordinator Dorie Wilkie. It was made using 300 miles of wool (enough to lay the entire length of Scotland from the border with England to the tip of Shetland) and 160 linen panels. The design of the panels is based on a narrative written by Borders-based writer and historian Alistair Moffat.
The building, designed by architects Page\Park and built by contractors Ogilvie Construction for Scottish Borders Council, is a critical town centre regeneration project which has received investment from the Scottish Government through its Regeneration Capital Grant Fund, the Borders Railway Blueprint programme and the Council. It will help to regenerate the once thriving textile town of Galashiels and deliver an economic boost across the Scottish Borders and south of Scotland at a vital time following the devastating impact of Covid-19. There is evidence that it is already supporting the local economy and generating significant interest from future visitors from around the globe. It will also provide a range of social and educational benefits.
The Iconic Scotland exhibit is open from 26 August 2021 to January 2022. It is free to visit, though numbers will be limited for the enjoyment and reassurance of those visiting. Ticket prices to view the Great Tapestry of Scotland vary. It includes 12 month tickets which will allow ticket holders to visit all year round (these cost £15 for adults, £13 for concessions, and a "Inglis" group ticket which will allow groups of 5 or more to visit for £6.00 each).
Single parent family tickets can be purchased from £16 for a family of four.
The Great Tapestry of Scotland is operated by the charity Live Borders, which manages many of the cultural and leisure facilities in the Scottish Borders, including the five-star Jim Clark Motorsport Museum and the Heart of Hawick entertainment venue. Ticket payments and donations play a vital role in helping the charity to continually enhance the visitor experience at the centre, including ongoing conservation of the tapestry, creating learning and leisure resources for schools and communities, and digitizing the collection to make it more widely accessible.
To book tickets, or for more information visit greattapestryofscotland.com or follow @GreatTapestrySc on Facebook or Twitter, and @GreatTapestryScotland on Instagram.
END.