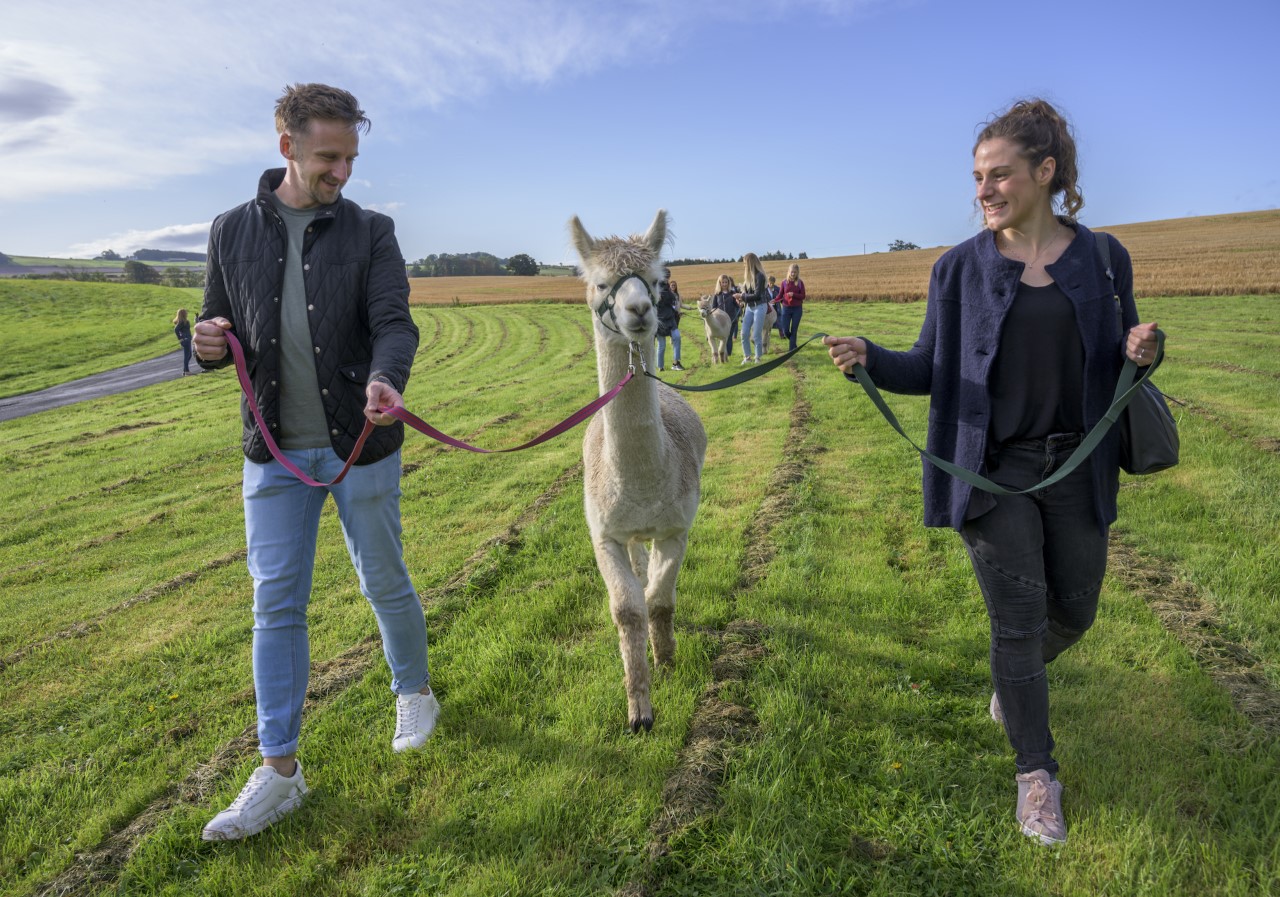 South of Scotland Visitor Economy Week in March will highlight rewarding careers in tourism and hospitality across the region
A range of organisations and further and higher education centres in the South of Scotland have teamed up to launch a new South of Scotland Visitor Economy Week in March. The dedicated information and awareness week, which organisers hope will be an annual fixture, aims to encourage young people and people wishing to re-train or change career to learn more about jobs in tourism and the wider visitor economy to help boost the local economy in today's challenging financial climate.
Multitude of career choices
Whether it's working at an adventure centre, taking visitors on guided walking and dark sky tours, running distillery tours and tastings for independently-crafted spirits and whiskies, preparing gourmet meals at country inns or helping to conserve natural heritage for generations to enjoy, there are endless career possibilities within the tourism sector.
Tourism is a major component of the Scottish economy, supporting business activity and employment opportunities across the whole of Scotland; in the south of Scotland, now is the time for us to tell amazing stories of our region and be part of an exciting and diverse visitor economy.
Exciting year ahead
With an exciting year ahead for the region after it was named one of Lonely Planet's 30 Best in Travel destinations for 2023 and with the opening of the new Coast to Coast cycle route this summer, there are more and more new opportunities to get involved in the visitor economy.
The South of Scotland Destination Alliance (SSDA), Borders College, Dumfries and Galloway College, South of Scotland Enterprise (SOSE), Developing Young Workforce (DYW) Borders and D&G, Open University and Third Sector D&G are taking part in the new week-long tourism jobs promotion week from 8 – 14 March 2023. This week will showcase the employment & education opportunities within the South of Scotland tourism sector, highlighting the benefits of the tourism industry as a career of choice.
Aimed at young people, those looking for a rewarding career or anyone keen to enhance existing skills or change career completely, Visitor Economy Week will give you the information you need, with a programme of events, including two business breakfast networking sessions hosted by the Open University – one in the Borders, one in Dumfries & Galloway. At these events, business representatives and other attendees can find out more about relevant Open University courses and the upskilling opportunities available to them and their employees.
South of Scotland Destination Alliance (SSDA) is also excited to announce that the 2023 Visitor Economy Week will culminate with the South of Scotland annual Tourism Conference at Peebles Hydro on Tuesday 14 March. With a line-up of informative and inspiring speakers, it's a must-attend event. More details will be announced in the coming weeks.
"At the SSDA our key mission is to make the South of Scotland a must-visit year-round destination, and giving whatever support we can to the tourism and hospitality sector is critical to this. Businesses are providing some fantastic opportunities to work in industry at the moment; Visitor Economy Week is about sharing our passion for tourism and hospitality, building a resilient future workforce for the region and stimulating innovation and entrepreneurship," said Melanie Allen, Interim Chief Executive of the SSDA.
Vital part of local economy
"Tourism is already a vital part of the local economy, with growing numbers of opportunities for rewarding careers helping visitors to discover all the fantastic things the south of Scotland has to offer. With stunning landscapes to walk, cycle, swim and fish in, fascinating history, fabulous places to stay, eat and drink and the friendliest welcome, the best of Scotland really does start here. Come and find out all you need to know about starting your career in tourism and help us give this incredible region the recognition it deserves," said Allen.
"Borders College are delighted to be part of South of Scotland Visitor Economy Week in March 2023. This is an exciting time for the South of Scotland and, of course, the Borders region. We look forward to working with our partners to showcase not only the beauty of South of Scotland as a travel destination but also highlight the diverse range of qualifications and employment opportunities within the travel and tourism sector. We will be hosting a number of activities to coincide with the week," said Anne-Marie Sturrock, vice principal, Student Experience at Borders College.

Showcase the sector
"The Visitor Economy in the South of Scotland offers such a huge variety of career opportunities. Dumfries and Galloway College are excited to be part of the series of events and initiatives that will showcase what the sector has to offer, how we support businesses and individuals that are involved in it or want to become involved in it. Come and join us in March to be part of the journey to put the South of Scotland on the global stage!" said Eva Milroy, Dumfries and Galloway College Account Manager.
"Developing the Young Workforce connects businesses to students offering practical activities, work-based learning, inspiration workshops and site visits, across the region. We help young people get ready for the world of work, developing skills needed by employers, promoting the range of careers in each industry, and highlighting the pathways to get there, such as apprenticeships, further education or entrepreneurship," said Kevin Greenfield, Programme Manager from Developing Young Workforce Borders (DYW Borders).
"During Visitor Economy Week our team of school coordinators will work with partners to showcase the breadth of careers in hospitality and tourism, demonstrating the rewarding opportunities the sector offers."
Changing perceptions of hospitality sector
"The hospitality sector is always looked at with certain perceptions – part time work, long hours, weekend job only, poor pay, no prospects to list but a few.  Over six years, DWG DG has been working on trying to alter these perceptions by working with our region's fantastic businesses to bring realistic, work-focused, work-ready projects to our region's young people," said Justin Thomas, Developing Young Workforce Dumfries & Galloway (DWG DG) Programme Manager.
"DYW DG is delighted to be supporting Visitor Economy Week 2023 by continuing our 'Be Our Guest' programmes which include numerous businesses meeting with young people in both schools and to those over the age of 18 who may currently be job-seeking."
"SOSE is delighted to be supporting the upcoming South of Scotland Visitor Economy Week 2023. Tourism and hospitality are key to the success our local economy, and this initiative is a great opportunity to work collaboratively in showcasing the breadth of careers available in the sector, " said Jane Morrison-Ross, CEO of South of Scotland Enterprise (SOSE). "With the inclusion of our region in the Lonely Planet's Best Travel Destinations 2023, now is the perfect time to highlight not only the many attractions there are for visitors, but the opportunities available to begin your career in the sector.
"I encourage anyone who is interested in starting their career in tourism or hospitality to attend the events taking place in March."
Cost-effective upskilling
"The Open University in Scotland is delighted to be supporting the South of Scotland Visitor Economy Week in March and helping to shine a light on the fantastic career opportunities this vibrant and economically important sector brings to the South of Scotland," said David Allen, Senior Partnerships Manager at The Open University Scotland.  "As a world leader in providing innovative, flexible and online distance learning opportunities to individuals and businesses, the Open University in Scotland offers a vast range of high-quality, business orientated, short-course and microcredential provision, the majority of which can now be provided at low or no cost to you or your businesses. This means it's never been easier, or as cost effective, for businesses in the South of Scotland to upskill, reskill or grow their workforce talent and we look forward to showcasing our offer to businesses during Visitor Economy Week."
"This is a first-class initiative to promote the tourism and hospitality industry as an excellent career choice. This is a diverse, interesting, rewarding and engaging industry to work in and at the very heart of the 21st century economy in Scotland," said Marc Crothall, CEO of the Scottish Tourism Alliance.
The South of Scotland Visitor Economy Event is a partnership event with The South of Scotland Destination Alliance, Borders College, Dumfries & Galloway College, SOSE, Developing Young Workforce (DYW) Borders and D&G, Open University, Third Sector D&G.
More information on the events planned will be available online in the coming weeks.