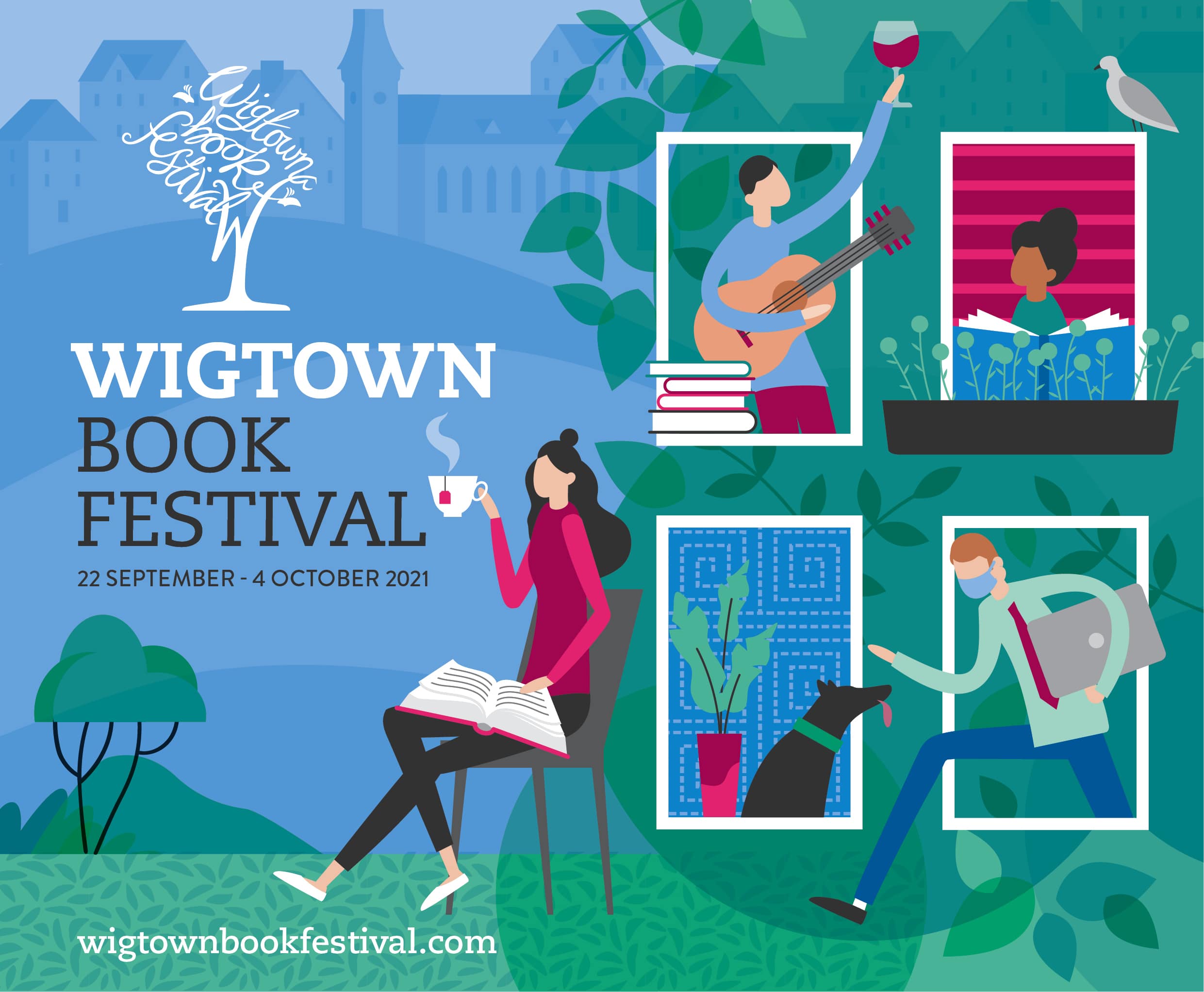 As Wigtown Book Festival gets underway authors have spoken about the urgent need to support and value Scotland's cultural events.
The festival is running a £25,000 Book it and Spread the Word fundraising appeal to help secure its future and ensure it thrives.
Let's hope a massive success this year will secure its future – Val McDermid
After going digital last year, the emphasis for 2021 is physical first – bringing authors and audiences back together in a COVID-secure environment.
It runs until 4 October and has an exciting programme for adults and young readers that embraces the best in fiction, non-fiction and poetry with more than 120 events that range from talks by authors to walks, workshops, lectures, awards, theatre and picnics.
This year's festival will be one of the biggest of its kind in the country during 2021, even though it has been scaled back and will take place over 12 days rather than the usual 10, as part of its extensive COVID security measures.
The festival began in 1999 and has been fundamental to rebuilding the economy of Wigtown, which is Scotland's National Book Town.
Authors speak of festival's vital importance
Val McDermid (who is at the festival to talk about her new book 1979) said: "Wigtown Book Festival has played a key role in transforming the economy of the entire community, so it's really uplifting to see it back and bringing us all together again. Let's hope a massive success this year will secure its future."
Rugby star Gavin Hastings (Who will be speaking about The Legacy of the Lions) said: "I'm very much looking forward to taking part in Wigtown Book Festival and following in the footsteps of all the other writers from a sports background who have appeared there in the past. I really appreciate how it has grown into an event with such broad appeal, catering for an immense range of tastes and interests – and believe that it deserves our support to ensure that it continues to thrive." 
We have to remind ourselves of the importance of the arts – Alexander McCall Smith
Alexander McCall Smith (The Joy and Light Bus Company and Pavilion in the Clouds) said: "We have to remind ourselves of the importance of the of the arts and how the arts sustain us. The arts help us understand the world and deal with adversity. There's a consoling role of the arts. Collectively we have had to go back to thinking about what we want to fill our lives with. Many people have gone back to reading, people who had lost the reading habit have rediscovered it, which is wonderful."
Authors taking part add their voices
Rory Cellan-Jones (Always On) said: "I'm hugely excited about going to Wigtown. When you meet fellow readers the conversations it sparks are just wonderful. It would be very sad if we didn't have book festivals, if they withered away because of the temporary problems we've had. They also give authors that sense of connection to readers. I've taken part in a number of virtual meetings, and I can see that those will continue, but they're never quite the same as actually being there."
Rachel Morris (The Museum Makers) said: "The book community is great. It's quirky, it's warm, it can be fierce but it's always passionate. Some of the loveliest friendships are the book built ones. You can be part of that on social media but to sit in the company of people and just talk books is one of the nicest things."
Alex Renton (Blood Legacy) said: "In a world where we're all hunkering down in behind closed doors festivals like Wigtown spread light, enable an exchange of ideas and bring people into conversation. Book festivals couldn't be more important, so long live Wigtown."
Jini Reddy (Wanderland) said: "Book festivals bring authors and readers together in a joyful way, and they foster a love of literature, ideas, and writing – all of which are a vital part of a healthy cultural landscape."
A book can change someone's life
Maggie Ritchie (Daisy Chain) said: "This will be my first time at Wigtown both as an author and a reader. Book festivals are a chance for book lovers and writers to get together to exchange ideas and discover new authors. I'm looking forward to doing all this in small, friendly town at an informal, fun festival packed with events."
John Quin (Dr Quin Medicine Man) said: "For Scotland to have festivals like Wigtown is really, really important. We are living in a time where public institutions like libraries are underfunded, and in essence coming under attack. But reading seems to be even more popular. Book festivals get together, give them choices, you can hear them saying 'have you read this?' or 'maybe you'd like that' which is fantastic."
Salena Godden (Mrs Death Misses Death) said: I've always gone to book and poetry festivals, I'm a big fan. It's great to celebrate books and the importance of books. A book can change someone's life and a story can open someone's heart. Book festivals are a chance to meet your heroes and meet the people you've been talking to online. It's so exciting to finally meet people you've got to know on Instagram and Twitter in person – that kind of connection is really exciting."
Festival Director outlines how public can help
Adrian Turpin, the festival's Artistic Director, said: "As never before, in 2021 we are reliant on the generosity of our supporters. This is the most challenging year the festival has faced as we try to bring live events back to Scotland's Book Town. Every pound we raise helps secure our future in a year when our ability to sell tickets is hugely limited."
The public can support the event in a number of ways:
Book a ticket or two. If you value having the Book Festival on your doorstep, show your support by attending in person. Take a chance on something new in the programme.
Spread the word. Telling friends and family about the event is one most useful things anyone can do to help us. Word of mouth has always been the best kind of promotion.
Buy a book (why not treat yourself to two?). Our online bookshop has not only festival titles but can order anything – every penny goes back into the charity.
Make a donation. If you are in a position to do so, please consider donating to our fundraising campaign. A lot of this year's events will also be streamed live online as we want to reach the widest audience and we particularly welcome donations from online viewers.
Events key for local communities
Paul Bush OBE, VisitScotland's Director of Events, said: "Events play an important part in our communities by supporting artists and performers as well as bringing social and economic change.
"Wigtown Book Festival is one of the country's unique literary festivals, and EventScotland is delighted to be continuing its support of the festival through our International Programme, a key event that contributes to Scotland the Perfect Stage."
The Wigtown Book Festival is supported by organisations including Dumfries & Galloway Council, DG Unlimited and EventScotland.