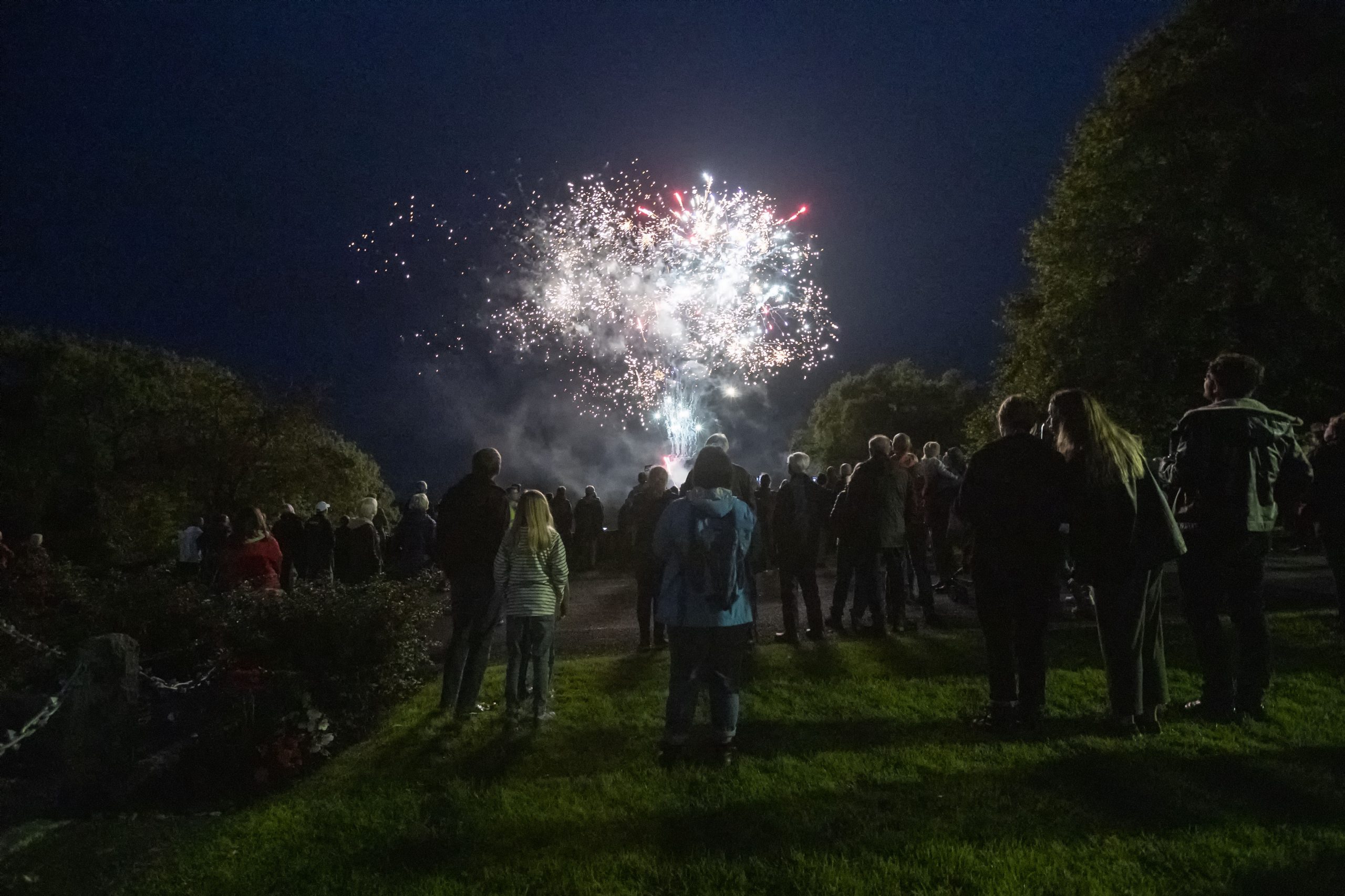 Wigtown Book Festival enjoyed a successful first weekend – welcoming visitors back to Scotland's National Book Town for a wide variety of events.
These ranged from talks by household names like Alexander McCall Smith and locally-based writers such as Patrick Laurie, through to pop-up opera from Scottish Opera, to theatre performances and nature walks.
At the same time Wigtown-based author Kathleen Hart has suggested that tourism in the region could be boosted by badging it as Devorgilla Country.
Kelton the wicker Beltie
One festival highlight was Sunday's Festival Picnic which introduced The Gardens, a new, free outdoor venue with a large screen, bar, coffee shop and informal seating which aims to be Wigtown's answer to Wimbledon's Murray Mound.
At the heart of The Gardens for this year's event (which runs to 4 October) is Kelton the 3m-tall one-tonne wicker Beltie, who has been touring the region after returning from Edinburgh's Ingliston Showground where he was used to showcase Dumfries and Galloway's rural economy and culture during the Royal Highland Showcase.
Return of the audience
Adrian Turpin, Wigtown Book Festival's artistic director, said: "This year's comeback festival has got off to a superb start. After having an entirely online event last year people have thoroughly enjoyed getting back together again and seeing so many fabulous authors in person.
"Having The Gardens, an outdoor venue where people can meet and chat in the fresh air, has also been a great success – visitors have loved being able to watch events on a huge outdoor screen, enjoy something to eat and drink, and they get to see Kelton the giant wicker Beltie bull.
Director thanks D & G Council
"None of it would be possible without the support we have from partners like Dumfries and Galloway Council. Over the years they have consistently recognised that supporting this festival is an excellent way to promote the region and support the economy.
"As the flagship event for Scotland's National Book Town we help create jobs, support business and generate custom for everyone from shopkeepers and cafes to hotels and restaurants – in 2019 an independent analysis showed that we generated £4.2 million for the local economy.
"And right now, as the region strives to rebuild from the pandemic, these kind of partnerships are going to become more important than ever if we are to ensure a sustainable economic future for Dumfries and Galloway."
On-going relationship with a future
Dumfries and Galloway Council has had an ongoing partnership with the festival for over 20 years – recognising its importance as an economic and cultural catalyst for all rural Galloway.
It's a relationship that has deepened in the past five years as the council and Wigtown Festival Company have worked together to find new ways to promote Galloway as a place to visit, tour and do business, which has a rich and varied culture and heritage.
Right now the council is in the process of developing a 10-year cultural strategy for Dumfries and Galloway that will put the creative industries and the cultural sector at the heart of economic and community development within the region.
Wigtown festival a joy
Councillor Andy Ferguson, Chair of the Communities Committee, said: "The book festival, within the idyllic setting of our national Book Town, is a joy to visit and relax and unwind in. It offers stimulation for the mind and attractive scenery for the soul, and I'm thrilled that the festival has many events taking place with audiences in attendance."
This year's festival is one of the biggest of its kind in the country during 2021, even though it has been scaled back and will take place over 12 days rather than the usual 10, as part of its extensive COVID security measures.
The event is supported by organisations including DG Unlimited and EventScotland.
Author suggests Dumfries and Galloway becomes known as Devorgilla Country
Kathleen Hart is the author of the highly successful Devorgilla Days, which is the story of how she came to Wigtown and started a new life.
Living in Devorgilla Cottage she developed a fascination with the 13th-century Lady of Galloway after which it was named.
In what was very much a man's world she was a powerful woman in her own right – and made a significant contribution to the histories of Scotland, England and the wider world.
Mother to Scottish king
Known locally for building a bridge in Dumfries and also founding Sweetheart Abbey (New Abbey), she was the mother of one Scottish king (John Balliol) and grandmother of another – Edward Balliol.
More enduring still was that she provided the permanent endowment for Balliol College – one of the great colleges of Oxford University and giving its statutes in 1282.
Kathleen said: "Wouldn't it be wonderful to promote this region as Devorgilla Country, in the same way that other areas commemorate important figures linked to them.
"After all she was a truly great woman – a bridge builder, the creator of an abbey and an Oxford college. What an inspirational figure, a 13th-century feminist. Someone we could all be very proud of."
Whether or not her idea wins support, Kathleen very much hopes to spend time carrying out further historical research into Lady Devorgilla, studying the seldom-seen documents from her time that survive in Oxford.