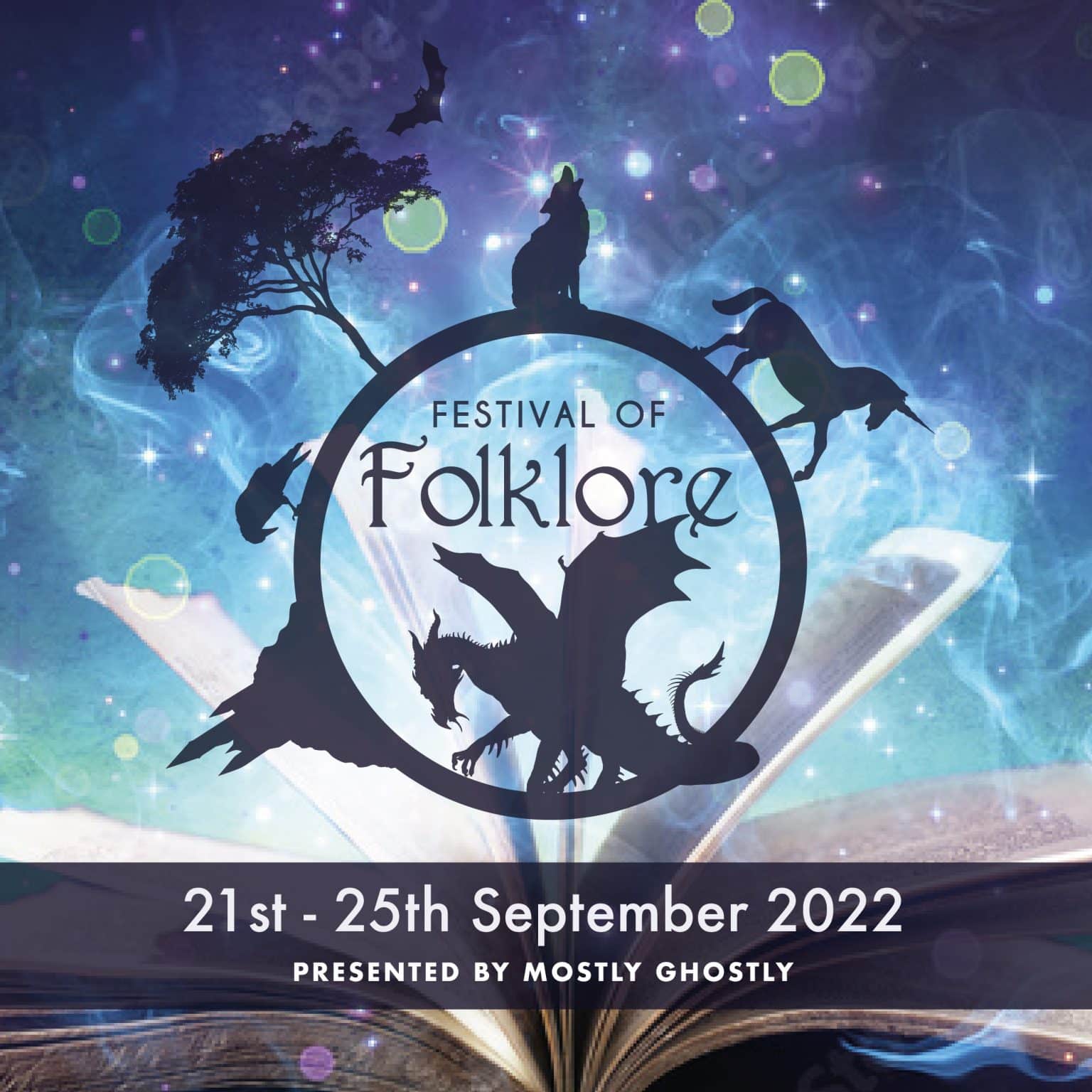 Festival fever has hit Upper Nithsdale, Dumfries and Galloway, with the triumphant return of the Festival of Folklore! Award-winning storytellers and Festival founders, Mostly Ghostly, are delighted to announce their fourth Festival of Folklore will run from Wednesday 21st – Sunday 25th September. Having come through some pretty big challenges in 2020 and 2021, the Festival team are thrilled to be opening an exciting new chapter to celebrate Scotland's Year of Stories. The Festival embodies the spirit of a community celebration, bringing people together from all walks of life to showcase the proud history, heritage, and rich folklore of Upper Nithsdale, and beyond.
Festival Founder Kathleen Cronie tells us more about the programme: "We're buzzing following the launch of Festival of Folklore IV and are proud to present a varied and colourful programme, featuring an array of talented performers and contributors from across Dumfries and Galloway. We aim for Festival events to stimulate the senses, introducing visitors to the mythical landscapes of Upper Nithsdale and some of its remarkable stories, as well as highlighting elements of folklore from the wider region's compelling narrative."
School's graveyard project
Mostly Ghostly, who specialise in exploring the darker, more curious side of history, have been working closely with the Upper Nithsdale Tourism Partnership for over four years. The Festival launched back in 2019 and enjoyed a resounding success, and the team are keen for the event to showcase the region's melting pot of talent and knowledge, inspiring visitors near and far to discover more.
The Festival opener featured Primary 4 children from Kelloholm Primary, who presented 'Our Graveyard Project', the culmination of a collaborative project with Kathleen Cronie, learning all about the history of St Conal's Parish Churchyard in Kirkconnel.
Kathleen said: "We felt so proud to welcome the children to the launch of our Festival; they were outstanding, and talked to guests about the many fascinating aspects of their learning journey including; folk art, occupations, epitaphs and place-names. Seeing the thirst for learning on the children's faces and their joy in discovery is something I'll always treasure."
Mischief at the Multiverse
The Festival team are very excited for their collaboration with PAMIS (Promoting A More Inclusive Society): "We're delighted to be joining forces with our friends from PAMIS on what we feel will be a Festival highlight. The stage is set in the mythical landforms and space-influenced creations of Crawick Multiverse, with an inclusive, educational, and highly entertaining multisensory event. The story, entitled: Mischief at the Multiverse! was influenced by tales of the legendary Crawick Witches, with our very own Mary Wood, who is known for her dramatic performances, taking on a key role," said Kathleen.
Maureen Phillip, Creative Arts Director with PAMIS said: "We are delighted to be partnering with Mostly Ghostly as part of the annual Folklore Festival. This year we bring you Mischief at the Multiverse! and are excited to perform this story in such a wonderful setting. We hope to welcome a diverse range of guests from across the region. The mobile changing place toilet, the PAMILOO, will be there for those that require it, and we look forward to seeing everyone on the day. Thanks to Mostly Ghostly for being such inclusive partners"
Call for objects relating to folklore
The intriguing subject of local place-names will feature in an engaging talk by Dr Colin Mackenzie, following up on his research into the Upper Nithsdale field-names project, while Stories of the Crichton Royal Asylum will form the basis of a powerful presentation by Crichton Heritage Officer Dr Valentina Bold. Drawing on her work with The Crichton Oral History Project, Dr Bold will explore the meaningful creative responses to these incredibly personal stories, presented earlier this year at 'Up The Middle Road', a major Year of Scotland's Stories event.
A special arts exhibition showcasing a collection of folklore-inspired art entitled: Mythical Landscape – Secrets of the Vale launches this Friday and will be open all weekend. The artworks, a culmination of a series of residencies organised by Writer, Artist and Cultural Worker, Ric Kasini Kadour at Merz Gallery, will be used to illustrate an abridged version of William Wilson's classic Folk Lore and Genealogies of Uppermost Nithsdale.
Museums Access Officer Tom Hughes, will be offering insights into how people once protected their homes, families and livestock from witchcraft, fire, lightning strikes and fairies. Guests will discover the thoughts behind these practices, hear about some local examples and handle a range of artefacts such as concealed shoes, holed stones, witch bottles and more.
Mostly Ghostly and Festival Team Member John Hill explained: "We're appealing for people to bring in folklore-related objects, for example; hidden shoes found under floorboards or in chimney breasts, and Tom, using his expert knowledge, will provide insights into their origins. This helps the Museum team and Mostly Ghostly build a clearer picture of the culture and beliefs of Upper Nithsdale's people."
Summing up, Kathleen said: "We're very excited to be welcoming guests to the Festival of Folklore; folklore is an intrinsic element of Scotland's rich historical and cultural identity, and here in Dumfries and Galloway, we are blessed with an abundance of curious tales, customs, traditions and supernatural beings! Upper Nithsdale boasts a unique and evocative beauty that sets the scene perfectly, and at every turn there is much to inspire imaginations and many a tale waiting to be uncovered. The ethos of the Festival has always been about community, togetherness and connecting people to the area's rich history and legends."