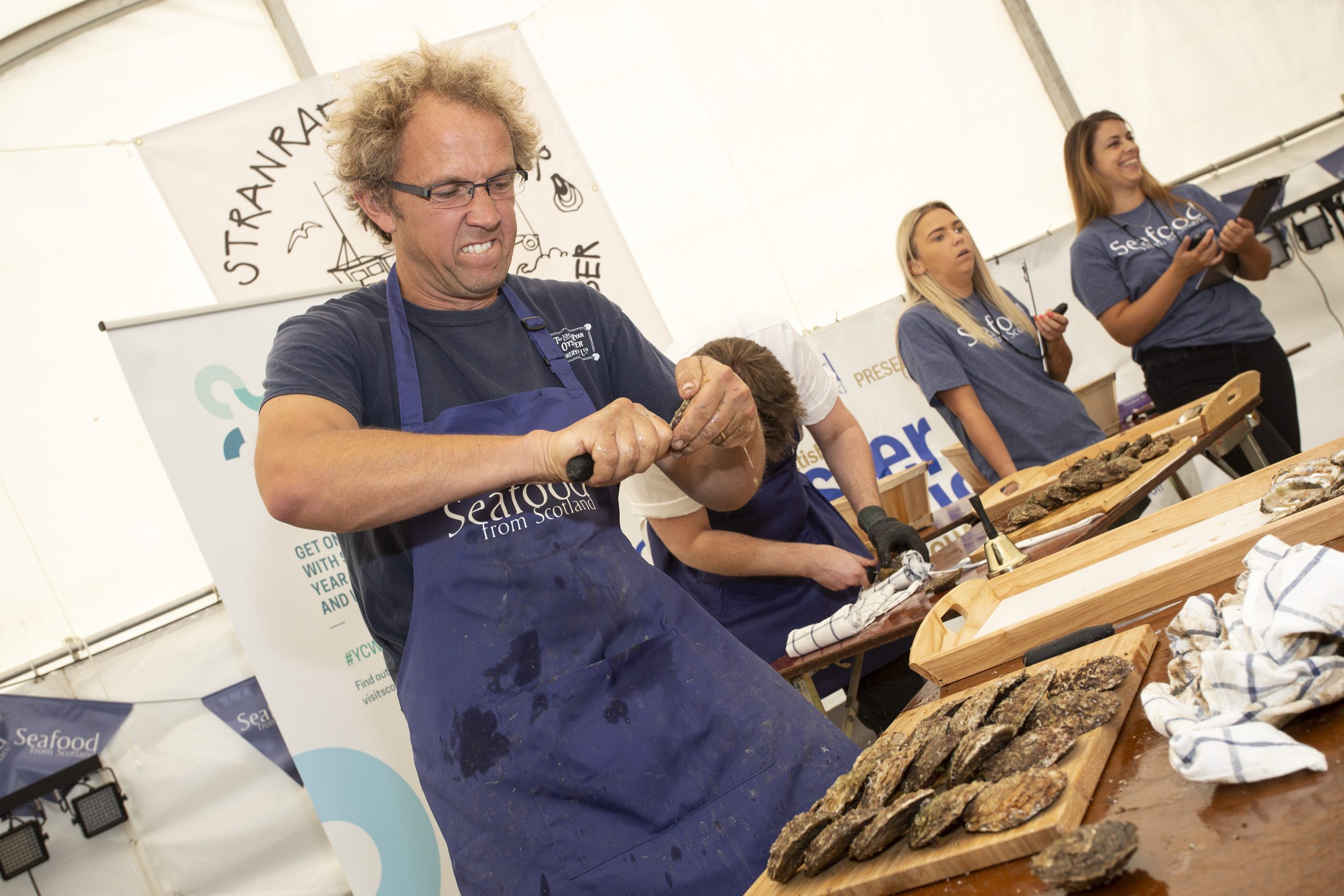 The Scottish Oyster Shucking Championship returns after two year break, taking centre stage at the Stranraer Oyster Festival in early September. The festival is inviting contenders to battle it out for the title of Scotland's Shucking Champion. Taking place on Saturday 3rd September 2022 , the Scottish Shucking Championships will see the winner go on to represent Scotland at the Galway International Oyster Festival.
Festival goers will be able to cheer on hopefuls competing to world standards as they battle it out through fast paced heats before the finalists shuck it out to win the title.
Open to Scottish chefs, seafood professionals and hospitality students, the winner will be crowned the Scottish Shucking Champion and will go on to represent Scotland in the World Championships at Galway International Oyster Festival, on an all-expenses paid trip in late September.
The current Scottish Champion, Tristan Hugh-Jones of Loch Ryan Oyster Fishery, will be compering the event and has offered some training at the festival help competitors perfect their shuck.
"It's fantastic to see the ShuckOff make a return to Stranraer Oyster Festival and I'm thrilled to be hosting the event this year. It was a real honour to win Championship in 2019, and represent Scotland at the Internationals in Galway, and this year I very much look forward to seeing some stiff competition, and some beautifully opened oysters!" said Tristan.
The ShuckOff will be judged by shellfish experts David Jarrad and Janet Brown. David Jarrad is Chief Executive of the Shellfish Association of Great Britain, an organisation representing the entire shellfish supply chain. David is an experienced oyster opening expert, having owned oyster farms and run a mobile oyster bar opening thousands of oysters at events and festivals.  He has been a judge at the British Oyster Opening Championship for over a decade.
Janet Brown has championed shellfish for decades, from research work on giant clams in the South China Sea to her current role as Editor of 'The Grower', the newsletter of the Association of Scottish Shellfish Growers.  Much of her working life has been spent in the Institute of Aquaculture, University of Stirling where she ran the shellfish unit.
Oyster shucking (or opening) championships are a popular feature of oyster and seafood festivals around the world. Each competitor is required to open 30 oysters in under three minutes, and points are awarded for the speed of opening plus the presentation of the tray of opened oysters. The test for the judges is how attractive the tray would look for a customer in a hotel or restaurant.
The Scottish Oyster Shucking Championships will take place on Saturday 3rd September from 12.30pm – 2pm at the Stranraer Oyster Festival.
If you are a chef or professional in the seafood sector and are interested in competing in the Scottish Oyster Shucking Championships, email Allana Hardie.