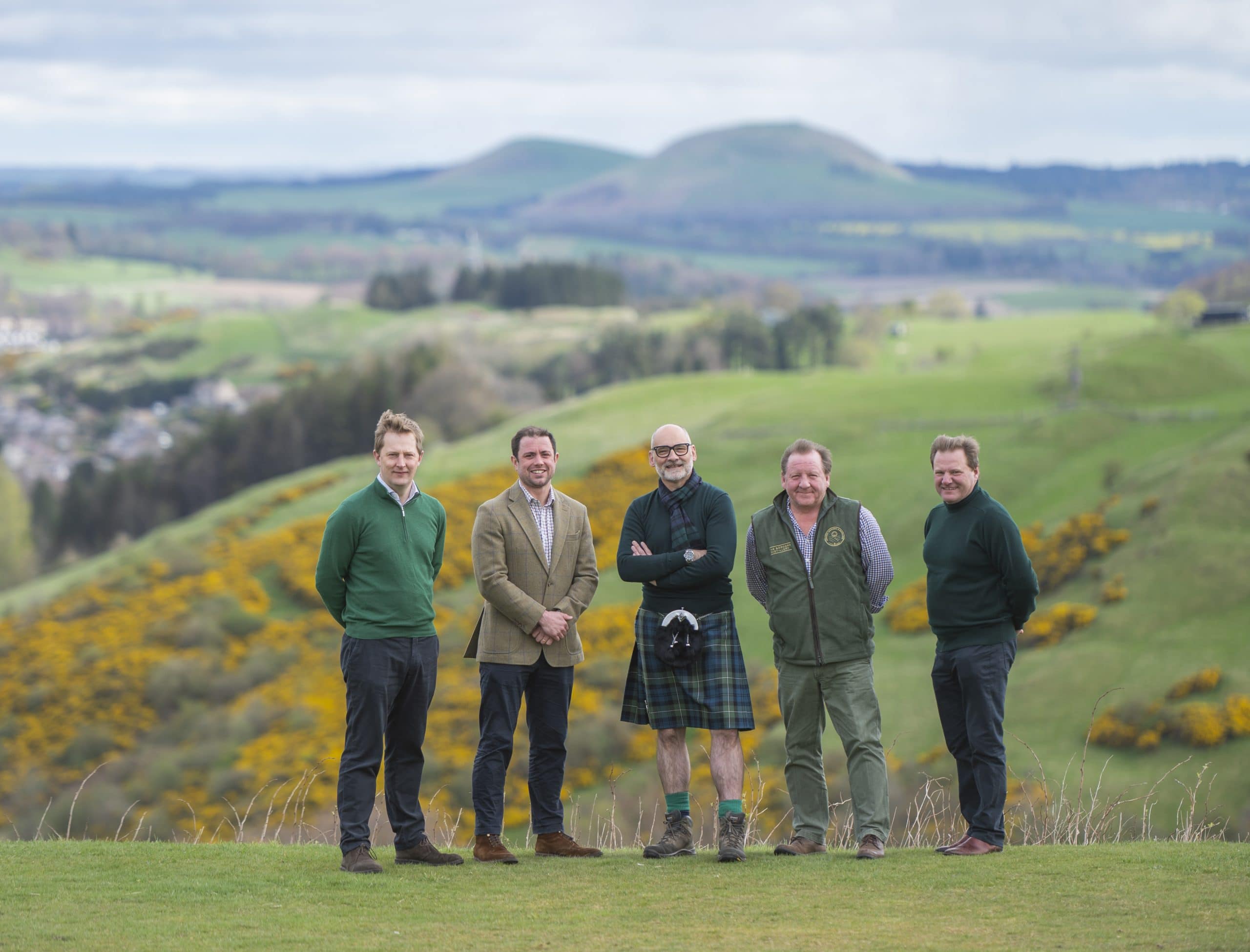 Seen on Vertish Hill Famously Hawick partners, left to right, Matthew Thomson of Hawico, James Fleming of Lovat Mill, Nick Bannerman of Johnstons of Elgin, John Fordyce of The Borders Distillery, David Nuttall of William Lockie
Hawick is Famously Green
That's the sustainability message that the Famously Hawick partnership were showcasing from the town's aptly named Vertish Hill this week.
Home of the 'Green Machine' rugby team, the Famously Hawick team continue to play their own part in making the town famous, and in this their latest chapter, for also being Famously Green.
This new campaign message aims to highlight the long held green credentials that are at the very heart of these five Famously Hawick premium producers. From their use of natural and ethically sourced fibres and commitment to recycling and renewables to local barley to bottle spirits. Famously Hawick have sustainability and community at their core.
Living more sustainable lives and making greener choices has never been more important and VisitScotland and consumer trends research show that visitors are increasingly seeking out businesses and destinations with excellent green credentials. This is clearly demonstrated by the international travel trade who are actively choosing to feature Famously Hawick within their itineraries and packages because of the commitment to sustainability that each of these businesses exemplify.
As John Fordyce from The Borders Distillery says:
"There is no doubt that all five Famously Hawick partner businesses are also committed to being Famously Green. For example, here at the Borders Distillery, we are proud to be a zero-waste distillery with the organic by product from distillation going back into the barley fields. That Johnstons of Elgin are one of the founding members of the Sustainable Fibre Alliance and that Lovat Mill recycle 100% of their wool waste. To Hawico, who offer a Redress and Repair Service which can make cashmere look fresh and new and that William Lockie use all natural fibres and that no chemicals are used in the washing process, just soft Scottish water. 
This is just a quick snapshot of the numerous green credentials upon which our businesses have been built. We are delighted that more and more visitors are coming to Hawick to source premium products in the town that they were created, but at the same time they are also recognising and choosing to support our ongoing commitment to sustainability".