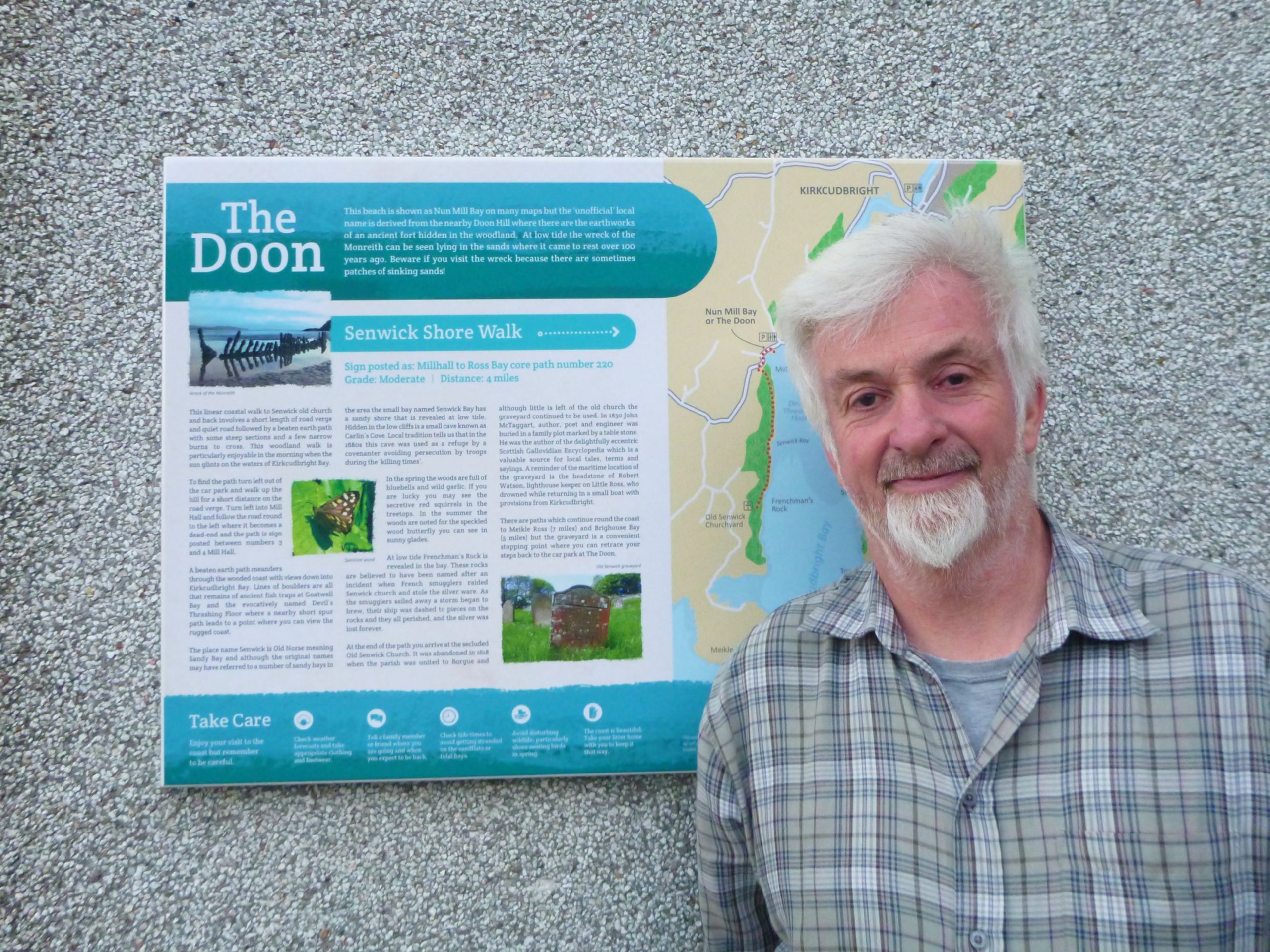 As part of the Solway Firth Partnership's 'Kirkcudbright Bay Views' project, funded by the Galloway Glens Scheme, a new information panel has been installed in the Doon Car Park. This illustrates the walk along the Senwick shore but also aims to give background to the question of whether it is the 'Doon' or 'Dhoon'.
The wider 'Kirkcudbright Bay Views' project included improvements to the Torrs point path and the production of two booklets, one illustrating a series of walks and the other focussing on the history of the Bay. These are available in hard copy from a variety local outlets, and online here: https://www.solwayfirthpartnership.co.uk/community/kirkcudbright-bay-views/. These project milestones have been added to now with an information panel installed on the Doon Bay toilet block.
In both publications and on the information panel, the popular local beach has been named The Doon and there have been several queries asking why we have not used The Dhoon spelling.
Doon or Dhoon?
All place names begin as a way of describing a place to another person or group of people, as a way of helping us find our way in the world. Some place names may have remained for thousands of years while others have frequently changed and are a modern phenomenon. Definitive names for places are found on Ordnance Survey maps but the beach is one of several places that has a different 'official place name' Nun Mill Bay than the one used by local people. Another local example is Lady Bay near the lifeboat station which appears on maps as Bathinghouse Bay.
Behind the beach Doon Hill is marked on Ordnance Survey maps and it is this spelling that has been used in the guides. The name is derived from the Gaelic Dun (pronounced doon) meaning fort and is the name of the hill fort named The Doon on the hilltop. On the mid 1800s 1st edition Ordnance Survey map the fort is named The Doon alongside Doon Wood, Doon Cottage and Doon School.
At some time in the last 100 years the name Dhoon appears to have been adopted for the beach and is widely used. Perhaps as the name The Dhoon is written more and more it will eventually be included as the 'official' name on Ordnance Survey maps.
Nic Coombey, from Solway Firth Partnership, said:
"I rather like the fact that these places have a different local name held in the oral tradition and the spelling has not been standardised. It would be interesting to know when The Dhoon spelling was first used and why it might have an 'h' added. One theory is that adding an 'h' adds an historical feeling to the place just as Ye Olde Shoppe does to imply some antiquity to a shop. If anyone knows when The Dhoon was first used it would help us understand how place names change over time."
The Kirkcudbright Bay Views project was supported by the Galloway Glens Scheme, a five year initiative focussing on the Ken/Dee valley, funded by a grant from the National Lottery Heritage Fund and a variety of partners including Drax, the owners of the Galloway Hydro Scheme. Jonathan Barrett, Galloway Glens Land Management & Access Officer, added:
"Local place names, their meaning and place in the landscape always give a huge amount of added interest to walks in the countryside. Kirkcudbright Bay and its walks offer a wealth of history reflecting activities, historic events, deeds and misdeeds, people and their lives throughout the ages."