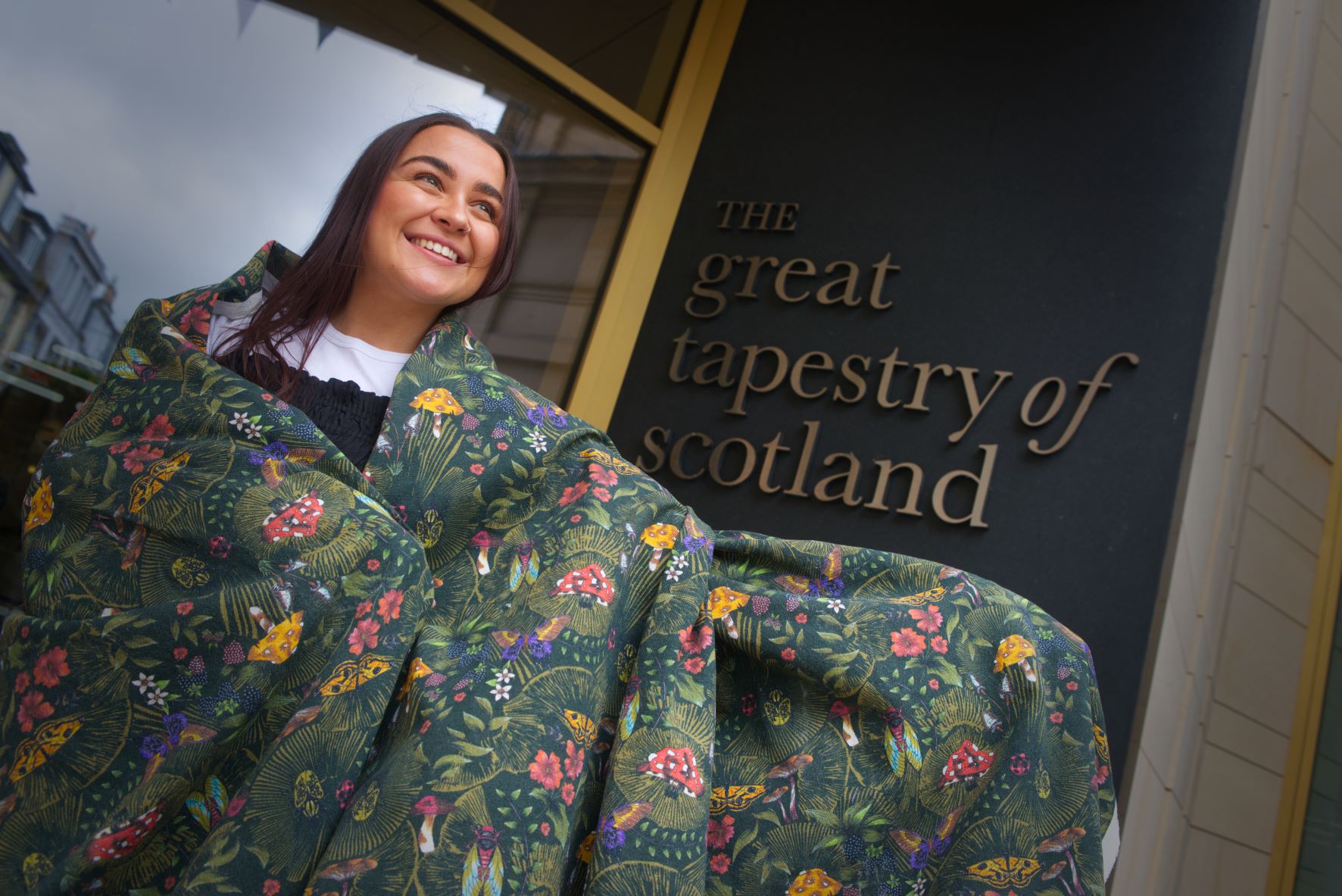 Through an evolving series of innovative and thought-provoking displays, a new national exhibit will showcase the role the design industry could play in combating climate change and reducing the global carbon emissions of historically highly greenhouse gas intensive industries.
Developed by the world-renowned Heriot-Watt University School of Textiles and Design to "reshape everything from fashion and manufacturing to healthcare and wellbeing", Metamorphosis will go on public display for the first time in The Great Tapestry of Scotland from 17 January to the end of March 2023.
The exhibit will literally 'metamorphose' with a new display every two weeks, showcasing some of the university's innovative research and practice across the different stages of design and manufacturing. It is hoped it will help industry leaders to adopt sustainable practices, strengthen ethical consumer buying power, inspire ethical designers of the future and support the wellbeing of all those who visit. It will also feature a series of talks and workshops looking at how the industry is reusing and recycling day-to-day waste (including textile manufacturing byproducts).
Displayed in the Great Tapestry of Scotland's Gallery 1420 in Galashiels, heartland of the Scottish Borders (an area which is still associated with the production of high-end fashion garments for the likes of Dior), the immersive exhibit will allow visitors to get hands on with innovative sustainable design practices and learn about research that is truly making a change for the better.
Revealing details of Metamorphosis, Dr Euan Winton, Assistant Professor in Design at Heriot-Watt University said:  "It is widely recognised that the lifestyle choices we all make as consumers have a profound effect on our planet, our communities and our own wellbeing. Design and manufacturing plays a huge part in influencing these choices. However, often this sits at odds with the long-term health of the world. Through Metamorphosis, we are using Heriot-Watt University research and practice to showcase just some of the innovative ways design, designers and consumers could positively reshape a wide range of industries from fashion and manufacturing to healthcare and wellbeing.
"By providing us with an exhibition space to showcase Heriot-Watt University's important work to new audiences, The Great Tapestry of Scotland is helping us to reinforce the opportunity for design to make a positive difference to the planet and our communities. It will give all those who visit an opportunity to rethink their lifestyle choices and feel good about what they buy."
Inspiration for all
Welcoming the exhibit, Sandy Maxwell-Forbes, Centre Director for The Great Tapestry of Scotland said: "We're delighted to be the first to host the important Metamorphosis exhibit in partnership with one of the most prestigious textile and design schools in the world, based right here in our hometown of Galashiels.
"There is only one earth and as we all begin to see the devasting impacts of climate change, we must all do all we can to inspire and equip everyone to do all they can to protect it and the communities in which we live.
"Community is truly at the heart of all that we do here at The Great Tapestry of Scotland, so we are thrilled that Metamorphosis will support our community in so many ways. As well as giving the students at Heriot-Watt University a platform to shine and boosting the wellbeing of all who visit, it will help our local renowned textile industry to be global leaders in sustainable design. And, through our partnership with Inspire Learning, it will also inspire school children to be sustainable designers of the future."
The Metamorphosis exhibit will open on Tuesday 17 January 2023 with the 'Polished Pieces' display of finished designs and projects generated through design practice. These will include items made with recycled or regenerated materials. The second 'Deconstructed' display (opening 31 January) will reveal sustainable methods used for designing and making products and garments, including manufacturing processes and social or participatory design (making social issues the priority of the design). In the third and fourth 'New Ideas' and 'New Resources' displays, starting 14 and 28 February, 'the exhibit will look at alternative ways of viewing waste materials and the opportunities this offers to designers.' The final display, 'Speculations' (from 14 March) will explore new areas of research and interest, providing a platform for ways in which the local community can work more closely with Heriot-Watt in shaping future designs and practices.
Assistant Professor Dr Lucy Robertson at Heriot-Watt University said: "Understanding material qualities and properties is imperative for designers. Although the ultimate aim is to eliminate waste, a lot can be learnt from using what we as society class as waste within creative projects. This exhibition asks us to reflect on how we view waste as a material and reconsider its value."