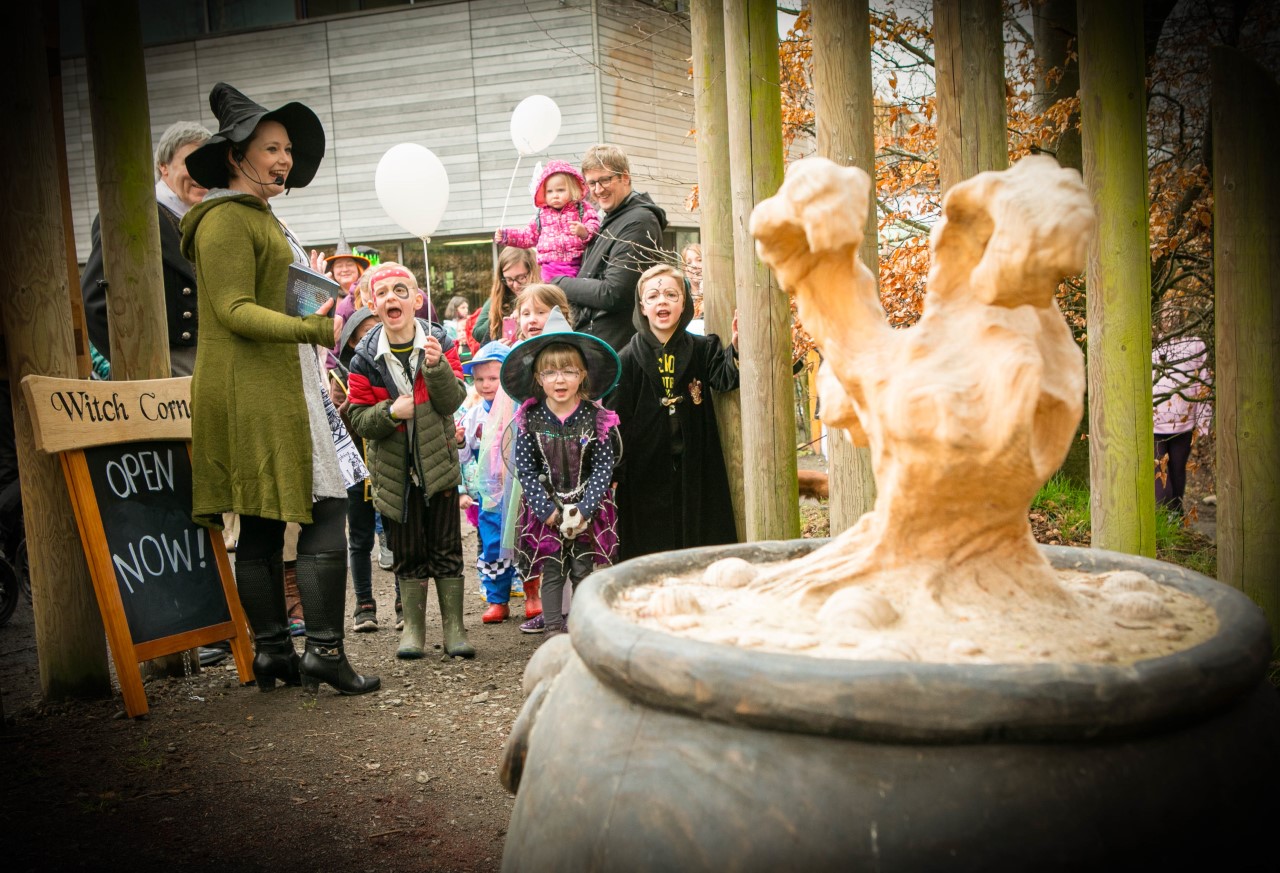 Witch Corner, a new sculpture story trail themed around the folktales and legends that inspired Sir Walter Scott, has opened at Abbotsford, the home of Scott, near Melrose.
Witch Corner includes twelve story stops with sculptures storyboarded by Brilliant Trails, the company behind the Loch Lomond Fairy Trail, in conjunction with Abbotsford's Heritage team and designed and built in the UK. The trail also features a play area and witch's cottage shop.  Children's activity booklets with activities to complete and clues to solve at each story stop are included in the experience.
Not just for children
More in-depth information on the origins and development of each legend or folktale including an audio guide for adult visitors is available through the new Abbotsford app. Directly inspired by the writings and research of Sir Walter Scott of Abbotsford (1771-1832), Witch Corner takes its name from Scott's nickname for his favourite section of the Abbotsford Library, which houses his collection of 250 rare books about witchcraft, magic, folklore, and superstition.
The trail opened on Saturday 1st April. Day tickets for Witch Corner are priced at £5.50 per person with annual tickets including a year's free parking at Abbotsford also available.
Witch Corner has been created thanks to support from private donors, Museums Galleries Scotland and South of Scotland Enterprise.
Interacting with heritage
Lucy Casot, CEO of Museums Galleries Scotland said: "We're delighted to support the Witch Corner story trail at Abbotsford thanks to the Scottish Government Capital Resilience Fund. The trail brings Scotland's history alive in an exciting way through exploring folktales and the magical stories of Walter Scott. This is a perfect example of how interacting with heritage can be fun, playful, and a great day out for all ages."
Professor Russel Griggs, Chair of South of Scotland Enterprise said: "We are delighted to have supported The Abbotsford Trust to create this trail inspired by the works of Sir Walter Scott. "The trail will be enjoyed by visitors of all generations, ahead of what is expected to be a busy summer for tourism in the South of Scotland. "The South is rich in heritage that we have the opportunity to showcase and this project is another great example of a tourist attraction diversifying to make itself engaging for all ages."
Giles Ingram, Chief Executive at Abbotsford, said: "It's fantastic to have Witch Corner open to the public after over a year in development.
"Our launch event was a great start to the Easter holidays for the many local families in attendance, with an Easter egg hunt, face painting and a first look at Witch Corner. Witch Corner is an exciting new way to experience Sir Walter Scott's storytelling with interactive content for all ages and we can't wait to welcome more visitors to the trail."
Past and present connect
Kirsty Archer- Thompson, Collections and Interpretation Manager at Abbotsford, said: "It was an absolute joy to open Witch Corner and see so many local people come and support this new addition to the Abbotsford visitor experience. This is the culmination of more than eighteen months of hard but very enjoyable work, shaping something that comes straight from the pages of Walter Scott's world-famous Library.
"Scott was so passionate about getting young people enthused in history, literature, legends and myth, but he thought that was best done in an enjoyable and experiential way – visit places associated with that history, imagine stepping into someone else's shoes…that's how we make sense of the past and make connections to our present. That's what Witch Corner is really about underneath it all, but that doesn't mean our journey through Scott's "fairy web of light and darkness" isn't hugely enjoyable for visitors of all ages!"
Witch corner is now open every day 10am- 5pm (last entry 4pm).