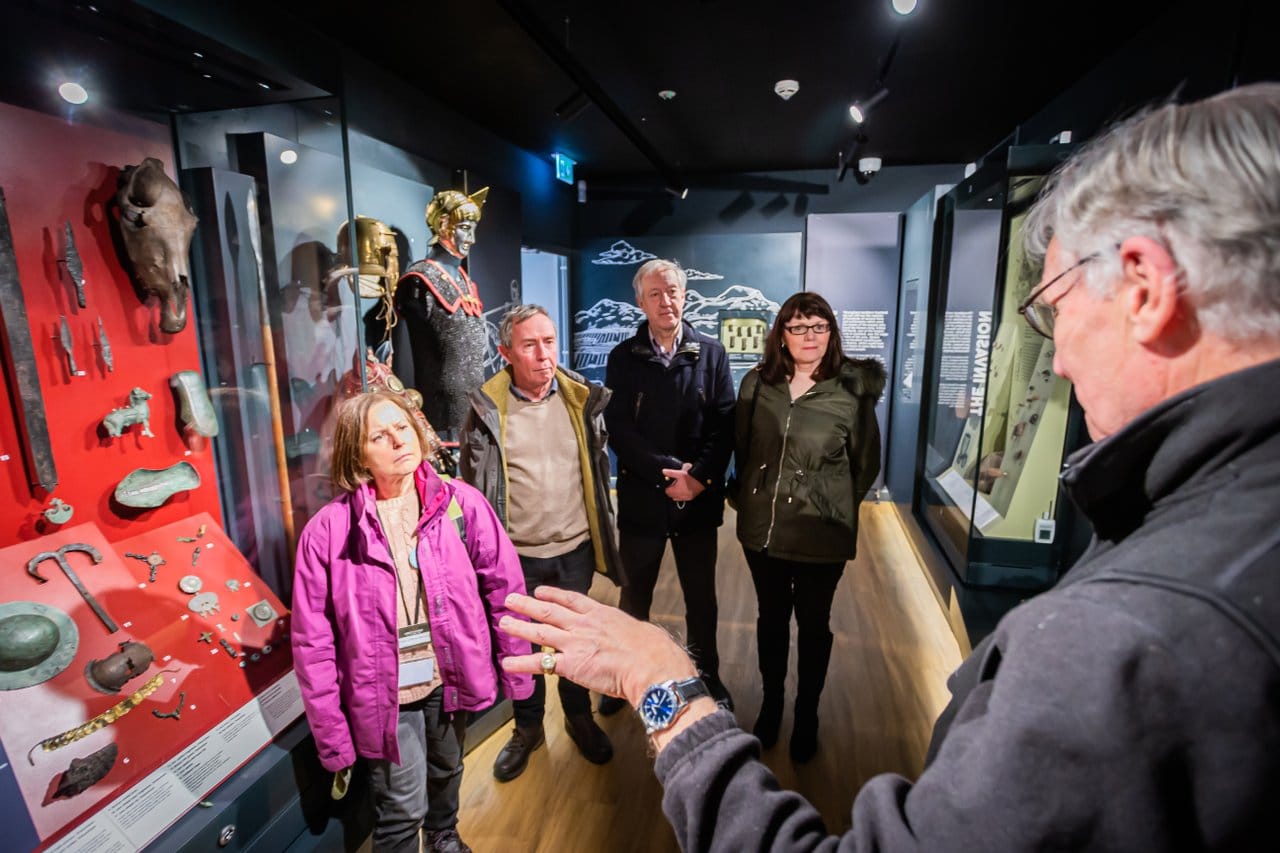 The Trimontium Museum in Melrose, the Face of Roman Scotland, has been awarded 5 stars by VisitScotland, the highest possible rating as part of their Quality Assurance (QA) Scheme.
This is an exceptional achievement for the visitor attraction which re opened in August 2021 following a £1.4 million transformation of the old museum space to the modern gallery which is an interpretation of the Roman occupation in Scotland. Opening their doors in the midst of a global pandemic did not phase the staff, volunteers and Trustees of the Trimontium Trust and this is reflected in the near perfect grades awarded for the volunteers warm welcome and friendliness.
This Award places the Museum as another addition to the world-class tourist attractions which the South of Scotland has to offer, acknowledging it an outstanding place for visitors to travel to and to enjoy.
Finest Roman militaria in UK
The Museum houses one of the finest collections of Roman-period militaria on display anywhere in the UK; it tells the story of the Roman occupation in Scotland and the mystery of the many pits discovered at the Trimontium site which contained Roman materials, remains and treasures.
John Reid, Chariman of the Trimontium Trust said: "We are absolutely delighted to be awarded five stars from Visit Scotland. This is no mean feat and a testament to all the hard work of our volunteers and staff. We'd also like to thank all those whose generous donations and grants have made all this possible. We believe this will complement the fabulous tourism offer of the Scottish Borders."
VisitScotland interim Regional Director Annique Armstrong said: "Congratulations to the team at The Trimontium Museum on this well-deserved 5 Star Quality Assurance award. To receive this award so soon after re-opening following refurbishment is testament to the exceptional visitor experience on offer.
Great Family Day Out
"This is a welcome boost to tourism in the South of Scotland and a fantastic family day out for locals and visitors during the school summer holidays.
"Quality Assurance is more than just stars on the door, it is about the entire visitor experience. Our stars represent world class excellence, helping businesses shine, enabling visitors to make informed choices and driving investment in quality.
"Tourism is a force for good. It creates jobs, sustains communities and contributes significantly to the economy."
The museum is open 7 days a week during summer months, tickets can be purchased online (www.trimontium.co.uk) or in person at the museum.