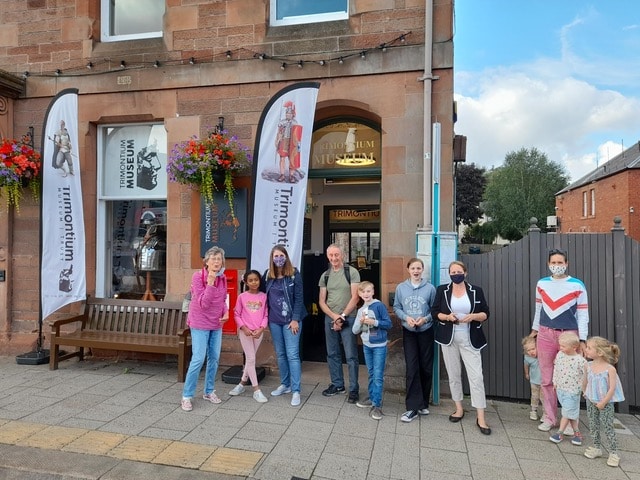 The announcement that Scotland will move beyond level zero on 9th August bringing the end to the majority of Covid restrictions has been welcomed by many, but none more than the hospitality and tourism industries.
Trimontium Museum in Melrose opened their doors on one of the finest collections of Roman military objects on display anywhere in the UK on 2nd August and have been overwhelmed by the response of visitors from home and away. Melrose has enjoyed a busy start to August and the Museum has been quite a draw. Rob Longworth, Heritage Resources Development Officer says 'We have been pleasantly surprised that the number of visitors each day has exceeded our expectations. Our volunteers have been delighted to be able to welcome so many people to the Museum.'
Whilst the Trimontium Trust recognise that this is a reaction to their reopening it is a strong signal that people are getting out and about and enjoying staycations in Scotland. With so much to offer in the Scottish Borders and in Melrose there is plenty to keep everyone entertained, young and old, whatever the British weather throws at us.
This has been echoed by Professor Russel Griggs OBE, South of Scotland Enterprise's (SOSE) Chair, said: "It is fantastic to see the new Trimontium Museum now open to the public. The project was supported by funding from the South of Scotland Economic Partnership, the predecessor to SOSE, and it will be a great asset in terms of welcoming visitors back to our region and helping the revival of our tourism economy."
The Museum is open seven days a week and operates a new online booking system for ticket sales as well as drop in visits if numbers allow. As well as the modern gallery with stunning objects on loan from the National Museum in Edinburgh, The Scottish Borders Council and private collections, the Trust organise guided walks to the Trimontium site and Melrose Town Trail walks.