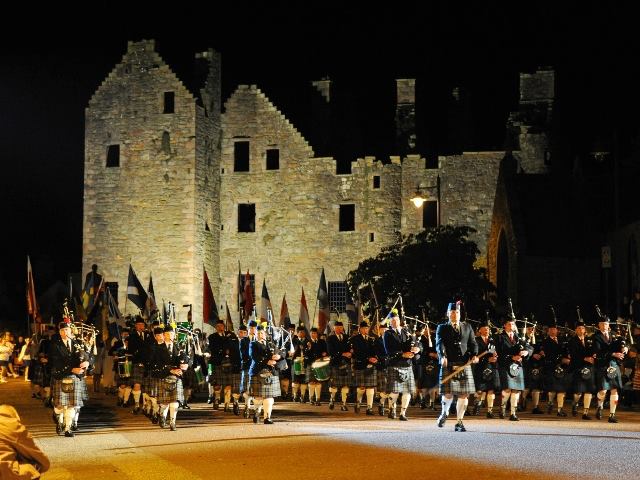 The Calgary Burns Singers will join a packed evening of entertainment for this year's Kirkcudbright Floodlit Tattoo on 27th August.
Kirkcudbright Summer Festivities are delighted to announce a colourful extravaganza of entertainment which includes Kirkcudbright and District Pipe Band, RAF Waddington Pipe Band, Isle of Cumbrae Pipe band, Doon & Dunaskin Brass Band and Annan Town Band, along with motorcycle stuntman Steve Colley, will be joined by an International act for the first time.
Canadian choir, The Calgary Burns Singers are touring Scotland in August and have agreed to perform at Kirkcudbright's Scottish Night on 25th August, the Tattoo and Kirkcudbright Parish Church on Sunday 28th August. The choir, formed in 1994 have performed at the Edinburgh Military Tattoo and are delighted to have the opportunity to appear in the town.
The Musical Director of the Calgary Burns Singers, Henry Cairney, is also President of the Robert Burns Federation and is a friend of KSF Director and former RBWF President Ian McIntyre. Mr McIntyre said "We are delighted to pull off such a coup in attracting the Calgary Burns Singers to our annual floodlight Tattoo in Kirkcudbright to provide an international presence. They will be performing at other concerts in Ayrshire and Glasgow but this is certainly the premier event ".
In addition to the fantastic musical elements to the event Kirkcudbright Summer Festivities are delighted to welcome back to Kirkcudbright Steve Colley, who performed at the Country Fair in 2019 with his incredible motorcycle stunts. As well as being a 3 time world champion, Steve is a born entertainer and the amazing skills he has on a motorcycle have to be seen to be believed!
To round off the world class entertainment, the evening ends with a spectacular fireworks display above the Kirkcudbright skyline.
Tickets for the event are available in person from the Kirkcudbright Summer Festivities Charity Shop, online or on the gate.