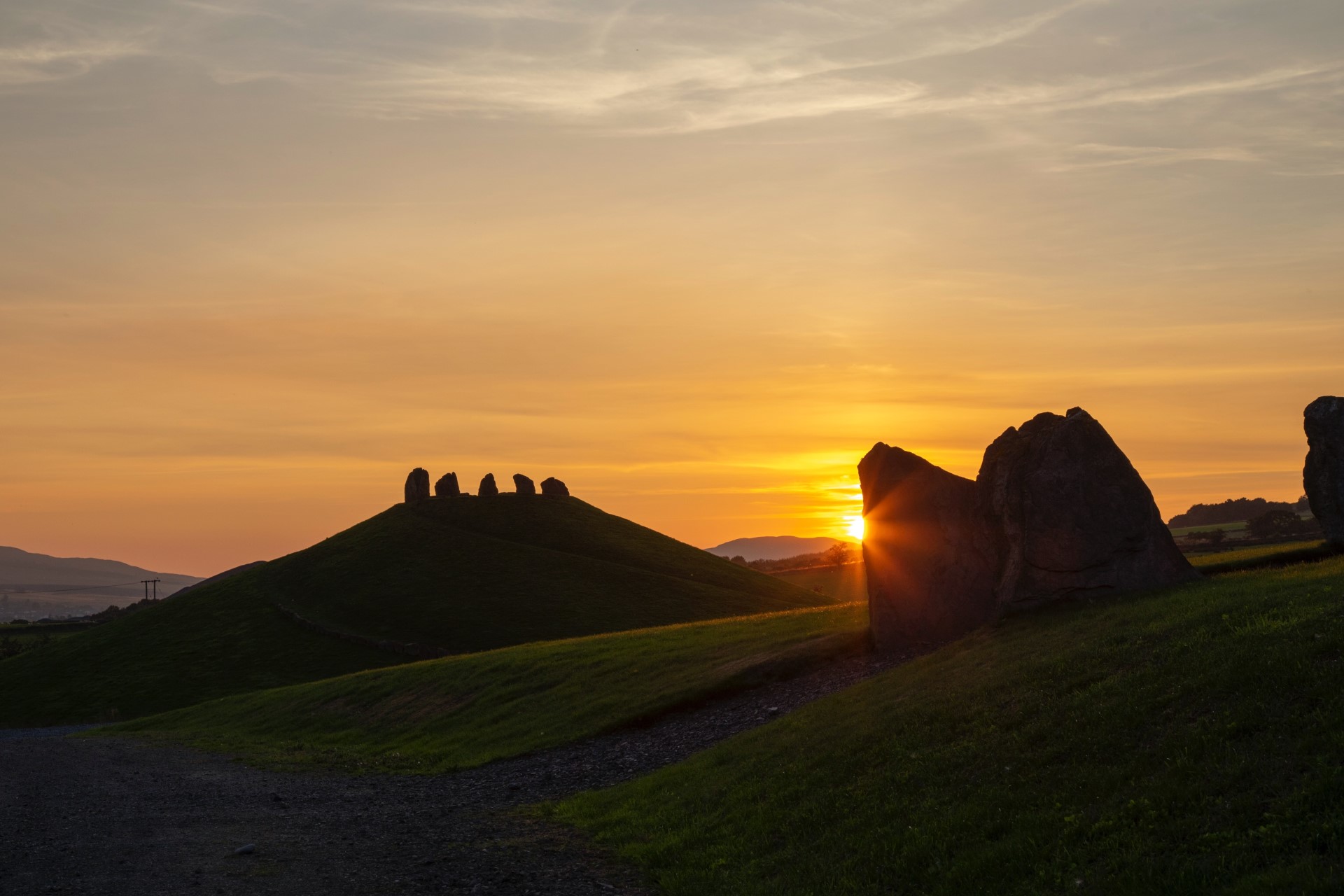 A rock that has travelled 240,000 miles from the Moon will land up at Crawick Multiverse for the launch of a week of events to mark the summer solstice.
The spectacular artland and visitor attraction in Upper Nithsdale, on the Dumfries and Galloway and Ayrshire border, has teamed up with The Open University (OU) in Scotland to organise events and activities that blend art, science, mystery, music and entertainment.
Week of events
Taking place from 18-24 June the week features everything from interactive talks on humans returning to the Moon through a sustainable exploration programme, to ceremonies greeting the sunrise on the longest day and The Tilt – the moment (3.57pm) when the Sun reaches its highest point of the year.
Gillian Khosla, Chair of The Crawick Multiverse Trust, said: "There's a real sense of magic and wonder when the sun rises over Crawick Multiverse on the Summer Solstice – with its great mounds inspired by the Milky Way and Andromeda and its avenues of standing stones.
"We are really looking forward to welcoming visitors to a week of events that offer the chance to explore one of Scotland's most remarkable artworks and visitor attractions.
"It's also a huge pleasure to be working in partnership with The Open University in Scotland to offer a programme of inspirational talks and activities that delve into our past and future, the challenges of climate change and the possibility of living on the Moon."
Family friendly, Summer Solstice at the Multiverse, includes live music, a Midsummer's Day picnic, workshops and the inaugural Solstice Seminar (at Sanquhar Town Hall), delivered by speakers such as Mahesh Anand, Professor of Planetary Science and Exploration.
Moon rock at the Multiverse
Prof. Anand, will bring a Moon rock (the largest lunar meteorite in the UK) and will also hold an interactive Living on the Moon event at the Multiverse on Sunday 18 June, added: "Our vision of the future sees a sustainable presence of humans on the Moon. For this, the lunar resources must be explored and utilised.
"Our world-leading scientific research at the OU on lunar samples is providing the basis for technological innovations that will eventually make living on the Moon a reality."
Crawick Multiverse is becoming increasingly well known as one of the best places in Scotland to mark the summer solstice – having held a series of celebratory events in recent years.
The beautiful 55-acre site (designed by the late Charles Jencks) is rich with giant conical grass mounds representing colliding galaxies, avenues of standing stones and other impressive features inspired by the sun, stars, and cosmic wonders.
Solstice opening
On 21 June Crawick will open at 4am providing a truly breath-taking setting to welcome the dawn. Visitors will be able to join A Sunrise Ceremony led by Open University Professor of Religious Studies, Graham Harvey and professional storyteller, Gordon MacLellan.
Gordon said: "Our Solstice Sunrise Ceremony will draw upon midsummer traditions from around the northern hemisphere, bringing together ancient British poetry with Scandinavian stories and more.
"Spiritual without being religious, this event will encourage visitors to pause and reflect upon their relationship with the world around them and appreciate this morning, this sunrise, one of the turning points of the year."
The week will conclude on the Saturday with a Midsummer's Day Family Picnic complete with more entertainment and a pop-up exhibition.
Derek Goldman, Senior Knowledge Exchange Manager at The Open University in Scotland added: "We are delighted to be co-hosting the Solstice Week celebrations at Crawick this year. It is a stunning and unique site which brings together the wonders of art and science.
"With students across the whole of Scotland – including 2,900 in South Scotland – The Open University is pleased to be delivering talks and workshops in the programme with some of our leading experts in space science and the arts, as part of our cultural and community engagement work across Scotland."
Programme highlights
For tickets and information visit: www.crawickmultiverse.co.uk 
Sunday 18, June at Crawick Multiverse 
Visit, explore and discover Crawick Multiverse from 10am to 6pm.  There will be a Soapbox Science Workshop looking at energy and the environment and an interactive talk about living on the moon plus:
Self-guided sensory tour of Crawick Multiverse.
Guided tours available throughout the day.
Get a selfie with Kelton, the huge wicker Belted Galloway.
Summer Solstice Seminar, 18 June, 5.45pm-9pm at Sanquhar Town Hall: 
The Sun and the Moon: Our Past and Our Future: Monica Grady CBE, Professor of Planetary and Space Sciences, Open University.
Living on the Sun: Stephen Peake, Professor of Climate Change and Energy, Open University.
Living on the Moon: Mahesh Anand, Professor of Planetary Science and Exploration, Open University.
Summer Solstice Day, Wednesday 21 June 
4am Sunrise Ceremony on the Andromeda mound led by Professor Graham Harvey and Dr Luidmila Nikanorova from The Open University and supported by professional storyteller, Gordon MacLellan.
Self-guided sensory tours and guided tours.
Yoga, Tai Chi and Qigong.
Entertainment from local dance groups, musicians, choirs and talks about the history and traditions of solstice celebrations and gatherings.
3.15pm-4.30pm Tilt Ceremony: Led by Professor Graham Harvey, Dr Liudmila Nikanorova, Lecturer in Religious Studies, Open University, Professor Stephen Peake and Gordon MacLellan.
Meet Kelton, the one tonne wicker Belted Galloway.
Saturday 24 June 
Midsummer's Day Picnic at The Multiverse. Picnic boxes can be pre-ordered from local cafes, tearooms, hotels and bakers.
Pop-up Exhibition: Baron Thyssen Centre Exhibition: Includes photographs and information about objects connected with ancient summer festivals.
Children's Storytelling Sessions: Led by Gordon MacLellan.
Midsummer entertainment from local stars and performers.