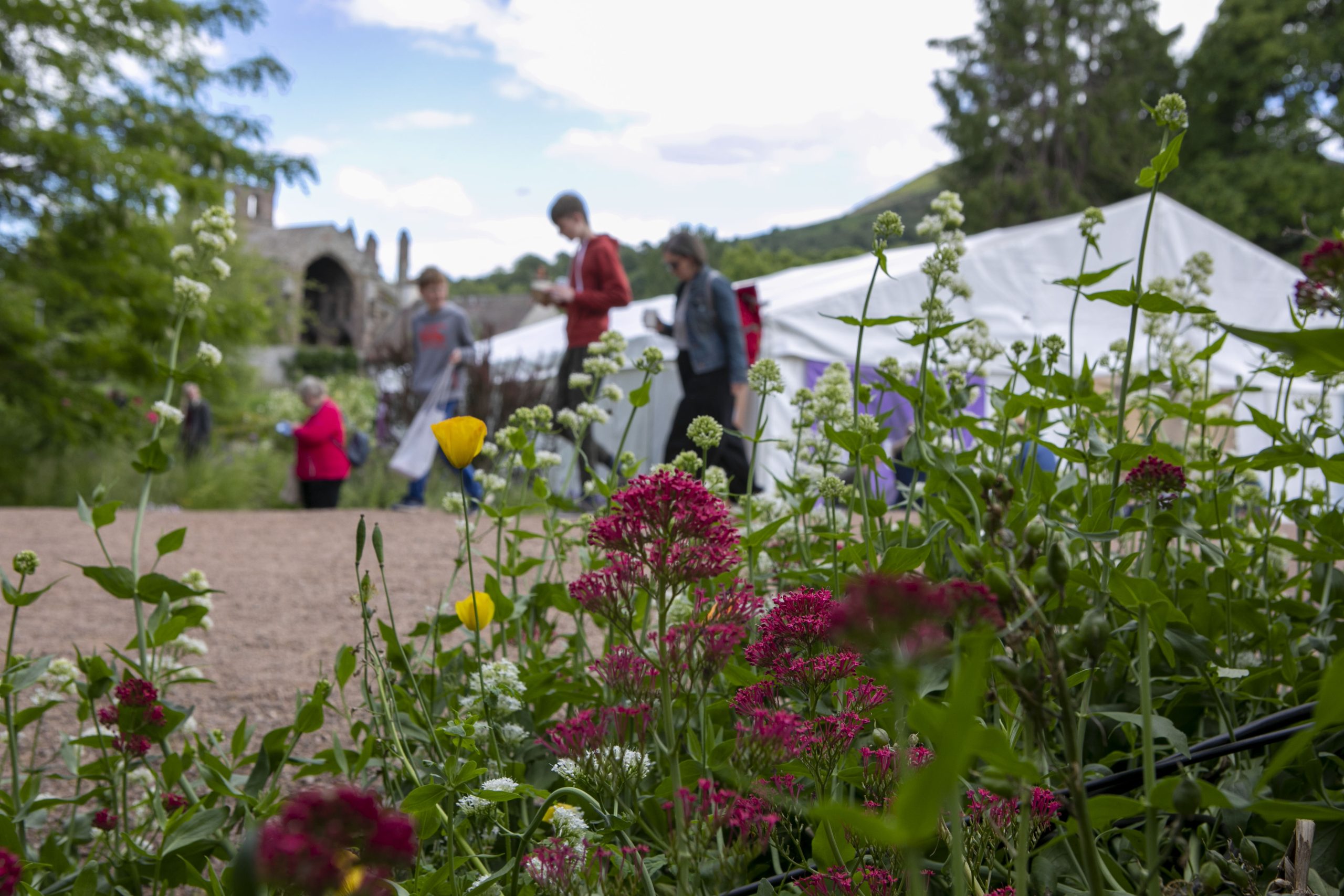 Well-known names from the worlds of stage and screen, current affairs, politics, literature, and sport will this weekend (15th to 18th June) take to the stage at the Borders Book Festival against the stunning backdrop of Melrose's Harmony Garden, in the Scottish Borders.
The Book Festival opens on Thursday (15th June) to a literary fanfare with the announcement of the winner of one of the UK's leading literary prizes, the Walter Scott Prize for Historical Fiction.  All seven shortlisted authors: Lucy Caldwell, Adrian Duncan, Robert Harris, Elizabeth Lowry, Fiona McFarlane, Simon Mawer and Devika Ponnambalam — will converge in the Borders from across the globe to hear the £25,000 winner announcement live on stage.
Running over four days from Thursday 15th to Sunday 18th June, the packed programme continues, including: Mayor of Greater Manchester Andy Burnham; ex-Labour Leader and former Prime Minister Gordon Brown; BBC TV's Strictly ex-judge and dance sensation Dame Arlene Phillips; actor and impressionist Jon Culshaw; comedian and ventriloquist Nina Conti (and Monkey); prize-winning novelists Douglas Stuart, Robert Harris and Sebastian Barry; beloved sports commentators Archie Macpherson and Andrew Cotter; Scottish football legend, now pundit, Pat Nevin; tennis champion and coach turned novelist Judy Murray; civil rights campaigner and distinguished lawyer Baroness Helena Kennedy KC; Britain's greatest archaeologist Sir Barry Cunliffe; leading political analyst Prof. John Curtice; and peeress and socialite Lady Anne Glenconner. 
Festival favourites
Joining the line-up, too, will be stars of the TV hit show The Great British Bake Off, Peter Sawkins,Giuseppe Dell'Anno and Rahul Mandal; long-time festival favourites Sally Magnusson and James Naughtie; award-winning Kenyan-Scottish storyteller Mara Menzies; multi-million-selling novelist Jenny Colgan; and crime-writing royalty Val McDermid, Christopher Brookmyre, Mark Billingham and Doug Johnstone.  Veteran Borders Book Festival guest Rory Bremner will present a very special event with fellow comedian Shaparak Khorsandi about their shared diagnosis of ADHD.
Principal Sponsor Baillie Gifford is sponsoring a number of events, including maritime archaeologist Mensun Bound talking about the discovery of Shackleton's ship Endurance and sports adventurer Mollie Hughes on exploring Scotland's wild waters.   As National Media Partner, The Financial Times is hosting a series of events, including: former Celtic and Ireland manager Martin O'Neill on his football career spanning five decades; The FT's chief economics commentator Martin Wolf explaining the crisis of democratic capitalism and how to fix it; as well as tips on navigating the cost of living crisis with practical money-saving advice and habit-changing tips from The FT's consumer editor Claer Barrett and The Batch Lady Suzanne Mulholland.
The McInroy & Wood Lecture is this year with Kate Bingham, who has written a compelling account of her role as Chair of the UK's Covid-19 vaccine taskforce and the race to get Britain vaccinated and out of lockdown.  She will be in conversation with journalist Tim Hames and Book Festival chairman Michael Moore.
Adam Smith 300th birthday events
This year the Book Festival will mark the Tercentenary of the birth of Scottish philosopher and economist Adam Smith, with events sponsored by the Scottish Mortgage Investment Trust, including prominent French-British writer Philippe Sands KC, winner of the Baillie Gifford Prize for Non-Fiction for East West Street, and ex Bishop of Edinburgh and acclaimed broadcaster Richard Holloway paying tribute to the pioneering political thinker.
Festival Director Alistair Moffat said: "It's wonderful to see the marquees up in Harmony Garden once more and the stage set for our 20th edition of the Borders Book Festival.   We look forward to welcoming back our audiences, authors and supporters to four glorious days of lively debate, fun and laughter.
"Ticket sales this year have proved the appetite is back for live events – nothing beats it!   Some events may have sold out, including Gordon Brown, Andy Burnham and Anne Glenconner, but there's still plenty on offer  – it's not too late, and tickets can even be purchased on the day."
The Children's Programme, sponsored by Baillie Gifford, takes place throughout the day on the Saturday and Sunday (17th & 18th June), packed with exciting author events, including: award-winning author and illustrator Lauren Child; firm-favourite Vivian French; Martin Brown celebrating 30 years of Horrible Histories; and the wildly entertaining Kjartan Poskitt.  In addition, there will be free kids' craft activities, storytelling and interactive creative workshops.
Post-prize panel
Following the announcement of the winner of this year's Walter Scott Prize for Historical Fiction, the shortlisted authors will join a panel of distinguished guests at Bowhill, the Duke of Buccleuch's home, on Friday (16th June), for a special colloquium event discussing the past, present and future of the historical fiction genre.
Throughout the four days, there will also be live music, the Orchard tented food village, and a plethora of free, fun activities, making the Borders Book Festival a great day out for all the family to enjoy.
Michelle McLeod, Sponsorship Manager at Baillie Gifford, said: "It's exciting to see another impressive cast of writers, thinkers and entertainers coming to Harmony Garden. We are very much looking forward to being amongst the festivalgoers and enjoying all that this brilliant Festival has to offer."
Festival's 20th anniversary
Paul Bush OBE, VisitScotland's Director of Events, said:  "EventScotland is proud to support the Borders Book Festival in this momentous year. Celebrating its 20th anniversary, the Festival's impressive programme brings together some of the country's top literary talent, as well as announcing the winner of the coveted Walter Scott Prize for Historical Fiction.  Funded through our National Events Programme, festivals like this play an integral role in positioning Scotland as the perfect stage for events. They not only shine a spotlight on our culture but also deliver positive economic and social impacts".
Harriet MacMillan, Literature Officer at Creative Scotland, said:  "Huge congratulations to Borders Book Festival on an outstanding roster of authors for their 20th anniversary year. From leading commentators, politicians, TV personalities, actors, comedians and civil rights campaigners, alongside award-winning storytellers and novelists, this year's programme really does have something for everyone. 
 "With live music, food, and an exciting range of free, fun activities, the Borders Book Festival is a great day out for all the family and an important part of the Borders' cultural calendar. The Schools Programme in September is particularly exciting, engaging up to 65 primary schools and working with award-winning children's authors. The Festival represents an extremely rich opportunity for the local Borders community to connect with stellar voices from Scotland's literary scene and beyond."
Tickets now available at www.bordersbookfestival.org  or by calling 0131 290 2112.
The book festival welcomes the continued support of Principal Sponsor Baillie Gifford and Lecture Sponsor McInroy & Wood, as well as Bell Financial Planning, BCCA, Borders Vets, Borders Distillery, Cullen Kilshaw, CSY Architects, Davidson Chalmers Stewart, EcoSafety, Eildon Housing Association, Gall Robertson, The FT, Knight Frank, Mainetti, M&J Ballantyne Ltd, the Melrose Stove Co., Scottish Mortgage Investment Trust, Thomson Roddick Auctioneers and the on-going funding of Scottish Borders Council, The National Lottery through Creative Scotland, EventScotland as well as many other loyal supporters including The Turtleton Charitable Trust and The Dr David Summers Charitable Trust.