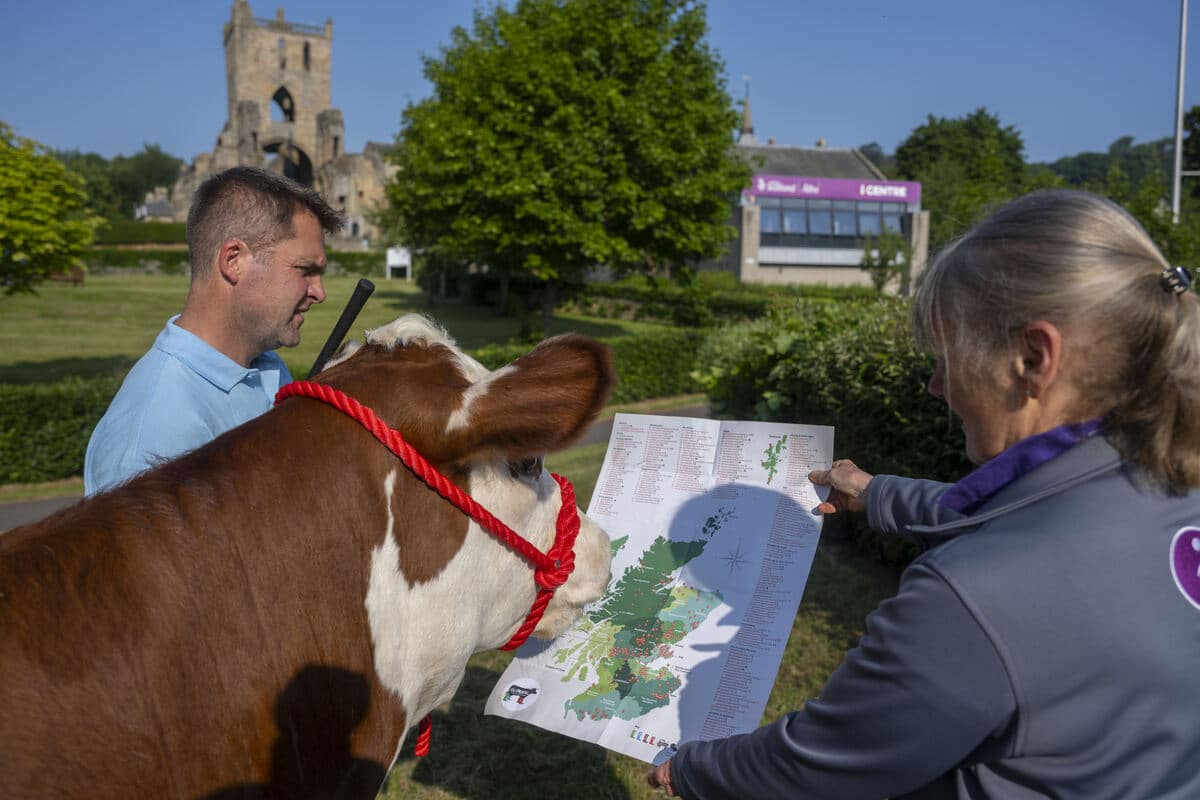 SCOTLAND'S fantastic range of farm and croft visitor experiences are set for a field day, with the arrival of a new agritourism guide in VisitScotland iCentres.
The new map showcasing more than 200 of Scotland's best agritourism experiences is now available for visitors across the national tourism organisations' network of information centres.
The Go Rural map, which was launched during the first ever Scottish Agritourism month in May, includes information on working farms and crofts to buy homegrown food and drink, spend the day or stay on holiday. The 217 agritourism experiences are located across the country, from Shetland to the Scottish Borders. They are now available to pick up from any of VisitScotland's 26 iCentres around the country, allowing visitors and locals the opportunity to learn more about Scotland's agritourism sector in their local area and beyond. A digital version of the map is also available at www.goruralscotland.com
Agritourism in Scotland is defined as tourism or leisure on a farm or croft that produces food or offers holiday experiences.
In recent years, particularly during the pandemic, agritourism has become a growing travel trend with visitors seeking out authentic rural experiences that connect them to the countryside and Scotland's natural larder.
The occasion was officially marked by Scottish Agritourism board member Robert Wilson of Wilson's Farm & Kitchen and his companion, Lily the Hereford cow, who met with staff from Jedburgh iCentre. Lily was sporting a distinct resemblance to the Go Rural brand cow, which is used to signify that these agritourism experiences take place on authentic working farms.
Caroline Millar, Scottish Agritourism Sector Lead said: "Our Go Rural map provides inspiration and ideas for the best experiences in Scotland's countryside, as well as the inside knowledge on where to enjoy delicious food and drink direct from a farmer.
"We know many people are interested in using the map to visit the many different farms and crofts in Scotland and it is great to launch this new helpful guide across all of VisitScotland's
iCentres and our Go Rural farms. When visitors see the Go Rural cow, they can be assured of a friendly welcome and a really great authentic rural experience."
VisitScotland Head of Information Services Tracey Beveridge said: "From fruit picking to farm stays, adventure sports to lambing experiences, this map showcases the fantastic wealth of agritourism opportunities available for visitors and locals to enjoy the length and breadth of Scotland.
"Our iCentre staff are looking forward to using the map to provide inspiration for visitors, as part of VisitScotland's commitment to working in partnership with the sector to position Scotland as a leading destination for agritourism."