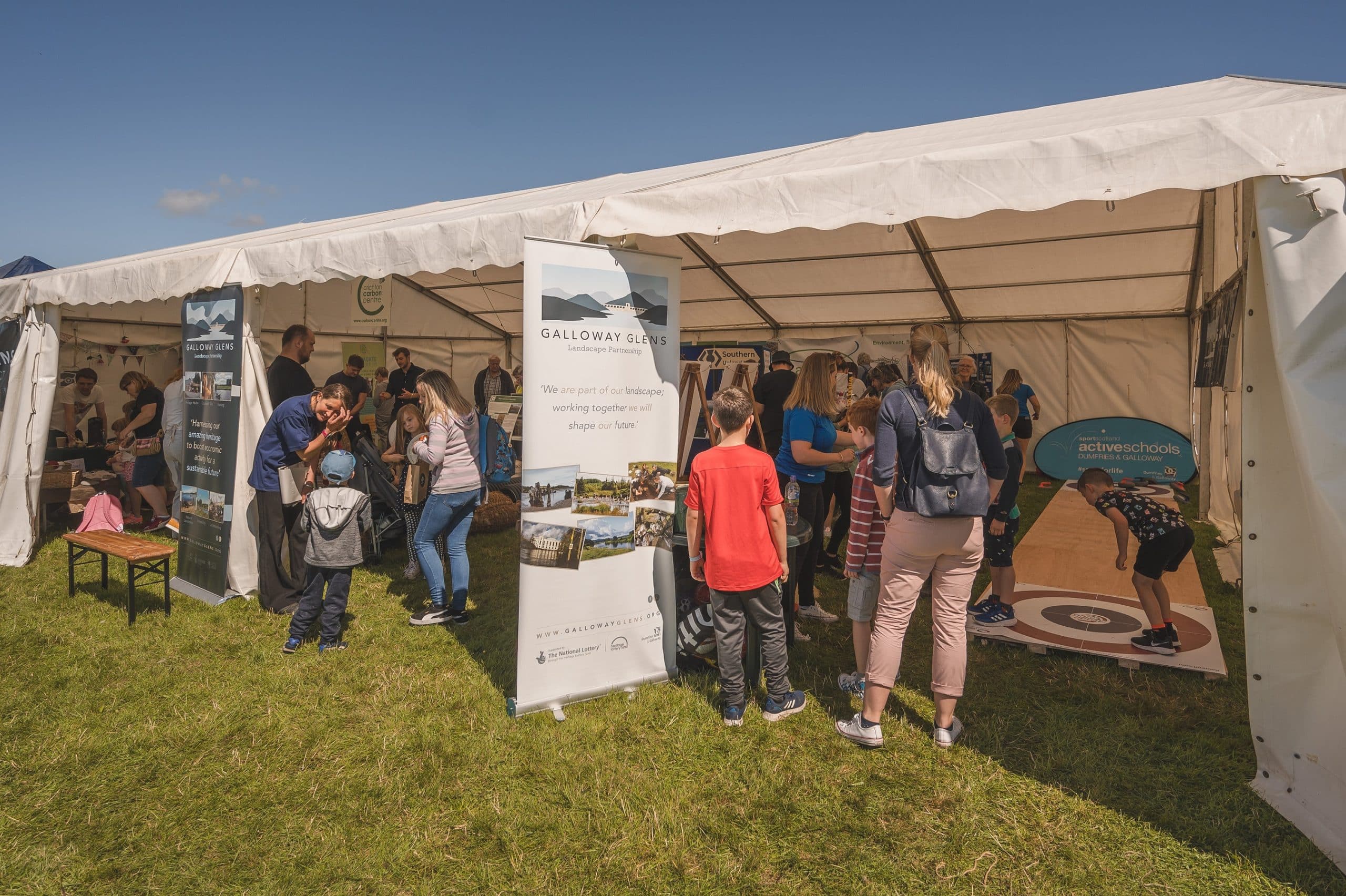 Are you looking for something do in water, on horseback, on foot or in a seated position this summer? The Galloway Glens Scheme has this week published the final summer programme of events – drawing upon the whole range of work undertaken and partners supported. The Galloway Glens comes to an end in September and this event programme gives a flavour of the projects supported over the years and celebrates why Galloway is special…
The 2023 Summer Events Programme is known as 'The Long Goodbye' as it is 3 months of activity, with 13 events up and down the Ken/Dee valley – both in person and online. Activities vary from the first ever Galloway Glens Horse ride, to child friendly guddling in rivers and learning about edible seaweeds on the Galloway coast. This builds to a crescendo on 18th September with the final ever event in partnership with the Dumfries Archival Mapping Project. There won't be a dry eye in the house…
McNabb Laurie, Galloway Glens Team Leader, said: "The Galloway Glens Team and our partners have, as ever, pushed the very boundaries with this… These events should be good fun but obviously there is a bigger point to make here as we try to give new and different ways to connect with and enjoy the amazing landscape and heritage of Galloway.  We are so proud to be an initiative of the Council's Environment Team and none of this would be possible without the support of The National Lottery Heritage Fund and lottery players around the country."
Summer Programme
02 July – 2-4pm – The Health Benefits of 'Wild' Swimming. Led by Lesley Atkins, health coach and advocate of cold-water swimming. Meeting at Dalry Town Hall, we will travel to a beautiful secret swimming location. Book ticket.
07 July – 2-5pm – Visit to James Clerk Maxwell's Glenlair House.
Researchers from the Can You Dig It project will share their findings from their research into local stately homes, through the 'Building Biographies' project. Includes house tour and tea & scones on the lawn. Book ticket.
Date TBC – Test Pitting with the 'Can You Dig It' Project
For their final dig, Can You Dig It will be looking for volunteers to do some test pitting over three days in July in Galloway. Location and dates are still to be confirmed but keep an eye on our social media for updates or email jan.hogarth@dumgal.gov.uk to join the mailing list!
19 July – 7.30-9pm – The Landscapes of the Galloway Hoard
Orla Craig is finishing her PHD exploring Galloway at the time the Hoard was buried. Join us for an insight into what we know – and don't – about Scotland's South West 1,000 years ago. Attend in person at Balmaghie Kirk. Book ticket
22 July – 10am-2pm – Sondes & Stoneflies
A chance to guddle in two burns with the Galloway Fisheries Trust, learning about indicators of freshwater health – what can we see and what can we measure. Fun for all the family. Suitable for all ages. Book ticket
26 July – 7.30-9pm – Celebrating Biodiversity at Threave
Film-maker John Wallace has been capturing the exciting work at Threave, looking at the people and wildlife involved. Join John, the National Trust for Scotland Team and key partners
for a curated review of the five short films, and discussion about their production. Attend in person at Fullarton Theatre. Book ticket
29 July – Stewartry Show
Farming comes to Town! The Galloway Glens Team will have a stall at this popular event, now in its 75th year, with something for all ages.
04 August – 6.30-8.30pm – Seaweed Snacks: Wrack n Roll
With Solway Firth Partnership's Nic Coombey and the Galloway Glens' Nick Chisholm. This is the chance to identify seaweed, with tasting notes! Book ticket
09 August – 8-10pm – Moths & Meadows
Walk and talk and disturb moths… Which moths inhabit the sites that we now better understand thanks to the historic mapping 'GREMLIN' project. With Alyx from Galloway Fisheries Trust. Book ticket
11 August – 9am-4pm – Gatehouse to Mossdale Walk
Join our Jonathan on a walk along the old railway line from Gatehouse of Fleet Station to Mossdale, with information about the heritage of these routes. Book ticket
18 August – 11am-2pm – Sketching in the Landscape
Sketching in the great outdoors is not only good for your creativity but also has health benefits. Join Jan as she shares techniques and tips to enjoy sketching in the landscape. Book ticket.
20 August – 2-5pm – Woodhead Trail Ride
Our first horse ride! Bring your horse to travel over the hills from Woodhead lead mines down to Lamloch and back to Carsphairn, discussing the history of this incredible landscape as we go. Book ticket
18 September – 7.30-9pm – The Time Travelling Ecologist
The final event from the Galloway Glens…ever! Partnering up with Dumfries Archival Mapping Project (DAMP) in Dalry Town Hall we will use historic maps to discuss five ecological subjects found in our landscape in the late 1700s. Attend in person in Dalry Town Hall or online. Book ticket
The Galloway Glens Scheme is a 5-year project based in the Stewartry region of Dumfries and Galloway. An initiative of Dumfries & Galloway Council's Environment Team, it is funded by a range of partners including the National Lottery Heritage Fund. The Galloway Glens Scheme aims to connect people to their heritage and to support modern rural communities.