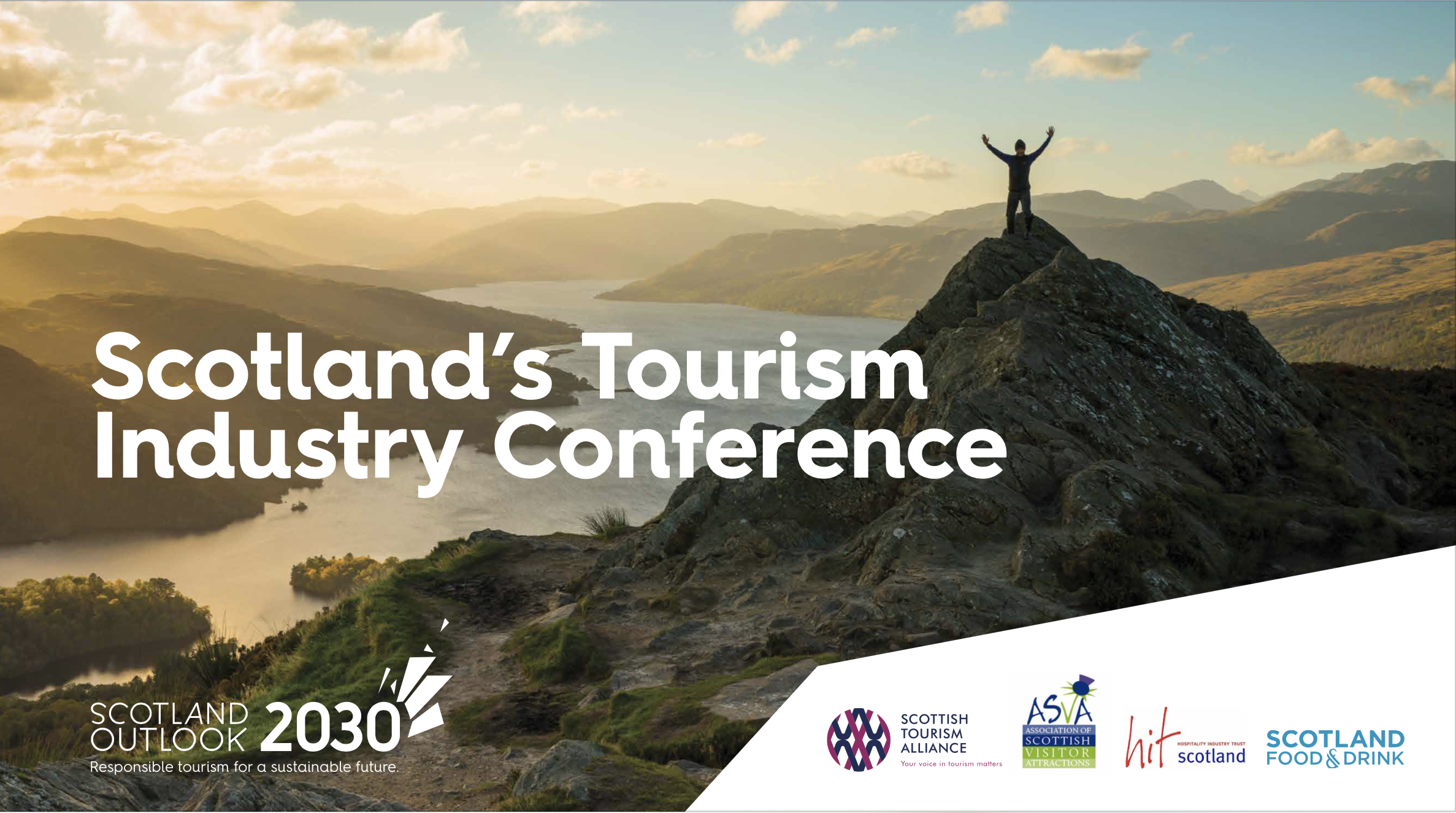 Last year, the pandemic prevented an industry conference, but Scotland's Tourism Industry Conference is back, with promises of bigger and bolder than ever before. Featuring a stellar line-up of inspirational and thought-provoking speakers, and a packed programme of relevant and engaging content, the event is designed to support Scotland's attractions sector and entire tourism industry and – to borrow a phrase – help us all to 'build back better'!
Attend in person or online
All ASVA members and colleagues across Scottish tourism are invited to attend Scotland's Tourism Industry Conference on 24 and 25 November at the EICC in Edinburgh. And if you're not able to be there in person, you can still benefit from the event by attending 'virtually'. 
Secure your tickets now – with only two weeks to go and as it is being jointly hosted by ASVA, The Scottish Tourism Alliance (STA), HIT (Hospitality Industry Trust) Scotland, and Scotland Food & Drink – tickets are in great demand. You can book simply by clicking here.
Memorable experiences theme
The exciting programme on both days has been carefully created with a common theme running through both days – 'memorable experiences'. This is a key attractions sector focus set within the broader context and bigger picture of the whole tourism industry and business development framework.
Day 1 includes:
Panel discussion
Ivan McKee MSP, Minister for Business, Trade, Tourism & Enterprise, Scottish Enterprise CEO Adrian Gillespie, Scottish Financial Enterprise CEO Sandy Begbie, Business Gateway CEO Hugh Lightbody, Green Tourism CEO Andrea Nicholas, and UKHospitality CEO Kate Nicholls.
Speakers
NatWest Group Economist Philip Bartlett, Independent travel journalist Simon Calder, Euromonitor Head of Travel & Tourism Research Caroline Bremner, VisitScotland Head of Marketing Vicki Miller, Head of Insights Susan Dickie and Senior Tourism Insight Manager Chris Greenwood, Scottish Enterprise Tourism Manager Aileen Lamb, World Record Breaking Mountaineer and Adventurer Mollie Hughes, CEO of The Wilderness Group and Chair of the Outdoor Scotland Leadership Group Paul Easto, 2023 UCI World Championships Director of Strategy Policy and Impacts Craig Burn, Greener Guest and Travel Without Plastic Founder Jo Hendrickx, Peach 2020 Founder/Executive Director Peter Martin, Scotland Food & Drink CEO James Withers, Bonnie & Wild CEO Charlie McAlpine, and Wonderland Restaurants CEO James Bulmer.
Day 2 includes:
Panel discussion
Titanic Belfast CEO Judith Owens, Diageo Scotland Brand Homes MD Barbara Smith, Royal Yacht Britannia & Fingal Hotel CEO Bob Downie, and Museums Galleries Scotland CEO Lucy Casot.
International keynote guest speaker
Walt Disney Imagineering Executive Producer & Creative Director Ann Morrow Johnson joins us in-person to talk on 'Worldbuilding for Star Wars: Galactic Starcruiser', sharing insights into the development of this first-of-its-kind attraction and how the power of storytelling can build and create truly memorable visitor experiences. Part attraction, part immersive theatre, part live-action game, and part overnight hospitality, Walt Disney Imagineering is creating a 'storyliving' eco-system where guests will get to step into and play a role in the Star Wars universe, living out a Star Wars story over two days and nights.
Speakers
Complete Works (storytelling/memorable experiences consultants) MD Bala McAlinn and Senior Account Manager George McLean, BVA BDRC (insights/quality consultants) Director of Tourism & Leisure Jon Young, Abbotsford CEO Giles Ingram and Head Gardener Tim Owen, ALVA CEO Bernard Donoghue, Tree of Knowledge Owner/Director Gavin Oattes, Hotelier of The Year and London's Royal Lancaster Hotel GM Sally Beck, Former SAS officer and negotiator John Davidson, and The Extraordinary Training Company MD Jane Rennie.
Full details of the Conference programme and schedule for both days can be found here.
If you're attending the event in person there is an exclusive delegate rate of only £85 per night at Yotel Edinburgh, contact us at info@asva.co.uk and we'll provide you with a special promo code you can use when booking.