Our Ambition
To transform the South of Scotland into a year-round world class destination, growing tourism spend in the region to £1bn by 2030 and creating an additional 6500 jobs.
In the next 5 years we aim to be financially self-sustainable through memberships, sponsorships, partnerships and commercial agreements.
We will put the South of Scotland on a global stage – raising awareness and demand amongst visitors near and far
We are here to help you in the long and the short term – firstly through the Covid-19 recovery period and then as we grow and prosper as one region
As your industry voice we are working in partnership with SoSE, VisitScotland and our local Councils to deliver national, regional and local tourism strategies
We will represent the South of Scotland at the highest level, putting the needs of our region's industry in-front of Ministers, Cabinet and Convention of the South.
With the region's tourism industry currently facing its biggest ever crisis and an anticipated recovery period of three to five years, we believe, now more than ever before, that our role and function is critically important to the recovery and future economy of the South.
SSDA will lead the delivery of a clear tourism strategy from coast to coast, supporting the best possible recovery plan for the sector and the wider economy of the South of Scotland. With a focus on place-making, people, digital capability and sustainability, the ambition of SSDA is to make the South a top tourism destination, offer a world-class visitor experience and drive multi-million-pound growth in tourism spend.
We want our local sector to thrive and prosper and so our key priorities in the coming months will be:
Establishing 'Scotland Starts Here' as the destination brand for the region, developing short and long term marketing plans targeting both domestic and international visitors. This is on the back of the MBTAG activity delivered to date through Midlothian and the Scottish Borders and will now also include Dumfries and Galloway
Engaging members on a local level and working closely with the industry on recovery, product development, business readiness and future workforce education
Strategic destination development planning, focused on understanding the region's longer term needs to inform capital and infrastructure investments
Working actively with local communities to demonstrate the value of the tourism sector and to cement its part in the place-making activity of the South
Working closely with South of Scotland Enterprise and representing the needs of the industry amongst local and national governments
Cross-Sectoral Engagement
If tourism in the South is to succeed , we need to look beyond ourselves and future proof our industry
In addition to the core remit of developing the region's tourism, hospitality and leisure offering, the SSDA will look to:
Develop the industry's links with the region's education sector, highlighting tourism as a career, and helping to ensure we have a future workforce.
Establish working groups with local organisations to develop eco tourism strategies and community projects that can be shared throughout the South.
Work actively with local communities to demonstrate the value of the tourism (particularly important post Covid).
Build the tourism supply chain and create partnerships in everything from laundry provision to digital capabilities.
Encourage a carbon neutral approach from our membership by bringing together sectors including energy provision and transport to deliver a long term and sustainable tourism supply chain for the South.
The South of Scotland Destination Alliance and Scotland Starts Here – What is the Difference and When to Mention…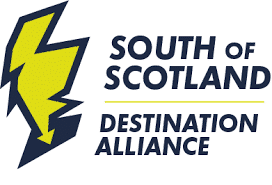 Our "Behind the Scenes"
Our face to the industry and our partners
Destination management and tourism product development
Stakeholder and partner working
Business to business support
Promoting opportunities for tourism businesses in the South of Scotland
Supports capacity building, collaboration between businesses and sharing expertise

Our 'Face to the world"
Our marketing platform
Consumer facing campaign
Promoting tourism members of the South of Scotland audiences across Scotland, the UK and Worldwide.
Creating awareness and solidifying brand image through content (photos , videos, blog posts etc)
When to mention SSDA
Looking for and offering business support
Membership questions / business events
Industry and business news
Launching new products / seeking collaborations
Press releases
Tag or message @SSDAlliance on Facebook, Twitter and LinkedIn
When to mention SSH
Photos of your business and the area that speaks to consumers directly
Content promoting the South of Scotland in general – videos, blog posts etc
Tag @discoversouthscotland on Facebook & Instagram @Herescotland on Twitter
#ScotlandStartsHere
SSDA is supported by South of Scotland Enterprise Agency, South of Scotland Enterprise Partnership, VisitScotland, Dumfries and Galloway Council and Scottish Borders Council and also received funding from the former South of Scotland Enterprise Partnership.