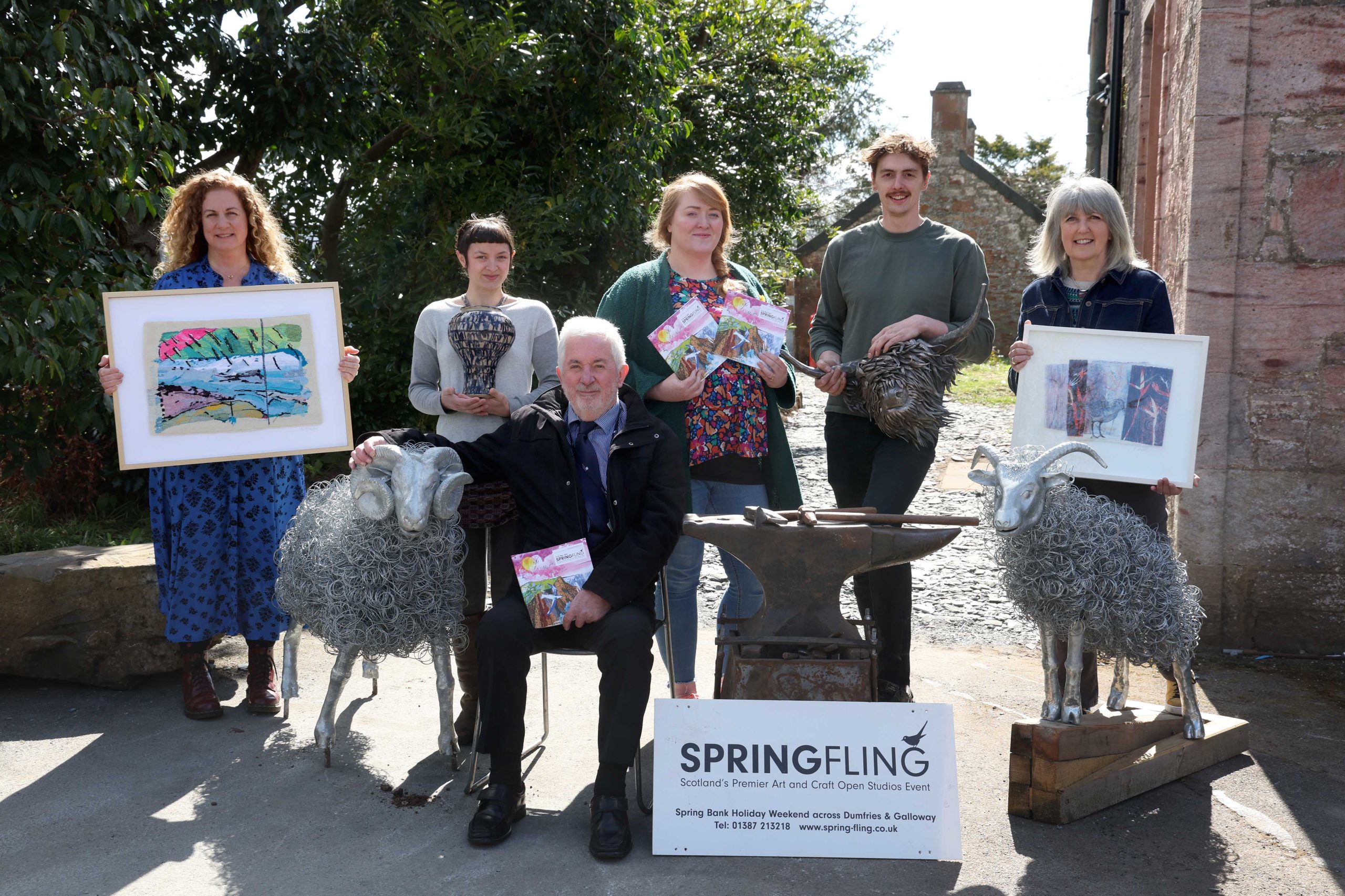 Life-sized sheep made with bedsprings, hand thrown pottery and colourful textiles – just some of the intriguing artistic treats visitors to the Thornhill area can enjoy during Spring Fling.
This year's 21st annual contemporary art and crafts weekend, from 27 to 29 May, will see 100 studios – the biggest ever number – open their doors to the public across Dumfries and Galloway.
Six colour-coded routes
It's a huge and beautiful rural region that takes time to explore so Upland CIC, Spring Fling's organisers, have divided it into six suggested colour-coded routes that each allow people to meet a wide variety of artists and makers.
Thornhill, in mid Nithsdale is at the heart of the Green Route, and has five Spring Fling participants including blacksmith Nate Robinson whose forge is at The Old School House, and Gyllian Thomson, who creates colourful tapestries inspired by the region's landscapes.
Nate, who taught himself blacksmithing as a teenager after being invited to have a go during an event, loves to experiment and his creations include sheep with wool made using old bedsprings.
He said: "A friend of mine had some old bedsprings and it occurred to me that they would look great as wool, so I have transformed them into life-sized sheep which people can see when they visit my forge during Spring Fling.
"This year will be the first time I've taken part, and it's great to be here in Thornhill where there's a whole group of Spring Fling artists and makers nearby, so visitors can see everything from my blacksmithing to ceramics, jewellery and visual art."
Gyllian said: "This is my second Spring Fling and it's so important to me and my work. One and all come to my studio it's such a unique experience and I love it."
A little to the west, in Penpont, is textile artist Deborah Campbell. Her mixed media work uses a variety of techniques to create work inspired by Dumfries and Galloway's wild coastal areas.
Deborah said: "I'm so looking forward to taking part in Spring Fling this year at the Rooks Gallery in Penpont where I will be exhibiting my new textiles and watercolours. I will also be giving visitors an insight into how I create my hand printed fabrics by demonstrating collagraph and geli printing."
To the north, at Sanquhar on the border with Ayrshire, there is Robyn Cove who makes beautiful hand-thrown functional blue and white pottery – including mugs, dishes and plates – as well as lovely decorative pieces.
Supported by DG Council
Spring Fling is supported by Dumfries and Galloway Council as a highly successful way to bring visitors into the area.
Councillor Ian Blake, the Chair of the Communities Committee, said: "Spring Fling showcases the excellence, in many cases the international excellence, of our artists and craft makers. It is a joy and a treat to be able to spend time with the artists directly over the open studios weekend, to learn more about their craft and inspirations. This is a great weekend to invite friends and family to Dumfries and Galloway, to take in Spring Fling and many of the great Arts Festival performances too."
The event also plays an important role in promoting the region's vibrant creative economy.
Councillor Jackie McCamon, the Vice-Chair of the Communities Committee, said: "The length and breadth of the region, there are brilliant artists and craft makers highlighting their work during Spring Fling.
"It is one of the most important events for the economy of Dumfries and Galloway, and in the pre-pandemic era generated close to £2 million in revenues for the participants and tourism industry here. I am delighted at such a strong programme of participating studios and the excellent recovery of Spring Fling since the COVID-19 pandemic."
Green route studios
There are 11 studios on the Green Route. The others will be jewellery makers Kaz Robertson and Alison Macleod, potter Sam Sparrow, ceramicist Ruth Elizabeth Jones and semi-abstract landscape painter Anne Butler.
Joanna Jones, Assistant Director of Upland CIC which organises Spring Fling, said: "The studios along the Green Route show why Spring Fling has grown to become Scotland's premier open studios weekend.
"It's not just the variety of artists and makers that make it such an enjoyable event – it's also the fact that they are such fascinating people, many of the inspired by the natural environment of one of the country's most beautiful rural regions."