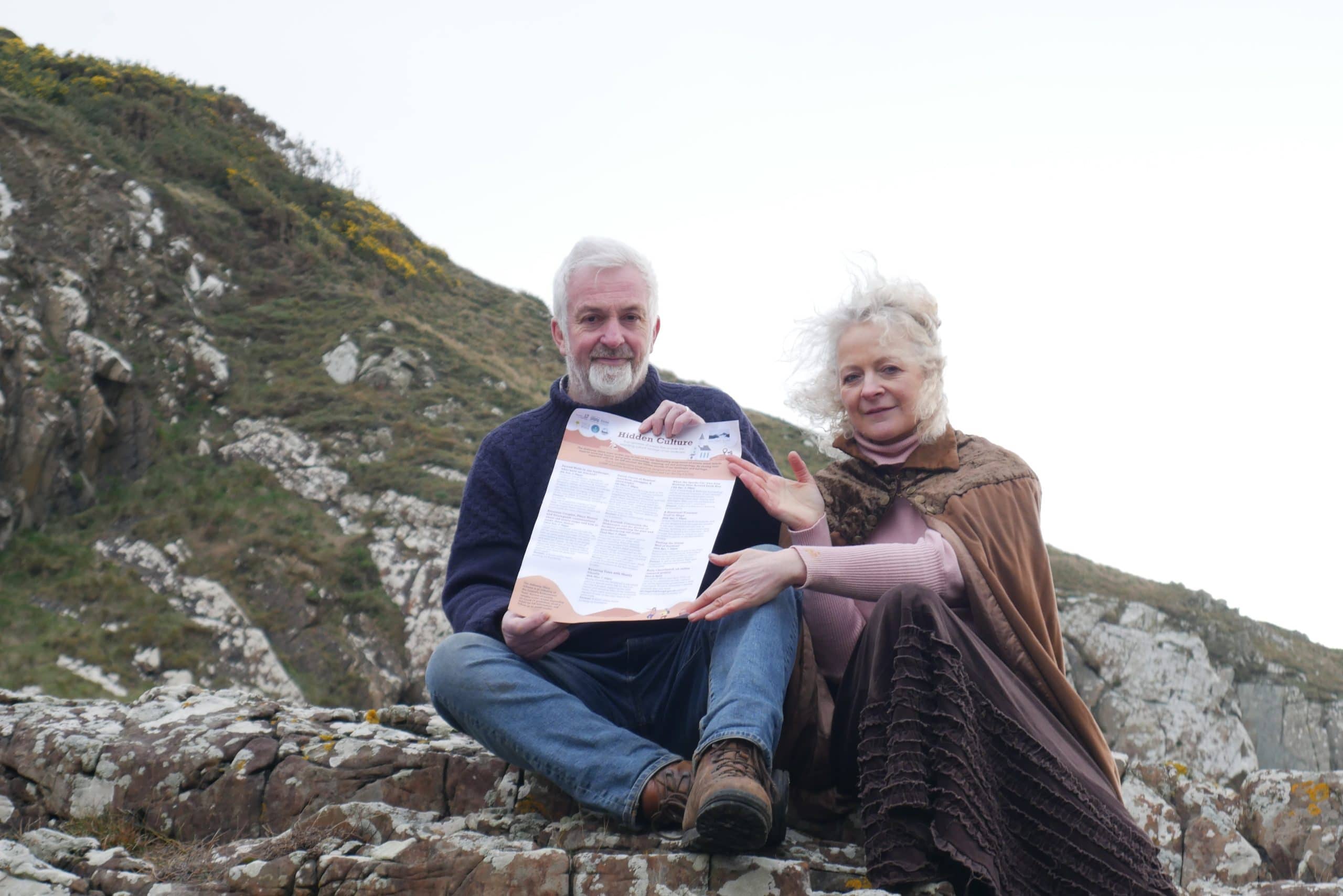 Join the Galloway Glens as it considers Galloway's fascinating heritage and culture, from a variety of angles! With events planned both online and in person, join in for an adventure to uncover the secrets of this remarkable landscape and the stories that spark our imagination.
Culture and landscape collide in an eclectic thought-provoking programme which combines the work of the Galloway Glens Community Archaeology project, Can You Dig It (CYDI), and Dumfries Archival Mapping Project (DAMP). The programme is compiled by the Galloway Glens Scheme, a cultural landscape within the Galloway & Southern Ayrshire UNESCO Biosphere.
Varied programme
Featuring local and internationally renowned geographers, artists, archaeologists, historians, landscape designer archivists, mapping experts and storytellers, uncover secrets hidden in this beautiful part of Dumfries and Galloway. From smugglers caves on the coast at Kirkcudbright up through the Ken Valley and onto Carsphairn to the Green Well of Scotland.
The events are online initially, with plans that – subject to Covid-19 guidelines – these will revert to 'hybrid', with people able to attend either online or in person.
"The well kent history of Galloway is interesting enough but often the obscure history is even better, its our privilege to bring people together who delve in the corners of long forgotten archives and bring to life the origins of our myths, fact fables and tales," said Nick Chisholm, Galloway Glens project Officer.
Events online and in-person
The first event investigates Galloway's Wells, with Professor Munro and Dr Hewitt sharing the history and stories associated with these well sites. The second event is a playful pondering of maps that uncover the story of amorous couples at Gretna and Gretna Green and place names high up in the Galloway Hills with an introduction to 3D and LIDAR mapping techniques.
Next up, is the story of merchant, smuggler and slave trader, David Currie of Newlaw from author and historian, Frances Wilkins. Then with a further pondering of maps with Roland Spencer Jones (archaeologist from NOSAS) on commonties, and Robert Athol (archivist for Jesus College, Cambridge) on the Geography, you can find out what The Scottish Commonty, The Midsteeple and the Queen of Sardinia have in common! The fifth event will see storytellers Mostly Ghostly guiding you on a spooky online story tour of the Galloway Glens' darker past including witch trials and haunted mansion houses. Then head back down the landscape to Loch Ken where AOC & Rathmell Archaeology talk about the excavation of two metal working sites, exploring why iron was worked here, when and what was it used for? The seventh event includes more map treasures being uncovered by reincarnated archivist Graham Roberts who was without doubt an eighteenth century surveyor in a past life!!
The programme comes to an end at the Green Well of Scotland – a walk with experts and artists to learn some ancient well traditions and contemplate our relationship with the environment in the future.
New engagement officer
This is the first events programme since the arrival of the new Galloway Glens Education & Community Engagement Officer, Jan Hogarth. Looking ahead at the events, Jan said:
"I love this programme as it weaves together experts from Dumfries and Galloway and further afield from different disciplines, playfully taking us on an adventure through the geography, archaeology, history and art of the Galloway Glens cultural landscape.  As people share their enthusiasm and expertise then new discoveries are really possible, it's very exciting!"
Come and join us over the next few months for a tour of some of the lesser-known aspects of Galloway's heritage. With some amazing speakers, we'll reveal the secrets hidden beneath the very ground you walk on, the tales written into our historic maps and the lore lurking in the watery depths of those pretty tourist spots. Their stories will amaze and inspire you, and you will definitely come away knowing something that you didn't know before!"  — Rathmell Archaeology's Claire Williamson, leading the Can You Dig It Community Archaeology project

The Galloway Glens Scheme is an initiative of Dumfries & Galloway Council's Environment Team, primarily funded by the National Lottery Heritage Fun, with support from a range of partners including the Galloway & Southern Ayrshire UNESCO Biosphere.