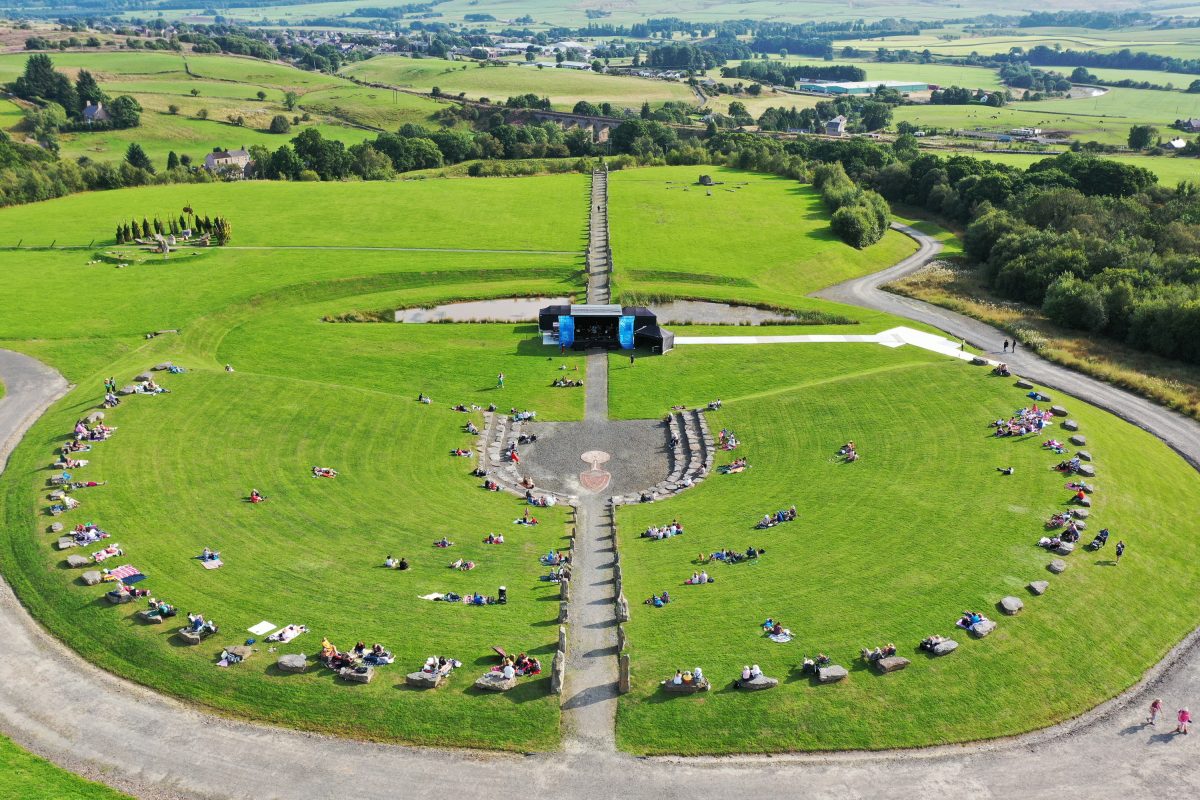 A stellar line-up has been unveiled for the second annual Music at the Multiverse weekend – two days of great entertainment at one of Scotland's most amazing outdoor venues.
And for 2022 there will be a brand new second stage, the Dance Tent, in addition to the Main Stage – which once again will be located at the heart of the magnificent Sun Amphitheatre.
Crawick Multiverse, near Sanquhar on the border of Dumfries & Galloway, is a 55-acre environmental artwork with giant conical mounds representing colliding galaxies, a huge avenue of standing stones and even more spectacular features inspired by the sun, stars and other wonders of the cosmos.
Indie rock to pop to pipers!
This year's event, on 3 and 4 September, will be  family-friendly  where audiences can revel in two days of live music from headline acts including the Scottish indie rock band Glasvegas, kilted Celtic rockers the Red Hot Chilli Pipers, pop favourites The Bluebells and Bay City Rollers.
They can also head to the Dance Tent (near the immense Cosmic Collisions ) where Malcolm X will welcome a host of special guests on stage on the Saturday, and then on Sunday it's a 100% Oldskool with 1994 DJs including Mallorca Lee and George Bowie playing the best sets and anthems.
Music at the Multiverse will also be a showcase for live music from Dumfries & Galloway and Ayrshire including The Dogz, Cammy Black, The Mocking Byrds, Archie Irving plus Pedro and the Pirates.
Sharon Glendinning, Crawick Multiverse General Manager, said: "Music at the Multiverse is much more than your standard music event – as well as great live music there's the chance to spend time in one of Scotland's most spectacular settings. We're really excited to be able to build on the success of last year's event by adding a second stage, the Dance Tent, so there's even more music to enjoy."
"And we're really proud to be bringing big-name acts to Crawick while also showcasing some of south-west Scotland's home-grown talent – and all at a family friendly setting that we hope will appeal to audiences of all ages."
The programme
Main Stage: Saturday   
Glasvegas
The Bluebells
The Dogz (D&G)
Cammy Black (D&G)
The Mocking Byrds (Ayrshire)
Main Stage: Sunday   
The Red Hot Chilli Pipers
The Bay City Rollers
Redfish Blues Band
Archie Irving (D&G)
Pedro and the Pirates (D&G)
Dance Tent: Saturday                                                                                               
(presented by Malcolm X)                                        
Jamie B
Michael Smith
Derek McDowall
Stephen Holland
Steven Allan
Brett Lawrie
Dance Tent: Sunday    
(1994 – 100% Oldskool) 
Mallorca Lee
George Bowie
Joe Deacon
Malcolm X
Lee Clark
MC Cyclone