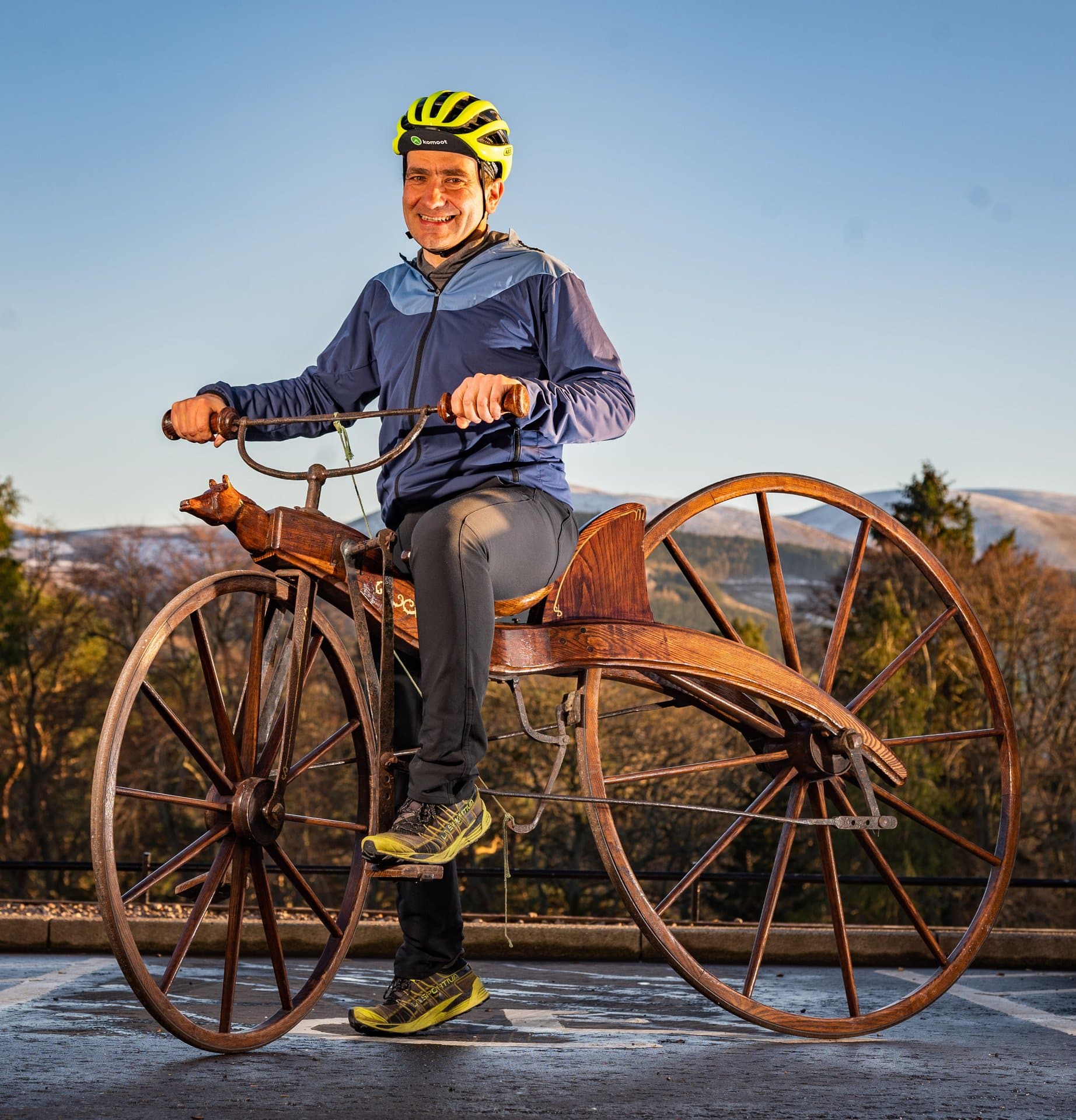 The 250-mile coast to coast cycle route set to launch in the south of Scotland this summer will be named after Kirkpatrick Macmillan, the 19th century Dumfriesshire blacksmith who invented the first pedal-driven velocipede. The official name for the exciting new route connecting Stranraer in the west with Eyemouth on the east coast – Kirkpatrick C2C, South of Scotland's Coast to Coast – was unveiled at the SSDA's  sold-out annual conference at Peebles Hydro this afternoon.
Kirkpatrick C2C worth £13.7m
The Kirkpatrick C2C is expected to prove a huge draw for the south of Scotland when formally launched in early summer – early projections suggest the new route could attract up to 175,000 new visitors to the region, with a direct spend of £13.7M per year.
Adventurers in search of a new challenge on two wheels this summer will experience one of the UK's longest coast to coast routes, taking them on an unforgettable journey through the region's spectacular, history-steeped landscape and discovering a huge wealth of brilliant places to stay, visit, eat and drink along the way.
For those seeking to challenge themselves, the Kirkpatrick C2C can be tackled over four days, however riders are encouraged to immerse themselves in the beauty, heritage and charm of the south of Scotland, spending eight days completing the route from Stranraer to Eyemouth.
Cycle-themed keynote session
The route's official name was announced earlier today at the SSDA conference by Paula Ward of South of Scotland Enterprise (SOSE), as part of a cycling-themed keynote session on the future of the region's visitor economy. The keynote speech was delivered by 'bikepacking' expert Markus Stitz, with a further presentation from local business owner Esther Tacke of Galloway Cycling Holidays.
Paula Ward, Economic Infrastructure Development Specialist and Delivery Manager for the South of Scotland Cycling Partnership Strategy & UCI Optimisation Plan, said: "Kirkpatrick Macmillan is an iconic cycling figure which we in the South are immensely proud of, and it is fitting that his achievements are being acknowledged and our heritage celebrated with this new exciting tourism offering.
"Kirkpatrick C2C, South of Scotland's Coast to Coast is one of a number of new cycling opportunities taking place in our region at present, alongside the arrival of the 2023 UCI Cycling World Championships in the South this summer.
"These are opportunities we must grasp if we are to achieve our goal of the South becoming Scotland's leading cycling destination and recognised as the global home of the bike."
David Hope-Jones OBE, SSDA Chief Executive, said: "Cycle tourism is a major growth area for the whole of Scotland's visitor economy and we're thrilled that our forthcoming new Kirkpatrick Coast to Coast is in the spotlight as one of the longest and most exciting on-road routes of its kind in the UK. In the year we're celebrating the South of Scotland being named as one of the Lonely Planet's top 30 'Best in Travel' destinations in the world, this 250-mile route will be another fantastic boost to visitor numbers right across the south.
"All in all, it's a fantastically exciting year for cycling fans from or visiting our region – not only is our amazing new route set to launch in early summer, we're also proud to be hosting the prestigious mountain bike cross country events at Glentress Forest and paracycling road events in Dumfries this August as part of the UCI World Cycling Championships. Not to mention the return of the hugely successful four-day Raiders Gravel event in the Galloway and Southern Ayrshire UNESCO Biosphere from 31 August, and the new-for-'23 Gralloch gravel event in Galloway on 20 May."
Historical cycling connections
VisitScotland interim Destination Development Director Annique Armstrong said: "The South of Scotland, with its abundance of biking trails, road routes and world-class facilities has a long association with cycling. It is therefore fitting that the new coast to coast route also pays tribute to its historical connections to cycling.
"The Kirkpatrick South of Scotland Coast to Coast cycle route will help strengthen the south's cycling offer and inspire many more visitors to the region, supporting the recovery of the tourism industry while promoting sustainable travel experiences to the benefit of visitors, communities and our environment.
"With the region set to host key events as part of the UCI Cycling World Championships this summer, we would encourage tourism businesses to make the most of this unique opportunity. Our VisitScotland.org website provides clear and practical advice to help industry understand how to make the most of cycling tourism and the interest this event will generate.
"As we have heard at today's industry conference, there has never been a better time to experience cycling in the South of Scotland. With the creation of new cycling initiatives and experiences, promoting cycling and helping businesses cater for this growing market will benefit communities right across the region and beyond. "
Keynote speaker Markus Stitz, a cycle tourism expert and director of Bikepacking Scotland, said: "The south of Scotland, home of the pedal-driven bicycle invented by Kirkpatrick Macmillan, is one of the beautiful parts of the country, with endless opportunities for bike-based adventures. "The south of Scotland inspired me to move from Germany to Scotland. I was attracted here by the huge variety of off-road tracks, quiet roads, unique scenery, amazing forests, clean air and dark skies; and as the south of Scotland is a natural destination for cyclists, it was here that I mapped my first bikepacking route, the Capital Trail. "Cycling and active travel is a key part of the region's tourism offer and I look forward to working with the SSDA and its members to bring new, two-wheeled visitors to the south."
Celebrate power of the bike
Cosmo Blake, Network Engagement Manager at Sustrans Scotland said: "Sustrans are delighted to be working with partners throughout the South of Scotland and through our collaboration with VisitScotland to give the Kirkpatrick C2C a wide-reaching platform through our interactive cycling journey planner.
"More people leaving the car at home and having great experiences from the saddle of a bike benefits our communities, environment and economy. This also has a big role to play in inspiring happier, heathier and more sustainable journey choices as part of our everyday routines.
"As Scotland celebrates the power of the bike in 2023, we hope that supporting and highlighting unique experiences like the Kirkpatrick C2C contributes to a lasting legacy of sustainability and prosperity across the South of Scotland."
Councillor Scott Hamilton, Scottish Borders Council's Executive Member for Community and Business Development, said: "Right along this route the benefits will be felt, from tourism providers to food and drink establishments and visitor attractions. It also provides a catalyst for new businesses to be established to cater for the increase in visitors and some of the specific needs they may have, such as bike/e-bike hire.
"This summer will be a watershed moment for cycling and cycle tourism in the South of Scotland, with the launch of the Kirkpatrick C2C and the region hosting events as part of the 2023 UCI Cycling World Championships. There is also the continued, and significant, investment into a range of other events, programmes and projects, such as the national Mountain Bike Innovation Centre. This is our year to make our rightful claim to be the 'Home of the Bike' and build our future around it."
Councillor Ian Blake, Chair of Dumfries and Galloway Council's Communities Committee said: "We are delighted at the announcement of the new Kirkpatrick C2C, South of Scotland's Coast to Coast cycling route. This will reinforce Dumfries and Galloway as a wonderful cycling destination and enhance the tourism sector."
Councillor Jackie McCamon, Vice-Chair of Dumfries and Galloway Council's Communities Committee said: "We are pleased to work in partnership with so many organisations to maximise the economic impacts of tourism, and to ensure our businesses, communities, and organisations are supported to engage with new opportunities."