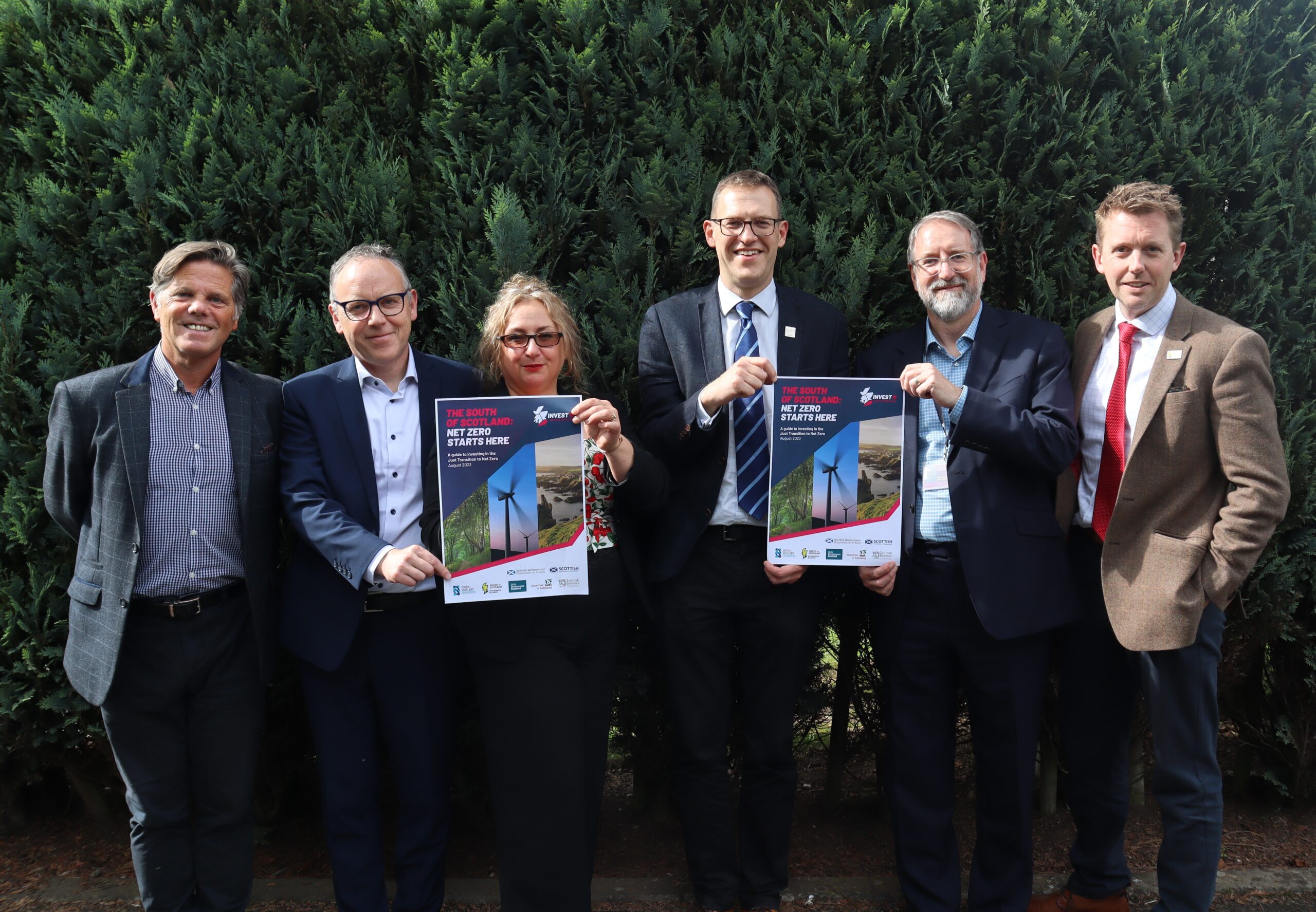 A new guide has been launched which aims to help the South of Scotland become the UK's first Net Zero region – at the same time as building an economy for the future.
The Net Zero Investment Guide represents the first opportunity for the Invest in South of Scotland Partnership to articulate and promote some the most compelling investment opportunities available in the region.
Further tools and resources are being developing to support investment of all types, which will enable a Just Transition to Net Zero in the South of Scotland, and beyond.
The partnership behind the guide – which includes South of Scotland Enterprise, Dumfries & Galloway and Scottish Borders councils and Scottish Development International – held a launch event in Gretna today (Wednesday 30 August) with Cabinet Secretary for Net Zero and Just Transition Mairi McAllan and a range of local businesses and organisations.
The document focusses on three key strengths of the South:
Renewable economy
Natural capital
Values-based economy.
Renewable economy
By 2020, the South of Scotland hosted almost 10% of the UK's on-shore wind production and generated more than 16% of all of Scotland's renewable energy.
It means the South of Scotland offers an ideal location to utilise the region's strength in electricity supply to develop decarbonisation of heat and transport through renewable heat schemes, 'green' hydrogen and synthetic fuel production, as well as investment in on-shore wind, off-shore wind and their supply chains.
There have already been high-profile investments in the region, such as Scotland's first offshore wind project, Robin Rigg, which generates energy for 117,000 households. The project build was managed by international group Natural Power, whose headquarters are in Castle Douglas and operate in 68 countries.
The Borderlands Energy Master Plan is also looking to prioritise low carbon energy opportunities, with £14million of capital earmarked for the South to stimulate projects.
Natural capital
Natural capital – which is the environmental resources such as plants, animals, air, water and soils that combine to yield a flow of benefits to people – is a key investment opportunity.
With the South containing a fifth of Scotland's land mass and having a unique geographical location, the guide highlights that the region is already leading the way in carbon capture and sequestration.
Inward investment examples include Carbon Capture Scotland, who created a £4m plant near Dumfries in 2021. The company recently received a £9m investment from Steyn Group and has announced an agreement with Whyte & Mackay to capture the CO2 produced during fermentation at the firm's distilleries.
There is also the Wild Heart expansion project, which aims to create 16,000 hectares of new woodland and up to £300m of responsible private investment, leading to around six million tonnes of carbon sequestration.
Values-based economy
The guide strongly focusses on the importance of how the South delivers a just transition to Net Zero to ensure communities see the benefit of this journey.
This includes putting people at the centre of things through retaining value in the local economy through local jobs and expenditure, Fair Work, and community ownership of local assets.
There are a host of examples, including Crossdykes wind farm in Dumfriesshire, which opened in 2021 and provides a ground-breaking five per cent stake in the project to the local community.
Other initiatives include the Tarras Valley Nature Reserve which has seen The Langholm Initiative raise £6m to purchase 10,500 acres of land to create the reserve for the benefit of the local community and visitors.
The Scottish Borders is home to IndiNature – Scotland's first factory to produce carbon-negative insulation for homes and commercial properties – while institutions such as Scotland's Rural College (SRUC) are helping to develop the talent pipelines for a Net Zero future.
The South of Scotland Net Zero Investment Guide is available to read here.
The Invest in the South of Scotland Partnership includes South of Scotland Enterprise, Dumfries & Galloway and Scottish Borders councils and Scottish Development International, alongside the Scottish Government, Skills Development Scotland and South of Scotland Destination Alliance.
Jane Morrison-Ross, Chief Executive of SOSE, said:
"SOSE is committed to helping to lead the South of Scotland to become the UK's first Net Zero region.
"This Guide shows the wealth of our region in a way that works for the people and communities of the South of Scotland. It reinforces our focus on our economies, our communities and our environment.
"The publication of the South of Scotland Net Zero Investment Guide is a critical step to achieving this shared ambition, highlighting the potential of our region, internationally and to investors."
Chair of Dumfries and Galloway Council's Economy and Resources Committee, Councillor Ian Carruthers said:
"Addressing climate change is one of Dumfries and Galloway Council's top priorities and we initially committed to address climate change when we signed up to our Climate Emergency Declaration in 2019.
"We must embed measures to tackle climate change in everything we do, and this includes attracting and encouraging companies and investment in our region which will look towards a sustainable future and help us become a Net Zero region.
"This guide will show us all the way forward."
Vice Chair of Economy and Resources, Councillor David Inglis said:
"Climate change is already starting to affect us all and to ensure an effective response to the climate emergency it is absolutely essential that we all step up our actions significantly.
"We are very fortunate in the South of Scotland to have a beautiful natural habitat to live in, let's all work to keep it that way."
Councillor Scott Hamilton, Scottish Borders Council's Executive Member for Community and Business Development, said:
"The drive to Net Zero does not just benefit our environment and climate but also our communities and young people, with new jobs, training and skills development and inward investment.
"While much is being done already across the region, we must build on that and accelerate all our efforts to reach Net Zero.
"This new guide will help provide confidence that attracts further investment and projects to our region, capitalising on all we have to offer."
Simon Parsons, Senior Manager of Capital Investment at Scottish Development International (SDI), said:
"Attracting private capital investment into priority sectors will enhance our businesses and infrastructure, helping underpin future economic growth and ensure Scotland's ongoing global competitiveness.
"SDI welcomes the opportunity to work with valued partners, such as South of Scotland Enterprise, to promote the innovative, market-ready capital projects that will help Scotland achieve its net zero ambitions.
"This includes Jackson Distillers' ambitious plans for a new grain distillery in the Scottish Borders, which is a key project in Scotland's Green Investment Portfolio."