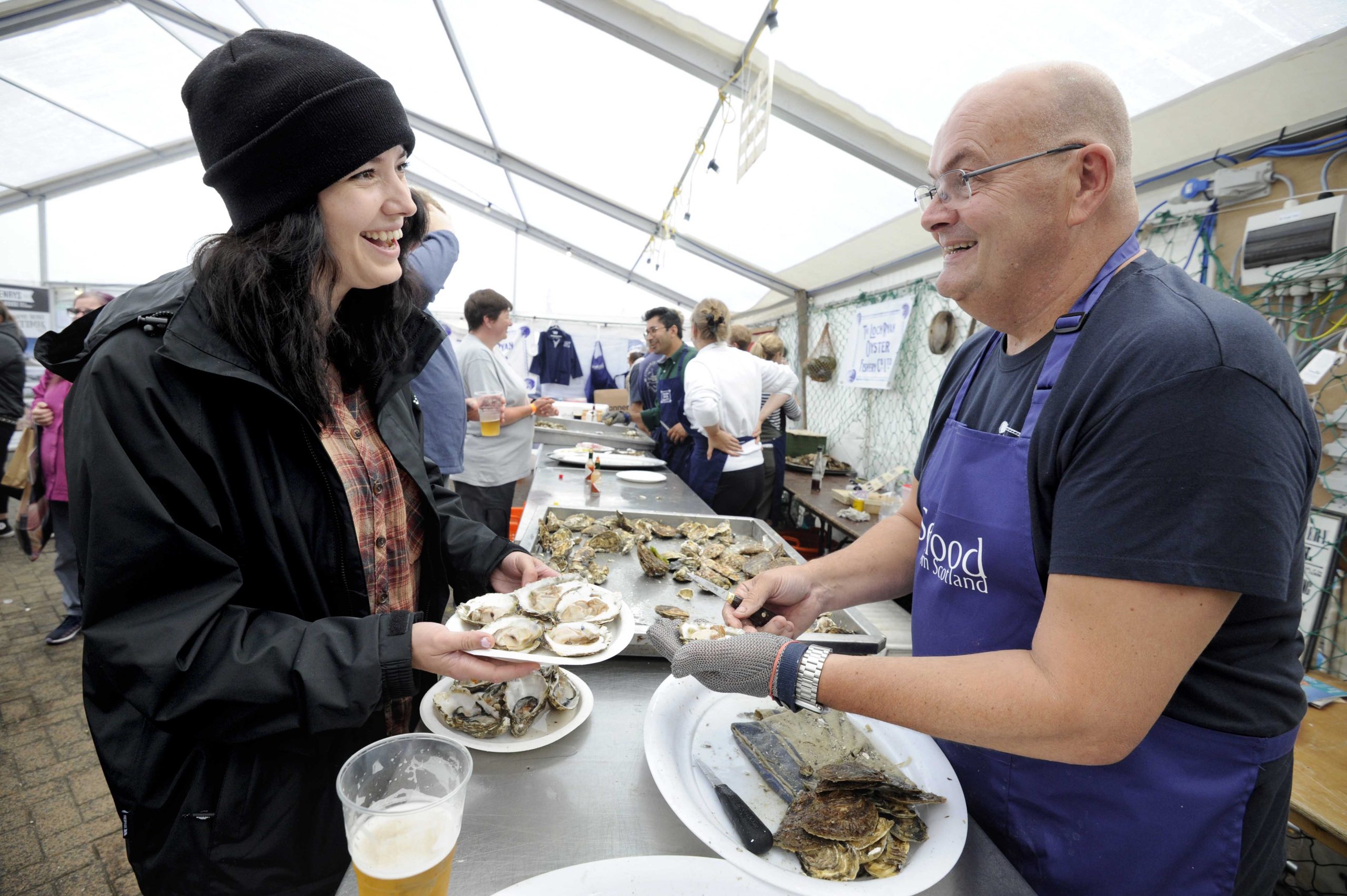 Stranraer Oyster Festival has been hailed as an 'incredible success' by organisers. More than 18,000 people attended the community-led event, which is now one of Scotland's biggest food festivals, a higher attendance than the previous event in 2019 despite extreme weather warnings and heavy rain.
 The three day festival celebrates Scotland's only remaining wild, native oyster fishery, located under the water of scenic Loch Ryan in south west Scotland. More than 7,500 oysters were eaten and 'shuckers' helped more than 1,000 people to try oysters for the very first time.
 Romano Petrucci, Chair of Stranraer Development Trust, the community organisation behind the oyster festival, said:
"While the rain fell endlessly from the heavens on Saturday, local people and visitors to the area came out in their thousands. As the organiser of an outdoor event you really worry about bad weather, but to see it making not one jot of a difference to your attendance is all the confirmation we need that this festival is truly special. 
 "It was humbling to watch people disregarding the torrential rain, filling the marquees all around and having an absolutely fantastic time. The whole festival was an incredible success, and when Sunday brought sunshine and blue skies above the sparkling clear water of Loch Ryan, it was a magical finish to a spectacular weekend.
 "As a community we have had to wait a long time for the return of our festival after the pandemic, and I am thrilled that Stranraer Oyster Festival 2022 has succeeded in delivering a remarkable weekend of community, hospitality and exceptional entertainment that would be difficult to beat."
New Oyster Shucking Champion – perfect oysters
Stranraer Oyster Festival also saw the return of the Scottish Oyster Shucking Championships, hosted by the 2019 Champion, Tristan Hugh-Jones of Loch Ryan Oyster Fishery Company. Alexander Wallace was named as Scotland's top shucker, and judges commented on the quality of the shucking with no penalties awarded to the winner's oysters.
 Tristan commented: "The standard of shucking in the Championship was very high and it was a tightly contested final. My congratulations go to all the competitors who took part.
"This was a brilliantly organised event that we were delighted to be part of. What struck me this year was that despite the extreme swings in weather conditions, I have never seen a festival so busy, or enthusiasm and a determination to enjoy an event so high, and that was an absolute joy to experience.
"This is the fourth Stranraer Oyster Festival and we sold a record number of oysters, with well over a thousand people trying oysters for the very first time. We had about a dozen oysters shuckers giving lots of oyster eating advice and encouragement. One of the loveliest moments was a young lad, aged about seven years old, who fell in love with oysters during the festival and brought his friends and his family up to the oyster bar repeatedly encouraging them to try too."
Taking place from 2nd – 4th September, the festival programme included demonstrations and events by celebrity chefs Clodagh McKenna and Tony Singh, live music, extreme pond dipping, an artisan market, children's entertainment and a spectacular firework display. The festival was sponsored by Ascensos and was supported through EventScotland's National Events Funding Programme and Dumfries and Galloway Council's Major Events Strategic Fund.
Festival highlights town's potential
Stranraer Oyster Festival is credited with changing the story of Stranraer, from one of economic deprivation to one of potential. The last Festival, in 2019, was independently assessed to have generated more than £1m in economic impact, and it has paved the way for other major events to take place in the town. 
Early indications suggest the economic impact of the 2022 festival will be even higher, with traders at the event reporting record sales. Local pie maker Kerr Little of The Little Bakery in Dumfries commented:
"The oyster festival is always a good event, but this weekend was truly remarkable, and I can honestly say it was the best weekend trading I've ever had."
 Romano Petrucci added:  "In a very short period of time Stranraer Oyster Festival has become a hugely important part of Stranraer's identity, and a real focal point for celebrating the very best that Stranraer has to offer. No one should ever doubt our community's ability to create, produce and deliver the very best, and the very best is what we have sought to deliver this year."