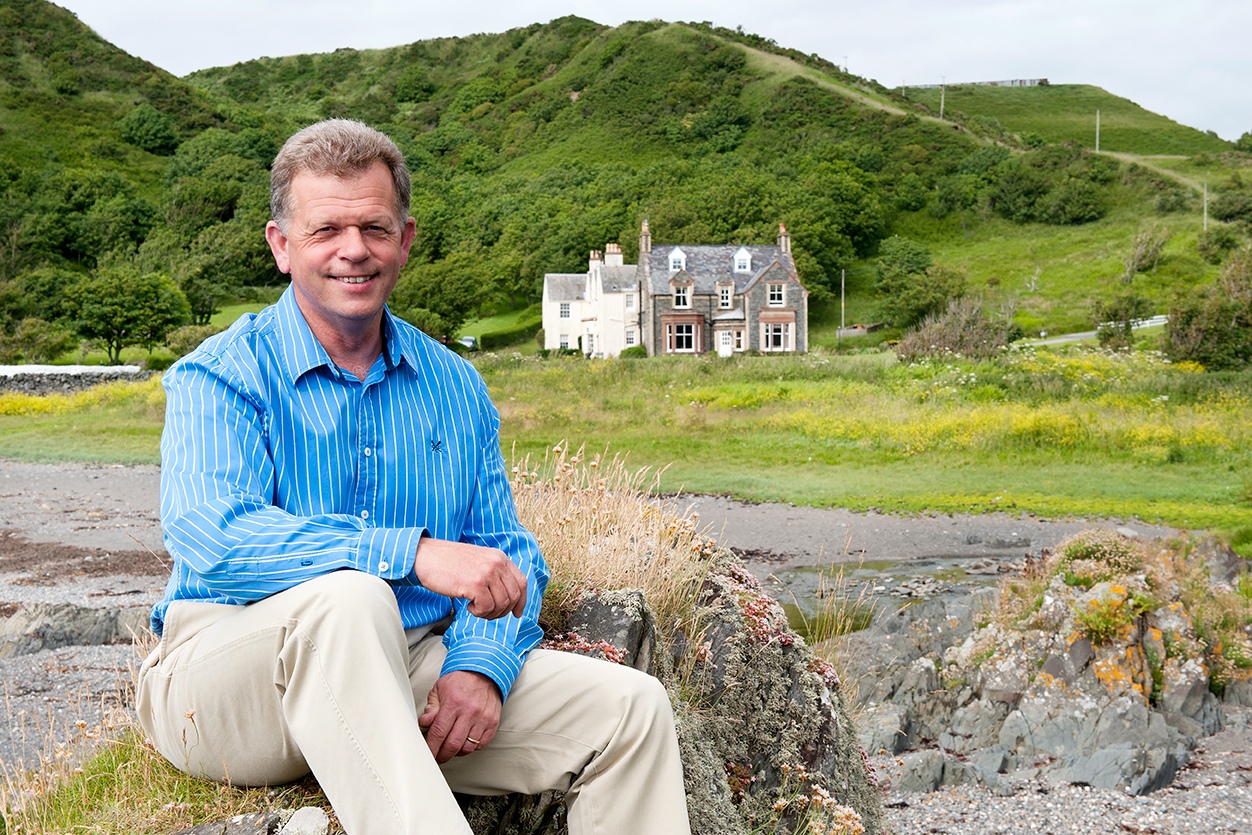 South of Scotland Destination Alliance Appoints Inaugural Chair
The South of Scotland Destination Alliance (SSDA), the industry-led Destination Management and Marketing Organisation for the South of Scotland, today announced the appointment of David Ibbotson as the inaugural Chair of the new organisation.
With over 25 years of tourism, hospitality and leisure experience, David is the current owner of Knockinaam Lodge in Portpatrick, a 5 star 'Restaurant with Rooms, and a Director of Luxury Scotland. Prior to taking over Knockinaam Lodge in 2003, he held a number of GM positions in hotels in Glasgow and played an active role in the city's destination development through roles including Chairman of the Glasgow Hotel Association, Chair of Glasgow Chamber of Commerce Tourism Group and a Board member of VisitGlasgow.
SSDA recently secured a £2.7m funding award from the newly formed South of Scotland Enterprise (SOSE) towards a five-year destination development programme totalling just under £4m. The programme is designed to support the recovery of tourism in the South post COVID-19, and grow tourism spend in the region to £1bn by 2030. David's role will be pivotal to providing leadership for the sector, recruiting a Chief Executive for the organisation, working with the Board to drive forward the SSDA strategy and representing the needs of industry amongst key strategic partners such as SOSE, VisitScotland and local and national government.
Professor Russel Griggs OBE Chair of SOSE said:
"I'm delighted to extend a warm welcome to David in his new role as Chair of SSDA. He brings with him, a wealth of tourism and business experience, which can only broaden and enrich the Board's overall expertise.
David joins SSDA at a crucial and exciting time, as they look to increase tourism in the South, and boost the region's tourism industry. Now more than ever, we want to attract more people to visit, stay and spend in the South of Scotland while creating new jobs and providing a boost to the local economy.
We look forward to continuing to work closely with SSDA and supporting them during our 5- year partnership."
Commenting on his appointment, David said: "This is a significant moment for the tourism, hospitality and leisure industry across the South of Scotland as we come out of our COVID-19 lockdown and develop recovery strategies for the next few years. Whilst we know our businesses are facing many challenges, and our area is relatively unknown, there has never been a time when people crave the outdoor space, freedom and authentic experiences that the South has in abundance, more than they do today. For me, joining the SSDA as the inaugural Chair is the opportunity of a lifetime as together we look to develop the region into a year-round, first class destination. Lockdown has retaught us all how to value and love where we live and I am committed to making many more people love the South as much as I do!
"We have bold and ambitious goals, but with businesses, industry, community and partnerships at the heart of what we're doing, the potential is enormous. Tourism is critically important to the whole economy in the South of Scotland and so with the optimism, passion and commitment of the SSDA we are ready to start delivering a concrete plan that will enable our sector to recover, grow and thrive."
David's appointment comes as a core team of three local Development Agents and a coordinator who will focus on business engagement and product development and a Travel Trade Specialist have also been appointed by SSDA. This team will be led by Project Manager, Jemma Reid who has previous experience leading the 3 and a half-year cross-local authority Borders Railway initiative, the Midlothian and Borders Tourism Action Group.
For further information, contact: Vicki Steel – info@ssdalliance.com
Notes to Editors
Established in May 2020, the South of Scotland Destination Alliance (SSDA) is the industry-led Destination Management and Marketing Organisation for the South of Scotland, encompassing Dumfries and Galloway and the Scottish Borders.
SSDA will lead the delivery of a clear tourism strategy from coast to coast, supporting the best possible Covid-19 recovery plan for the sector and the wider economy of the South of Scotland. With a focus on place-making, people, digital capability and sustainability, the ambition of SSDA is to make the South a top tourism destination, offer a world-class visitor experience and drive multi-million-pound growth in tourism spend.