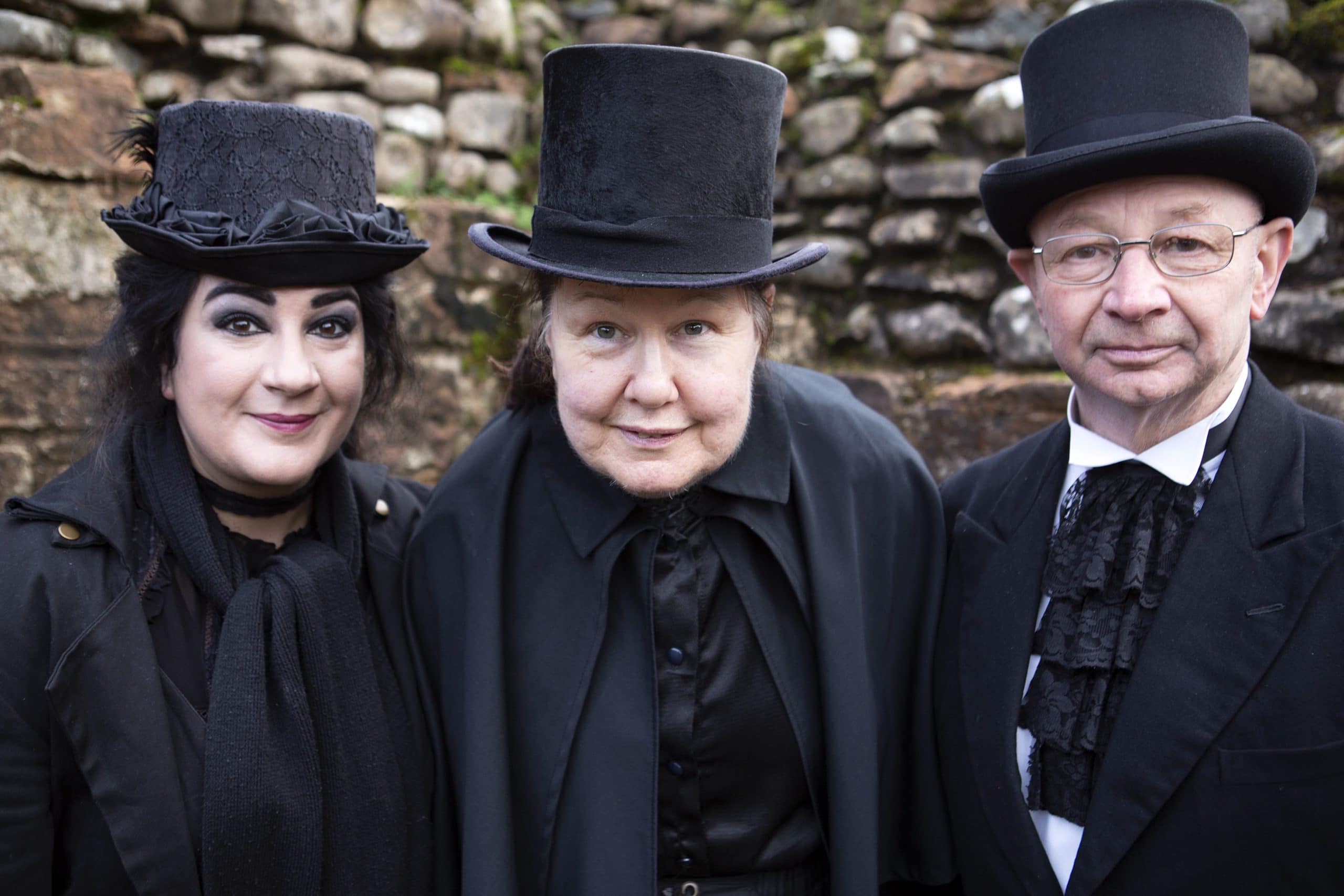 An exciting new dimension comes to Alive Radio this week inspired by the dawn of Scotland's Year of Stories. Popular local D.J. Kenny Murray, the driving force behind the successful Alive & Local showcase, has teamed up with award-winning storyteller and founder of the Mostly Ghostly team, Kathleen Cronie, to bring an intriguing new storytelling element to the show.
Kenny, who has volunteered with the radio station for over ten years, presents the popular show, which airs every Thursday evening, welcoming creators and innovators from across the region: singers, songwriters, poets and painters, and everything in between.
In her role with Mostly Ghostly, Kathleen has co-created a range of tours and events exploring the darker, more curious aspects of our region's history including: the Dumfries Ghost Walk, the Crichton Crypt Tour and Dark Tales of Old Annan, and is founder of the Festival of Folklore, based in Upper Nithsdale.
Alive & Local presenter Kenny Murray tells us more about the new partnership:
"I'm thrilled to be welcoming Kathleen as my new Alive & Local co-presenter, and with her extensive knowledge of Dumfries and Galloway and its rich tales and traditions, there couldn't be a better person to shine a spotlight on the region's stories. Kathleen and her team will be presenting a series of stories on the show, as well as welcoming a varied collection of talented storytellers from across the region to share their personal favourites."
Giving her views on the collaboration, Kathleen Cronie enthused:
"I'm really excited to be joining Kenny on Alive & Local, and given my love of promoting the region's stories, and our collective passion for all that's great and good in Dumfries and Galloway, this feels like the perfect partnership. Scotland's Year of Stories is here, and we're keen to get behind the campaign and tell the world about our country's richly woven tapestry of tales, in particular, celebrating the valuable contribution from D&G's many talented orators."
Some highlights to look forward to include: an interview with children's author and inclusive storyteller, Heather Kate Molloy, Kirkpatrick family researcher, Maria Navarro de Sepulveda of Closeburn Castle, and Dr. Valentina Bold, Heritage Project Officer at The Crichton Trust who'll be talking about 'Up the Middle Road' a collaborative project that was inspired by her role with the Crichton Royal Oral History Project, and kindly supported by the YS2022 Community Stories Fund.
Speaking about her upcoming appearance on the show, Dr. Valentina Bold said:
"I'm looking forward to taking part in the show and speaking to Kathleen and Kenny about our performance, 'Up The Middle Road', which will aim to creatively share the stories of The Crichton Royal Institution, as told first-hand by former patients, nurses, support staff and those who grew up on this resonant site, and in the places where they happened. Their powerful and authentic narratives, compassionate and inspiring, shed new life on the hidden life of The Crichton Royal."
Audiences can also look forward to a regular collaboration with Kathleen's colleagues, storytellers and tour guides, John Hill and Mary Wood of Mostly Ghostly, who'll be revealing some of Dumfries and Galloway's spookiest tales, sprinkled with a hint of horrid history…
Kenny said:
"Having worked with the Mostly Ghostly team many times, it's going to be great fun welcoming Kathleen, Mary and John to Alive & Local with their unique brand of storytelling, bringing an alternative element to the show and celebrating the diversity of what our region has to offer. We'd love our listeners to get in on the act, sharing their strangest accounts with the team."
Music is also a huge part of the show, and the stories behind the songs are another area Kenny wants to explore with local artists.
Kenny explains:
"We're really excited about interviewing a range of local artists and hope to discover how Dumfries and Galloway has influenced their work. We'll also be promoting a 'Featured Artist' and encouraging our loyal listeners to get involved by sending in their questions.'
Hugh Taylor, Trustee with Alive Community Radio SCIO said:
"I'm absolutely delighted that Kathleen is joining Alive and that our popular Alive & Local radio show is expanding and will cover all the Arts. This is a truly inclusive local platform for all artists, musicians, storytellers, authors and craftspeople."
Summing up, Kathleen said:
"There are stories all around us: be they spoken word, written, songs, films and more – Alive & Local aims to raise the profile of the region's stories or what has inspired local people to write, sing and keep those colourful tales and traditions well and truly – alive."
Summing up, Kenny said:
"This year will see a big push with the show to spotlight D&G as a vibrant melting pot of storytelling, music and culture, and with Kathleen as my new co-presenter, there's lots for listeners to look forward to, and in turn we hope they'll feel enthused to get out, discover, and give some much-needed support to the region's arts community."