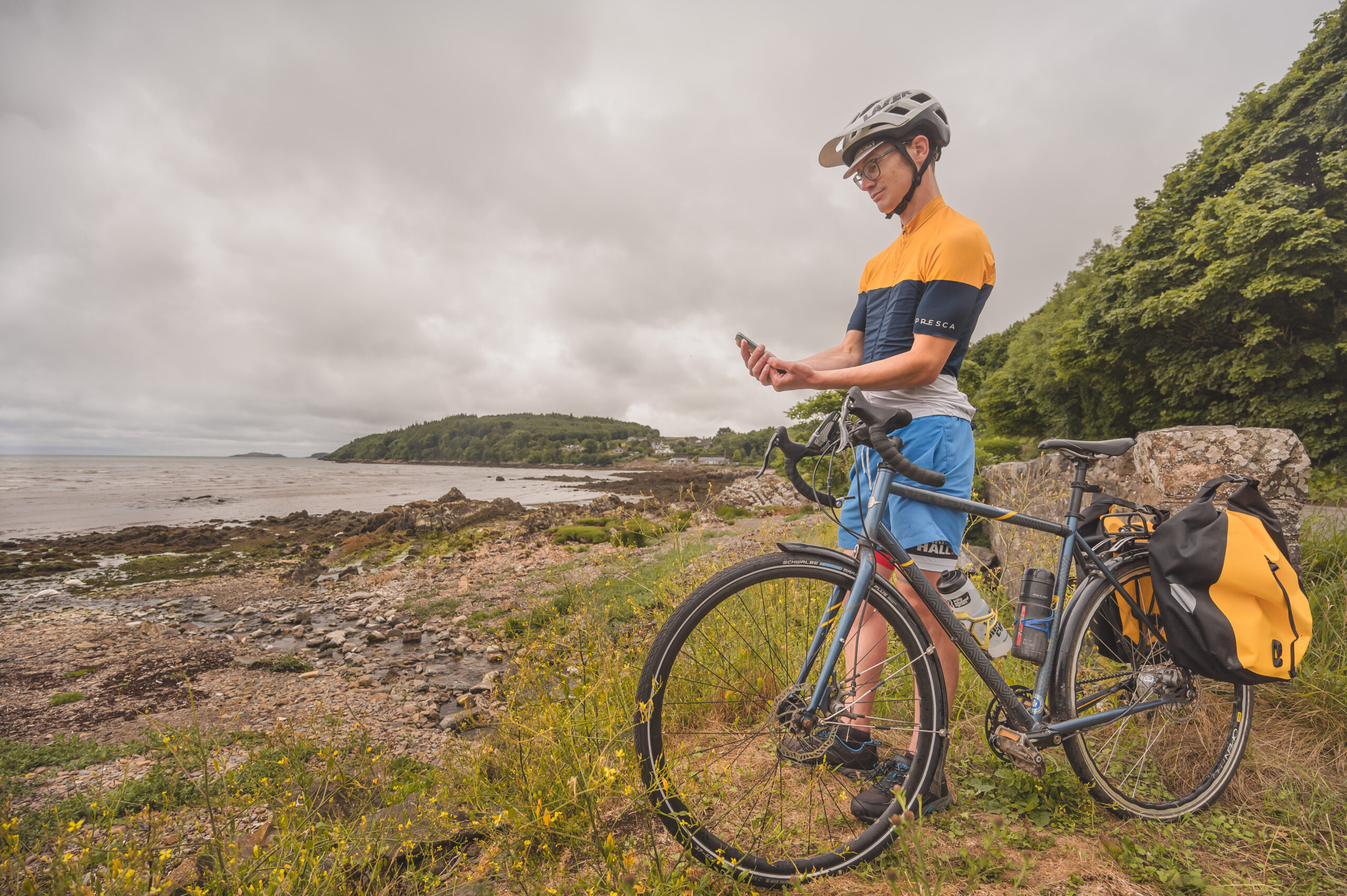 Josh Wood teams up with The South of Scotland Destination Alliance to try new cycling route and completes the 250 miles in just over 23 hours  
As the South of Scotland gears up for the soft launch of the new Kirkpatrick C2C, South of Scotland's Coast to Coast cycling route, an experienced local cyclist has road-tested the route and set a fastest known time. 
Riding for a local charity and working in collaboration with the South of Scotland Destination Alliance (SSDA), cycling enthusiast Josh Wood, 38, cycled the new 250-mile Kirkpatrick C2C road route from Stranraer on the south-west coast to Eyemouth on the south-east coast in 23 hours and 8 minutes.  
Soft digital launch for route
The news of Wood's successful ride comes as digital assets for the route, which is aimed at experienced cyclists, have been released on Kirkpatrick C2C's dedicated landing page at www.scotlandstartshere.com/kirkpatrickc2c as part of the route's 'soft launch'.  
These assets include the downloadable gpx files of the route and additional information such as route maps and suggested itineraries, with key landmarks and places to stay, eat, drink and visit. A Scotland Starts Here Club has also been created on Strava to encourage cyclists to report back on the route through the app, log their favourite sections and share photos from their rides.  
Wood, a cycling instructor from Dumfries & Galloway, rode the Kirkpatrick C2C for local charity, Mossburn Community Farm, which cares for animals. The SSDA asked Wood to share his feedback of road testing Scotland's new long-distance cycling route as part of its process to help support local businesses, communities and partners get 'cycle ready' as they prepare for an influx of visitors.  
The route, which has been developed and established by the SSDA, South of Scotland Enterprise, VisitScotland, Sustrans, and local councils, is expected to prove a huge draw for the South of Scotland – initial projections suggest the new route could attract up to 175,000 new visitors to the region, with a direct spend of £13.7m per year.  
The route start and end signs will be installed this summer, with full route signage completed by Spring 2024. 
SSDA has created a guide to the route for businesses with information on how they can promote themselves as a potential stopover. There are also new facilities for businesses to highlight their offering to cyclists on ScotlandStartsHere.com, the SSDA's hub of information for visitors. SSDA began staging engagement sessions earlier this year and is continuing with plans to make information available to local businesses and industry partners to highlight the potential of the route and the cycling market beyond the route. 
Summer of cycling
 The news also comes during a busy time for cycling in the South of Scotland with the region also gearing up to welcome 1000s of cyclists and spectators for the UCI Cycling World Championships in August, with the cross-country mountain biking events taking place at Glentress Forest in the Scottish Borders, and the para-cycling events being staged in Dumfries and Galloway. 
 Wood, a cycling instructor and passionate advocate of active travel, rode the Kirkpatrick C2C for local charity, Mossburn Community Farm, which cares for animals and offers animal-assisted therapy.  He said: "The route was so beautiful and varied, with stunning views across the sea contrasting with some amazing wild open spaces and lots of lovely small towns and villages.  
 "Even though I was going as fast as I could to set the fastest known time, I saw lots of wildlife along the way including hedgehogs, owls and deer. I felt as if I was completely away from it all even though I was actually never far from a coffee stop. 
 "I live in Dumfries and Galloway but the whole route helped me rediscover how much there is on offer in the South of Scotland especially in the Borders where I don't ride in as much. The route is a great challenge for experienced cyclists and I'd encourage riders to come and give it a go!" 
Breath-taking journey awaits
Named after Kirkpatrick Macmillan, the 19th century Dumfriesshire blacksmith who invented the first pedal-driven velocipede, the Kirkpatrick C2C will take experienced riders on an unforgettable journey through breath-taking landscapes with dramatic coastlines and beaches, rolling hills, shimmering lochs, historic tweed mills, Victorian stone viaducts and romantic ruined abbeys all peppering the route. 
The Kirkpatrick C2C can be tackled in the 8-Day Explorer approach or the 4-day Challenge approach. The Explorer approach takes cyclists across the country in eight stages, with daily cycling distances varying from 21 miles (Newcastleton to Hawick) to 51 miles (Dumfries to Newcastleton). Meanwhile, the Challenge version can be done over four days, starting with a 74-mile stretch from Stranraer to the charming artists' town of Kirkcudbright and finishing with a 59-mile ride from Selkirk to Eyemouth.  
David Hope-Jones OBE, SSDA Chief Executive, said: "During this soft launch phase, we are sharing full details of the route in digital formats and inviting experienced riders to trial the route, during which time we will be collecting feedback and using that to support businesses on the route to be 'cycle-ready'.   Ultimately, the route is aiming to attract a wide audience and is designed to show the very best of the South of Scotland: attracting new visitors, bringing in new business and helping power the visitor economy." 
Professor Russel Griggs, Chair of South of Scotland Enterprise, said: "Over the last year, a number of partners including SOSE have put extensive work into progressing the Kirkpatrick C2C, South of Scotland's Coast to Coast cycling route.  I am delighted we have now reached the stage where we can invite experienced cyclists to try out the route and provide feedback.  Cycling offers significant social, economic and environmental opportunities, including next month's 2023 UCI Cycling World Championships happening right here in the South of Scotland. We want to capitalise on these immediate opportunities to help kickstart a long term aim to make the South the leading cycling destination in Scotland by 2032." 
 VisitScotland Destination Development Director Gordon Smith said: "The Kirkpatrick C2C, South of Scotland's Coast to Coast cycle route, is a fantastic addition to the region's already strong cycling offer and comes at an exciting time for the South of Scotland as it hosts events as part of the 2023 UCI Cycling World Championships in August.  This new route will help inspire visitors to the region, while promoting sustainable travel experiences to the benefit of visitors, communities and our environment. There's no better time to celebrate the power of the bike and ensure it plays a lasting part in strengthening the economy of the south." 
 Dumfries and Galloway Council's Chair of Economy and Resources Committee, Councillor Ian Carruthers, said: "This is good news and I hope both serious and leisure cyclists will come and visit our region and try out The Kirkpatrick C2C, or at least part of it. And if you are not one to actually cycle yourself, we look forward to welcoming spectators to some of the great events planned for the UCI Cycling World Championships in August." 
Councillor Scott Hamilton, Scottish Borders Council's Executive Member for Community and Business Development, said: "The Kirkpatrick C2C has the potential to bring visitors and associated economic benefits to communities right across the region, and I am delighted at the speed with which all the partners involved have been able to get it established.  There is a significant focus on cycling in Scotland this year as hosts of the first ever combined UCI Cycling World Championships and we are making real progress with many of our investments into cycling and active travel in the area, from the Kirkpatrick C2C to the Mountain Bike Innovation Centre and our multi-use path network to name but a few."