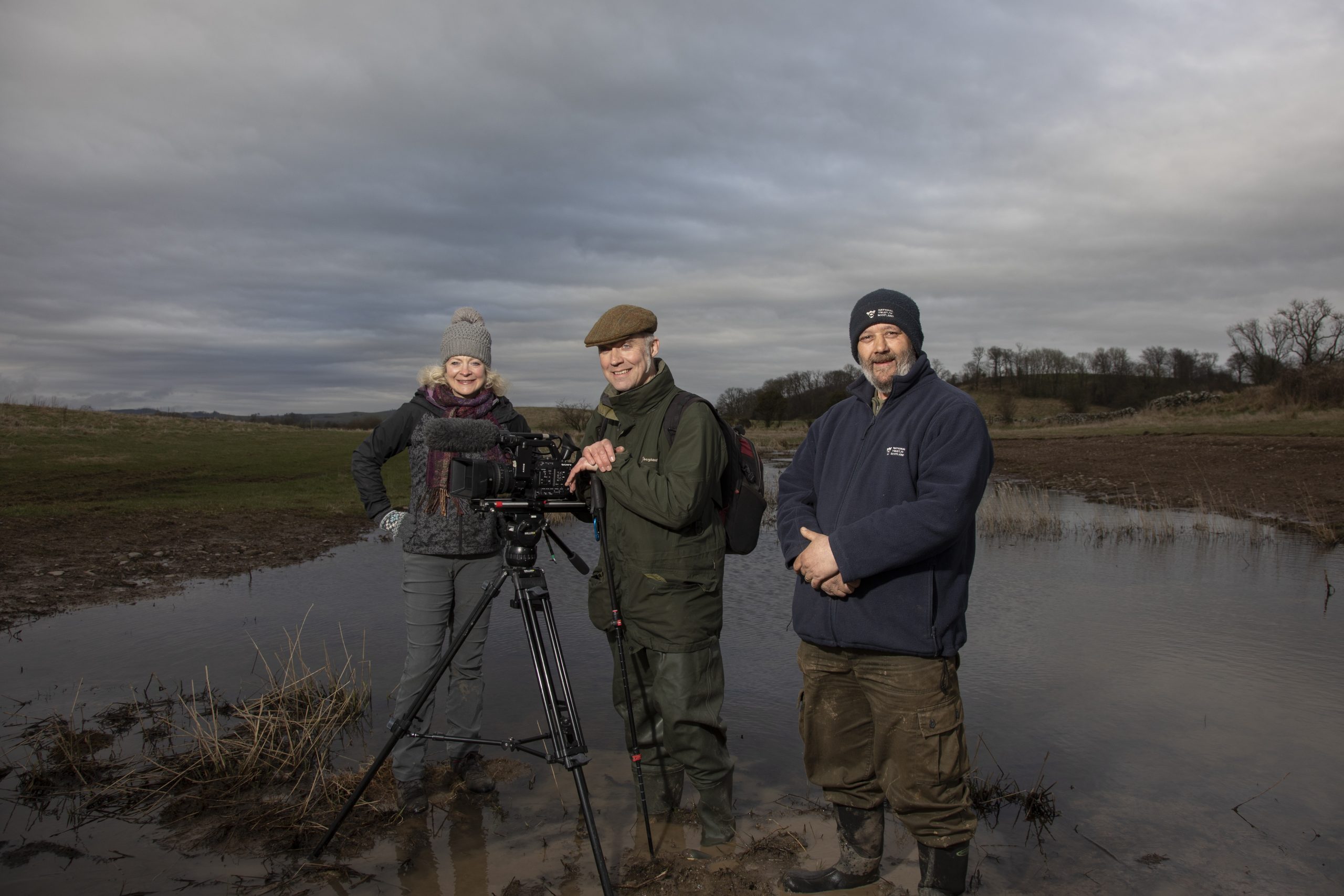 The Galloway Glens Scheme and The National Trust for Scotland are excited to start a new educational film project at the Threave Landscape Restoration project site at Kelton Mains near Castle Douglas, with award winning ecological filmmaker and artist John Wallace.
The project was the brainchild of David Thompson (The National Trust for Scotland), Jan Hogarth (Galloway Glens Scheme), and John Wallace (filmmaker/artist) who saw opportunities for educational art films to act as a stimulus for discussion in primary, secondary, and community education centred around the ground-breaking Threave Landscape Restoration Project (TLRP) which seeks to rebalance the ecology of the site by opening up biodiversity corridors, allowing the river to flood the landscape and use a small herd of cattle as a management tool traveling around the site with fences removed.
Five short films for education
The Threave Landscape Restoration Project, as the first of its kind in Scotland, has valuable opportunities to educate children, young people, and adults about innovative biodiversity and habitat creation. The plan is to work with artist/filmmaker, John Wallace, to create 5 high-quality, thought-provoking short films which will be linked to learning materials that capture this new knowledge and are linked closely to the Curriculum for Excellence for Science and Education for Sustainability. The films and learning materials will be rolled out across both the Dumfries and Galloway Region and Scotland.
John already knows the Threave Estate Nature Reserve intimately, having worked on a year-long art/film residency looking at the Ospreys and the fragile ecosystem they inhabit.
The National Trust for Scotland's David Thompson, who worked with John through the previous residency, said: "It is absolutely amazing to be working with John Wallace again on this innovative partnership educational film project with Galloway Glens Education & Community Engagement Officer, Jan Hogarth. It is great to be using the Threave Landscape Restoration Project for education as we can link the 5 films together to inspire and connect young people to nature. We are already involving young people in the native tree planting on site and education is a high priority as the Threave Landscape Restoration Project develops – after all it's these children and their children who will see the project mature."
Filmmaker exploring new areas
John Wallace, environmental artist/ filmmaker was excited to be back on the site of the Threave Landscape Restoration Project, saying: "It's fantastic to be invited back to work again at Threave's Kelton Mains Nature Reserve. More than anything I'm looking forward to exploring some of the areas of the site that are maybe not quite so obvious or attractive at first glance and to helping people understand how each has their role to play in the health and diversity of the ecosystems here – and of the wider environment that we all share. The aim is help people to connect what's going on in nature here to what's going on in their own school yard, local park, or back garden – an exciting prospect for any artist!"
Galloway Glens Education Officer, Jan Hogarth, added: "Knowing the site and its community as he does, John is deeply invested in the landscape here and creates work which is beautiful, emotive, and ecologically insightful. Great art/film is created by sensitive and highly motivated artists who literally feel the land, noticing subtle changes and wildlife movements/behaviour. John is a man of the soil working in weathers at all times of day and night across the seasons to understand and capture the parts of nature we may miss. His work is exemplar and I am delighted that thousands of children and young people will get the opportunity to see these thought provoking films and experience the learning linked with them. It gives me a strong sense of pride that Galloway is leading the way in landscape restoration and in art-led science learning."
Threave Landscape Restoration Project
This Threave Education Project is joint funded by The National Trust for Scotland and the Galloway Glens scheme, an initiative of Dumfries & Galloway Council's Environment Team, supported by the National Lottery Heritage Fund. This discrete project supports the National Trust for Scotland's overall Threave Landscape Restoration Project, itself also supported by HSBC UK. For more information on the overall project which is leading on ecological biodiversity innovation and art led science education, visit here: https://www.nts.org.uk/stories/threave-landscape-restoration-project-our-100-year-vision.