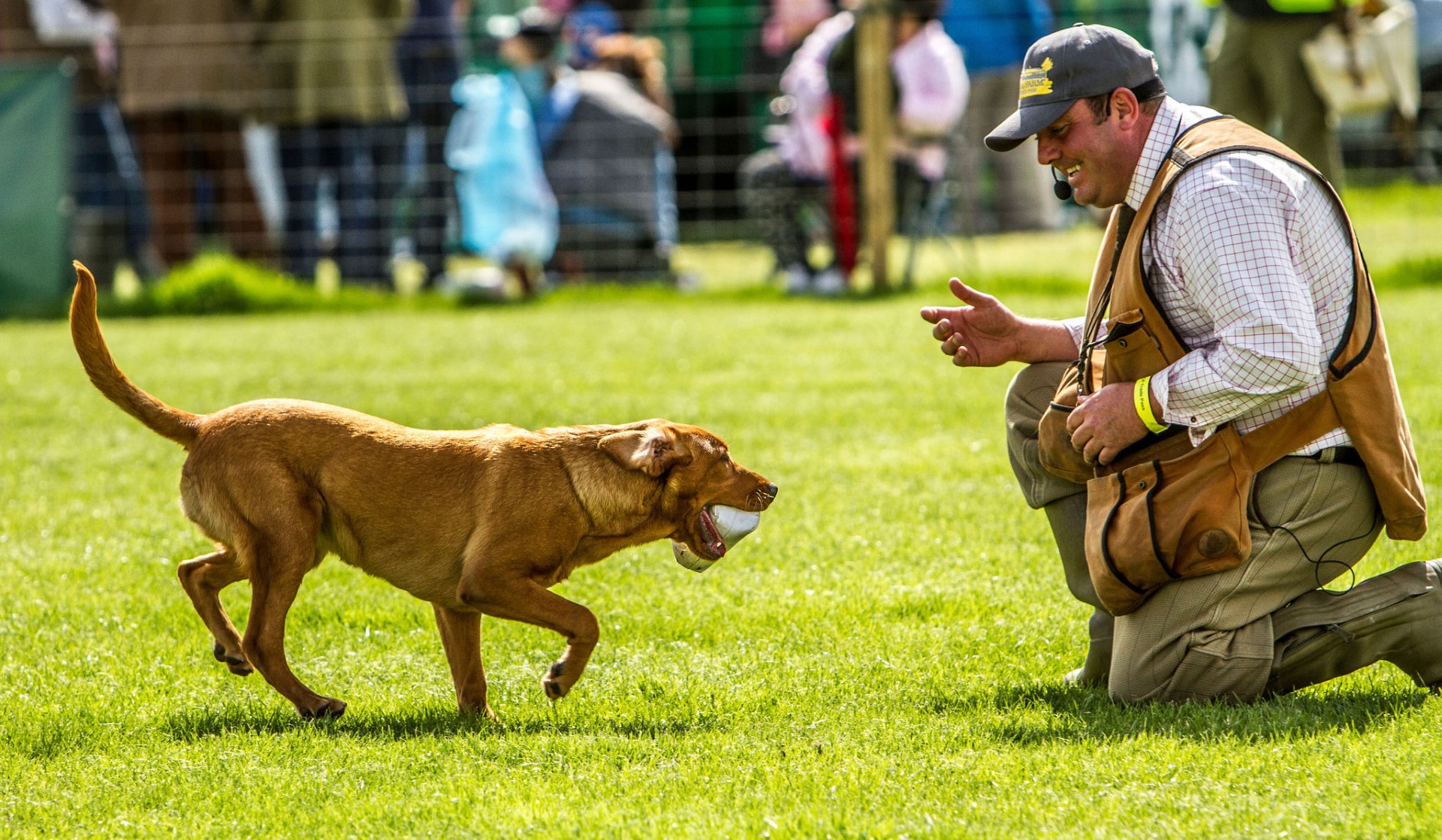 From Flyin' Ryan to Riders of the Storm – two thrilling stunt riding acts will be among the prime attractions at this summer's Galloway Country Fair.
The headliners for the two-day event, on 12-13 August at Drumlanrig Castle and Country Estate in Dumfries and Galloway, will also have a warm and woolly feel with the welcome return of the Lamb National plus the chance to see the dancing sheep of The Sheep Show.
Galloway Country Fair is famous as a place to see dogs of every shape and size, and once again we are delighted to be hosting award-winning trainer Lee Hartis and his fabulous gundogs.
Riders of the Storm
Kirsty McWilliam, who runs the Perthshire-based Riders of the Storm equestrian stunt team, says they will be showing off a whole series of skills.
She said: "We're quite a daredevil outfit, constantly challenging ourselves to perfect even more impressive stunts. We love showing the grace and elegance of vaulting and the exciting trick riding with flips and 'hangs' off the speeding horses. 
The equine acrobatics will include Roman Riding – performers standing on two horses at the same time – and horse-and-human pyramids, with one team member standing on the shoulders of another and standing on a horse.
The team of riders consists of Kirsty McWilliam, Madison Davis, Rosie Morrogh Bernard and Robyn Johnston – plus Anna Rowley and Caitlin MacKay whose skills are all the more remarkable as they are just 10 years old.
Kirsty said: "One of our aims is to get more young people into the sport of horse vaulting – acrobatics on horseback – and seeing other young people doing it as brilliantly as Anna and Caitlin is a great way to do that."
It will also be a chance to admire Zorro a 15.2hh black gelding and Billy a 16.1hh dun gelding – both horses have taken part in international competitions.
Motorbike displays
Flyin' Ryan, his son Jumpin' James and their companion Tasty Tina will be performing a dazzling array of motorbike wheelies, jumps and other tricks, building up to an impressive and explosive pyrotechnic finale at the end of their second display of each day.
Ryan Griffiths, who started riding motorbikes aged three and is the winner of many motocross titles, said: "It's a really fast-moving show, and there's a fair bit of competition between me and James over who can do the biggest jumps. And the crowds love seeing us riding side by side, trying to outdo each other."
The show is highly interactive with Ryan using a helmet mic to explain everything to the crowd as he performs each stunt – even when he's mid-air jumping tractors or trucks.
He said: "It's loads of fun, we encourage the audience to chant as we perform, and they are usually roaring by the end."
Sheep galore
The Lamb National will see sheep racing, and leaping fences, on a course round the main arena – and humans are also invited to take part to see if they can go as fast as the woolly jumpers.
Then, on Saturday, there will be the fun of The Sheep Show, which introduces nine breeds, includes a shearing demonstration and is full of fascinating information.
For example, a sheep's fleece captures and holds 30% of its own weight in carbon, meaning they make a valuable contribution to the battle against climate change.
Trevor Wayborn, who runs the show, said: "Wool is the ultimate renewable resource and sheep farmers are doing a huge amount for the environment. 
"One of the stars of the show will be Nobby the Norfolk Horn, one of the breeds that was so important to the ancient wool trade, then there's Dougal, he's a Scottish Blackface – and they are one of the hardiest breeds around, able to thrive in anything the Scottish climate can throw at them.  
"To round it off our star-studded flock will do 'The Sheep Show Shuffle' – dancing sheep, what more could anyone ask for?." 
As ever there will be the free children's fun area, plus lots of stalls and great food and drink.
Defender Jam
After last year's success Galloway Country Fair is pleased to again be teaming up with Defender Jam, the big annual get together for fans of all things Land Rover.
Anna Fergusson, Drumlanrig Estate Director, said: "It's a great family weekend with a fabulous line-up for 2023, with events that promise thrills, laughs and loads of fun. 
"As ever there will be a huge amount to see and do in this big annual celebration of country and family life. And by taking advantage of the advance booking discounts it's even better value." 
Galloway Country Fair sponsors include SP Energy Networks, Foresight, Community Wind Power Ltd, and Lloyd Ltd.
Diane Wood, Community Benefits Director at Community Windpower, said: "Community Windpower Limited are proud to sponsor this year's Galloway Country Fair, a fantastic fun-filled event aimed at families and rural businesses within Dumfries and Galloway.  
"CWL are pleased to be supporting another event located close to our operational Sanquhar Community Wind Farm and our in development Sanquhar II Community Wind Farm. We hope that everyone visiting has an amazing time." 
Visit www.gallowaycountryfair.co.uk for further information and keep up to date with the latest news, or check out @GallowayCountryFair on Facebook and Instagram.