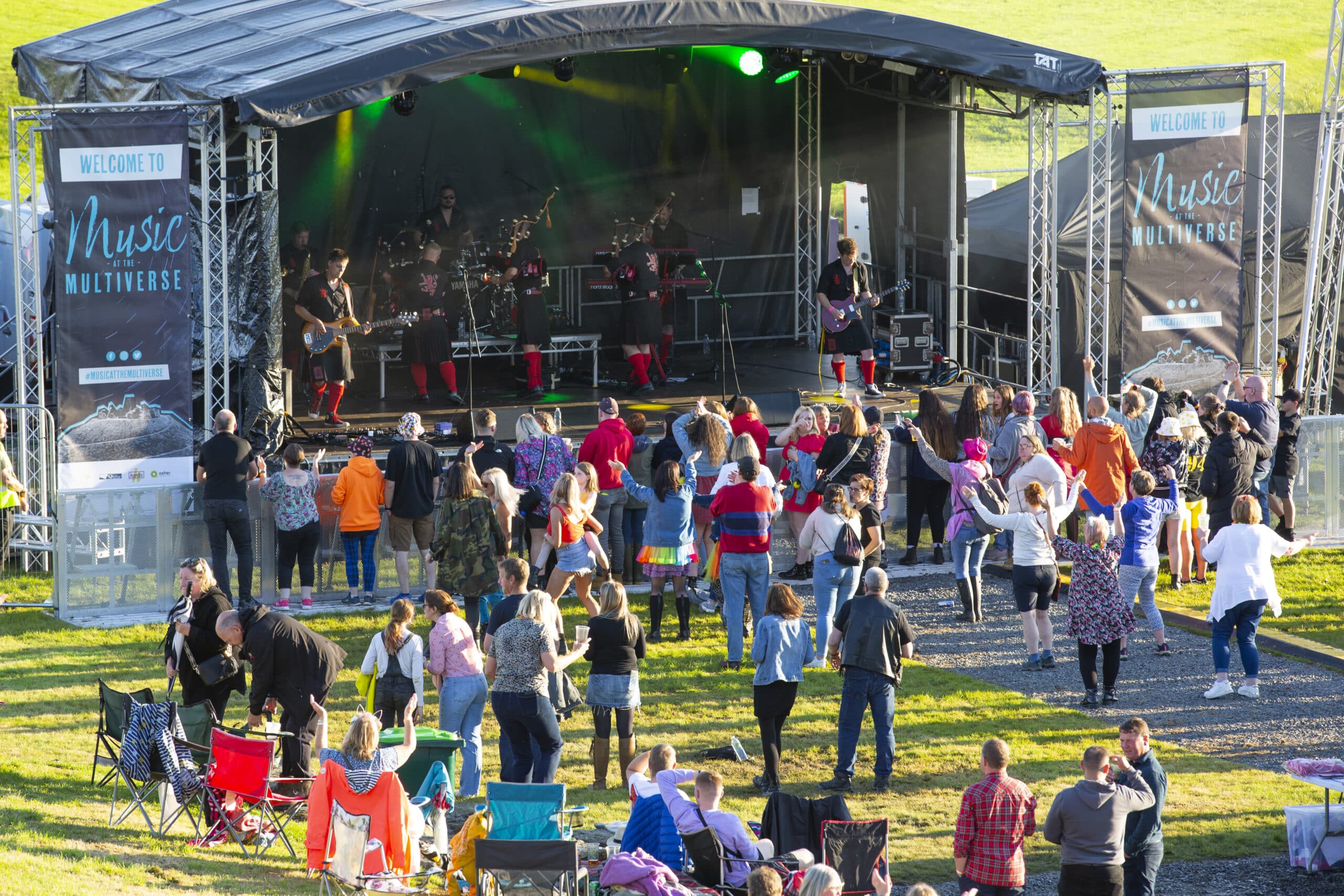 Scouting For Girls, Big Country, Skerryvore, Shambolics
Dance Tent featuring Ultrabeat, N-Trance and Team GBX
Two-days of live music at one of Scotland's most amazing venues
A big-name line-up has been announced for the 2023 Music at the Multiverse festival at Crawick Multiverse in September. The two-day music festival, now in its third year, will take place on the 55-acre environmental artland between Kirkconnel and Sanquhar on the border of Dumfries and Galloway and Ayrshire.
As one of Scotland's most spectacular outdoor venues, and with such an amazing line-up, the 2023 family-friendly festival is set to attract a record crowd of festival-goers to the region on the 2 and 3 September.
Headline acts including feel good festival favourites Scouting For Girls; multi-award winning Celtic trad-rockers Skerryvore; Glasgow-based indie rock band Shambolics; and Scottish rock legends Big Country will entertain the audience from The Main Stage, located at the heart of the Sun Amphitheatre.
Due to popular demand, The Big Top Dance Tent will be back and will host performances from Ultrabeat and N-Trance. They will be supported by Team GBX – Michael Smith, Cassi and Macca, Stevie Lennon, Joe Deacon and MC Rowlands.
Local DJ Malcolm X from Kelloholm is also set to return to entertain the crowds and will be joined by other local performers including; The Dangleberries, Mary Barclay Band, Big Time Louie and Pedro and the Pirates. Together they represent some of the best live music from across Dumfries and Galloway.
Following sell out gigs, up and coming Glasgow five-piece band Rodeo Club will also take to the stage.
For those planning to make the most of the festival weekend, a limited number of motorhomes pitches will also be available. There will be a fully licensed bar and a choice of locally-produced food from The Tin Van Pizza, Knockenhair Hospitality and Sweet Sadie's Ice Cream and Desserts.
Due to an increased demand for festival tickets, a private coach service will now run between Dumfries and Crawick on both Saturday and Sunday. The coach will leave Dumfries at 11am on both days, will pick up in Thornhill and will take passengers to the festival site at Crawick Multiverse. The return trips will leave Crawick Multiverse at 7.30pm. Pre-booking essential. Anyone buying a coach ticket, must also have a valid festival ticket. For more information and to book, follow the link below.
Sharon Glendinning, Crawick Multiverse General Manager, said: "We are delighted to build on the success of last year and to have such an amazing line-up of popular well-known acts and home-grown talent at our third Music at the Multiverse festival. As well as enjoying two days of live entertainment, visitors can also take time to explore and discover Crawick Multiverse and all that it has to offer. With giant spiral mounds representing colliding galaxies, a huge avenue of standing stones and other spectacular features, it is a unique festival venue and a great place to spend the weekend!"
Tickets can be purchased online from https://www.crawickmultiverse.co.uk/music-at-the-multiverse/music-and-the-multiverse-2023/