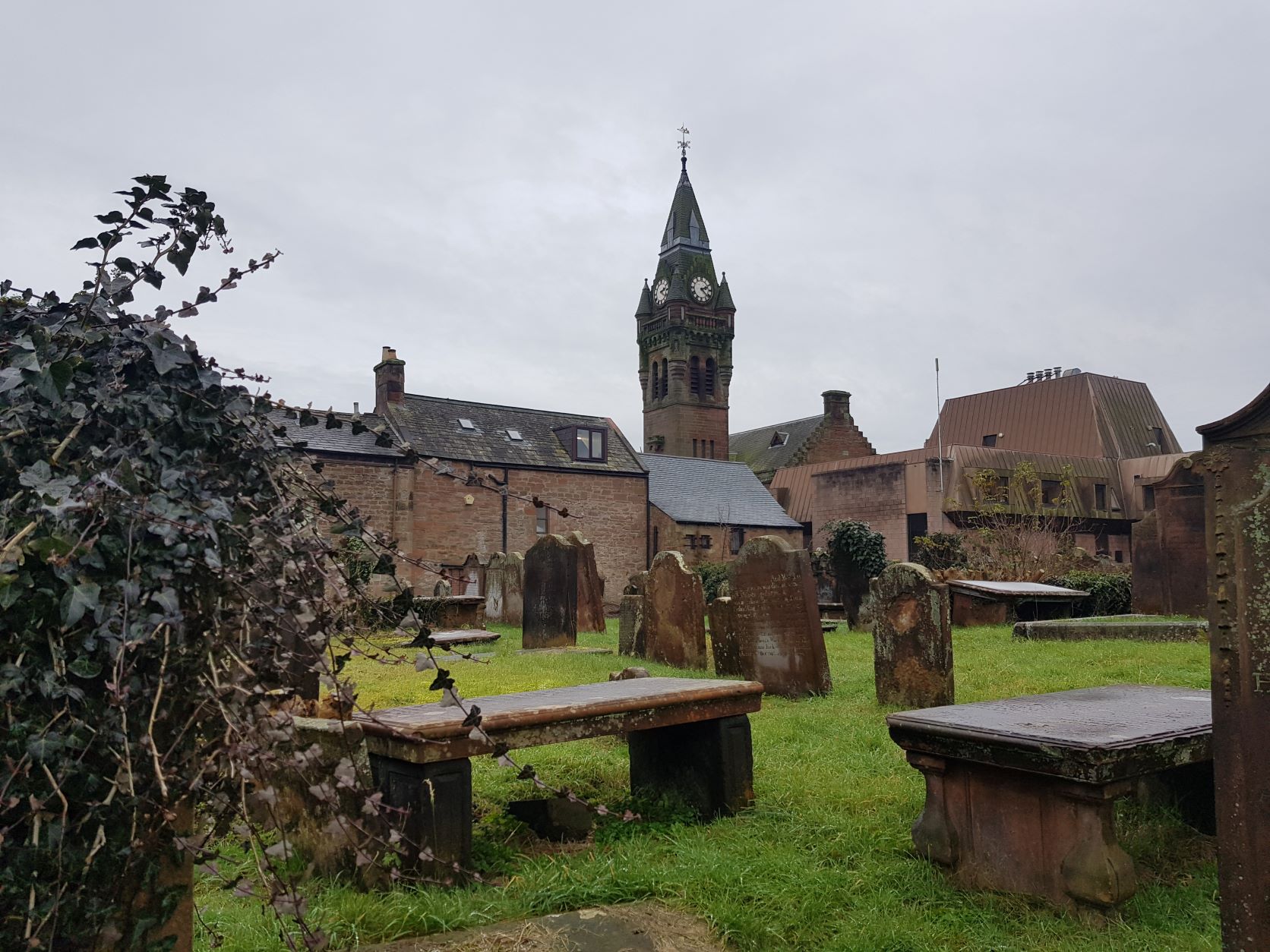 A new tour is set to launch in Annan this summer, featuring two of the town's historic graveyards as its principal characters. Presented by award-winning storyteller and founder of Mostly Ghostly, Kathleen Cronie, Tombs n' Tales of Old Annan debuts on Tuesday 26 July. The tour, which celebrates Scotland's Year of Stories 2022, will run until the end of August and is supported by the Annan History Town Summer Festival.
Drawing on her research, Kathleen will weave together episodes from the town's rich past with accounts of intriguing characters, who helped shape Annan's story. Guests will also have the opportunity to view examples of folk art and explore the meanings behind gravestone symbolism.
In her role with Mostly Ghostly, Kathleen has co-created a range of tours and events, revealing the darker, more curious aspects of our region's history including: the Dumfries Ghost Walk, the Crichton Crypt Tour and Dark Tales of Old Annan, and is founder of the Festival of Folklore, based in Upper Nithsdale.
Tales in two graveyeards
Telling us more about the new tour, Kathleen said:  "I'm delighted at the prospect of welcoming guests to Annan, where we will explore some of the hidden stories residing within the Old Parish Churchyard and High Street Burial Ground. There is clearly a great deal of interest in the history surrounding churchyards, not only in people's life stories, but also the magnificent carvings displayed on the stones themselves, and what they tell us about the past and beliefs of the time. Interestingly, I discovered during our Dark Tales of Old Annan tours, that a number of our guests were unaware of the existence of the old graveyard behind Annan Town Hall, and were keen to learn more."
Sharing her passion for researching historic graveyards, Kathleen enthused: "I have studied graveyards throughout Dumfries and Galloway, and beyond, for a number of years now, and often think of memorials as carved stone books, silently lamenting a glorious library of lives. I hope that my passion for bringing history to life, underpinned by sensitivity and respect, in these beautifully evocative locations, will appeal to a wide range of guests.
Annan's maritime heritage
So, what can guests discover on the new Tombs n' Tales tour? One of the key aspects of the tour is the compelling and at times, tragic elements of Annan's rich maritime and fishing heritage. The graveyards feature frequent reminders of the perils of the sea, when many local families were touched by tragedy. Others tell of young lives lost at a time when infant and child mortality was shockingly high. From the imposing mausoleum of Lieutenant General Alexander Dirom, to an unusual stone linked to a lost church, there's plenty to intrigue guests.
Kathleen said:  "I was fascinated to learn of a gravestone removed from the old Redkirk Churchyard and taken to Annan, to prevent it being consumed by the sea. Unfortunately the church didn't fare so well…"
Sharing his views on the new tour, Richard Brodie, Chairman of the Annan the History Town Committee said:"I'm delighted to see the new Tombs n' Tales tour feature in our vibrant Summer Festival programme; we are proud to support Kathleen's new venture and I look forward to experiencing it for myself."
Summing up, Kathleen said: "There are stories all around us, and Annan's historic churchyards are rich in powerful accounts. I am passionate about promoting tourism in Dumfries and Galloway, coupled with highlighting the lesser known, hidden aspects of the region and its people. The tour has the potential to connect visitors and local tourists to the past in a creative, intriguing and tangible way. By presenting some of the unique personal stories of those interred, my hope is that the tour will generate interest in the lives of Annan folk, inspiring guests to view the area as a destination of discovery, and keeping the memories of the dearly departed very much alive."