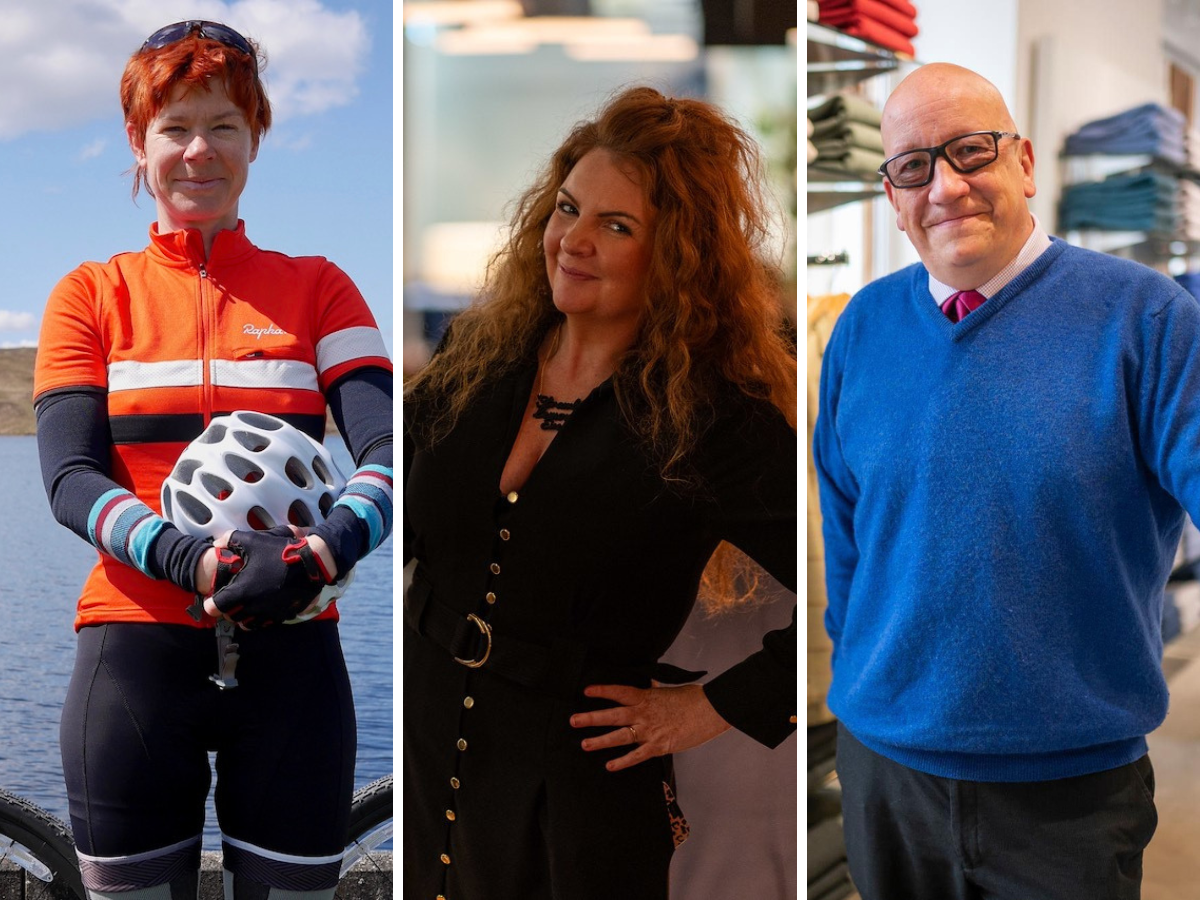 Joining the South of Scotland Destination Alliance Board are (L to R) Esther Tacke, Sian Downes and Keith Mundell. They join as tourism leaders from the activity, events and visitor attraction sectors and and they will be helping promote sustainable tourism and thriving communities in Dumfries & Galloway and the Scottish Borders
Members of the South of Scotland Destination Alliance (SSDA) have elected a trio of leading regional tourism figures to sit on the organisation's Board and help shape the future of the visitor economy in Dumfries and Galloway and the Scottish Borders.
The results of the vote were announced at the organisation's Annual General Meeting on 9 November, with the following individuals appointed to the SSDA Board:
Owner of Galloway Cycling Holidays, Castle Douglas, Esther has now been formally appointed to the SSDA Board having been co-opted earlier in 2023 following the departure of Melanie Allen, former Interim Chief Executive. Previously a Board member for Visit South West Scotland, Esther represents the travel trade, SME, tour operators and outdoor activity sectors, with strong media and PR knowledge and experience
Manager of Johnstons of Elgin, Hawick, Keith represents the visitor attraction, retail, food and drink and travel trade sectors and is skilled in management, HR and organisational development, among other attributes
CEO of Strawberry Lemonade Events, Hawick, Sian's skillset spans events, business development, membership services and the travel trade. She represents the corporate events, tour operator and travel trade sectors.
Strong knowledge of the South of Scotland
All three new Board members bring strong knowledge of the South of Scotland and a genuine passion for using their skills and expertise to help the South of Scotland's tourism and hospitality sectors evolve and flourish sustainably in the years ahead.
It was further announced at the AGM that Matthew Wallace Jnr of the Cairndale Hotel in Dumfries will also be joining the SSDA Board later this year as a co-optee, bringing a wealth of experience as one of the region's leading hoteliers.
David Hope-Jones OBE, Chief Executive of the South of Scotland Destination Alliance, said: "We are delighted to welcome our new colleagues on to the Board following their election at the AGM. Esther, Keith, Sian and Matthew each bring a wealth of invaluable skills, experience and insights which will be of real benefit to the organisation and the region, particularly as we and our partners work to finalise the new South of Scotland Responsible Tourism Strategy . We all look forward to working with them and to achieving great things together for the South of Scotland."
The Responsible Tourism Strategy currently under development is a joint project between key tourism agencies in the South of Scotland: the SSDA, South of Scotland Enterprise, Dumfries and Galloway Council, Scottish Borders Council and VisitScotland. A draft of the strategy will be shared with the sector in December as part of continuing consultation and outreach.
2024 Conference announced
Also announced at the AGM was the date and venue for the SSDA Annual Conference 2024, which will be held at Easterbrook Hall, Dumfries on 20 March 2024, with Tourism Minister Richard Lochhead MSP attending.
David Hope-Jones added: "Following the sell-out success of this year's conference at the Peebles Hydro, we strongly encourage anyone keen to join us in Dumfries for the 2024 instalment next March to book your place without delay!
"It promises to be another highly informative and enjoyable day with opportunities to learn from and be inspired by a host of leading tourism experts and speakers, not to mention plenty of scope to network and share insights and best practice with your fellow tourism sector colleagues."
Meanwhile, the SSDA is currently running a varied Winter Webinar series to help and support tourism businesses in the South of Scotland. The next one is scheduled for 1st December helping businesses navigate Linked Travel Arrangements. These helpful free events cover everything from seasonal marketing campaigns, and Dark Sky Tourism to how to write a winning application for the South of Scotland Thistle Awards. All tourism businesses in the region are eligible to attend.