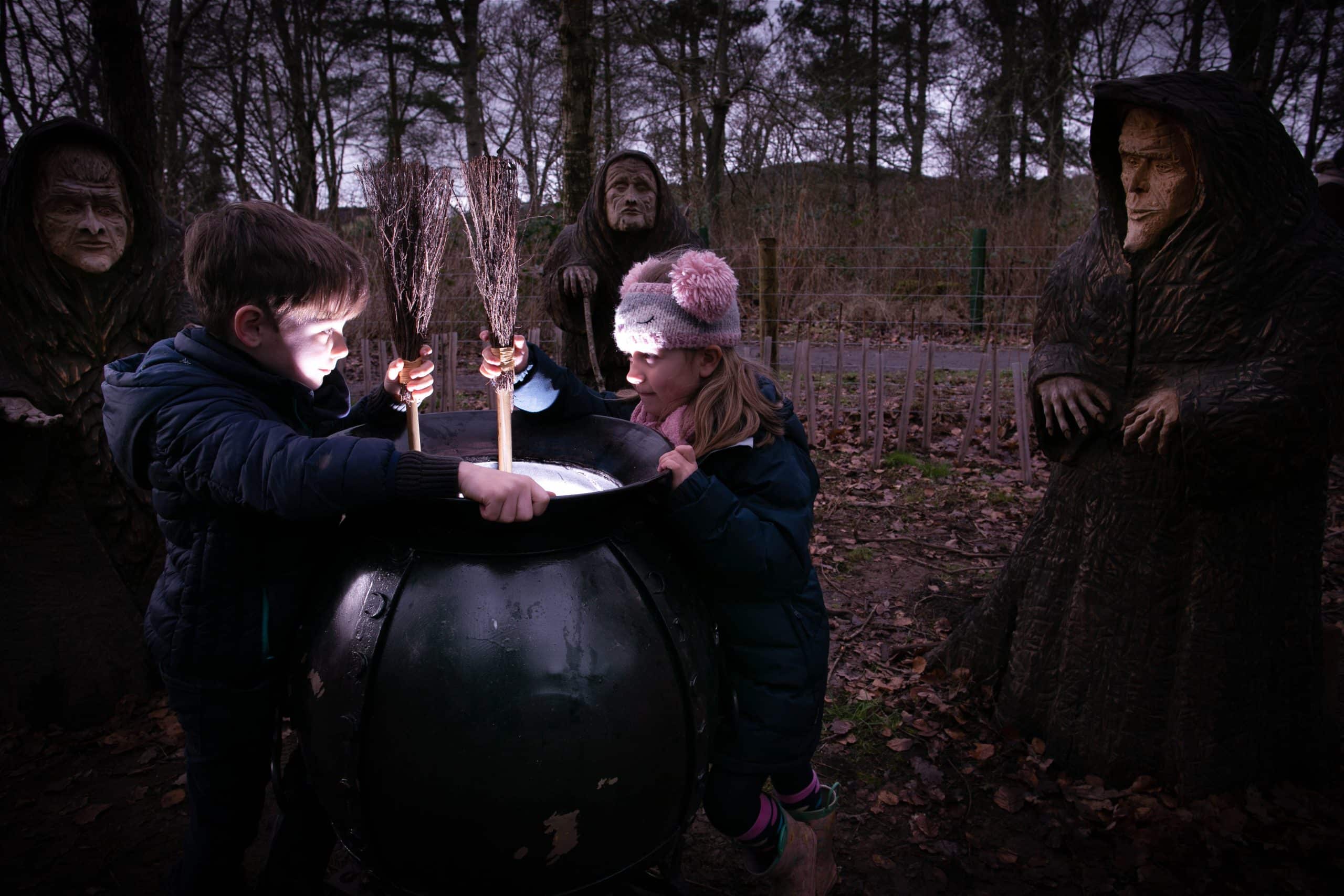 Witch Corner, a new sculpture story trail themed around the folktales and legends that enchanted the region's most famous author, is launching on Saturday 1st April at Abbotsford, the home of Sir Walter Scott, near Melrose.
The event will start with an opening ceremony in which Witch Corner will be officially opened by Abbotsford's Collections and Interpretation Manager Kirsty Archer-Thompson, accompanied by actor John Nicol portraying Sir Walter Scott. The trail will then be open to the public. As the event will be held on the first day of the school Easter holidays, there will also be Easter eggs hidden throughout Witch Corner for children to find.
Inspired by Sir Walter Scott
Witch Corner includes twelve story stops with sculptures storyboarded by Brilliant Trails, the company behind the Loch Lomond Faerie Trail, in conjunction with Abbotsford's Heritage team, and designed and built in the UK. The trail also features a play area and witch's cottage shop. Children's activity booklets with activities to complete and clues to solve at each story stop are included in the experience.
More in-depth information on the origins and development of each legend or folktale, including an audio guide for adult visitors, is available through the new Abbotsford app. Directly inspired by the writings and research of Sir Walter Scott of Abbotsford (1771-1832), Witch Corner takes its name from Scott's nickname for his favourite section of the Abbotsford Library, which houses his collection of 250 rare books about witchcraft, magic, folklore, and superstition.
Day tickets for Witch Corner are priced at £5.50 per person with annual tickets including a year's free parking at Abbotsford also available. Witch Corner has been created thanks to support from private donors, Museums Galleries Scotland and South of Scotland Enterprise.
Giles Ingram, Chief Executive Officer at Abbotsford, said: "We're delighted to be launching our new Witch Corner woodland trail with this exciting launch event for all ages. The world of Abbotsford's Witch Corner is an older world where fairies, elves, goblins, and spirits could bring health and good fortune or wreak mischief and havoc on their human subjects as they saw fit. It is also an experience that reimagines some of the most beloved legends of the Scottish Borders, a region with a tempestuous history and a rich and unique folk heritage bound up in its network of historic peel towers, abbeys, waterways and forests.
This is a unique offer in the Scottish Borders and a new way to experience Sir Walter Scott's storytelling which we hope will be popular with visitors to the region and local communities alike. Everyone is invited to come along to get their first look at this supernatural story trail."
Mischievous and tricksy
Kirsty Archer- Thompson, Collections and Interpretation Manager at Abbotsford, said: "One of the real delights of creating Witch Corner has been embedding the magical stories Walter Scott told and the folktales he loved into his Abbotsford estate in an immersive and entertaining way. There are so many layers to this experience, from activities, clues, and magic spells for children to fantastic photographic opportunities and app content for adults keen to understand how these legends came about in the first place. That was one of Scott's main aims as a writer of historical fiction -trying to understand why people believed what they did in times past.
"I was passionate about creating something that felt true to the older folk beliefs of Scotland, so the creatures and beings you'll meet in our story trail are more mischievous and tricksy than the fairies and elves you have in your mind's eye. And the best thing about all of this, for me, is that I have been able to weave Scott's words and stories into every single part of this experience. Even the design elements of our Witch's cottage take their cue from him!"