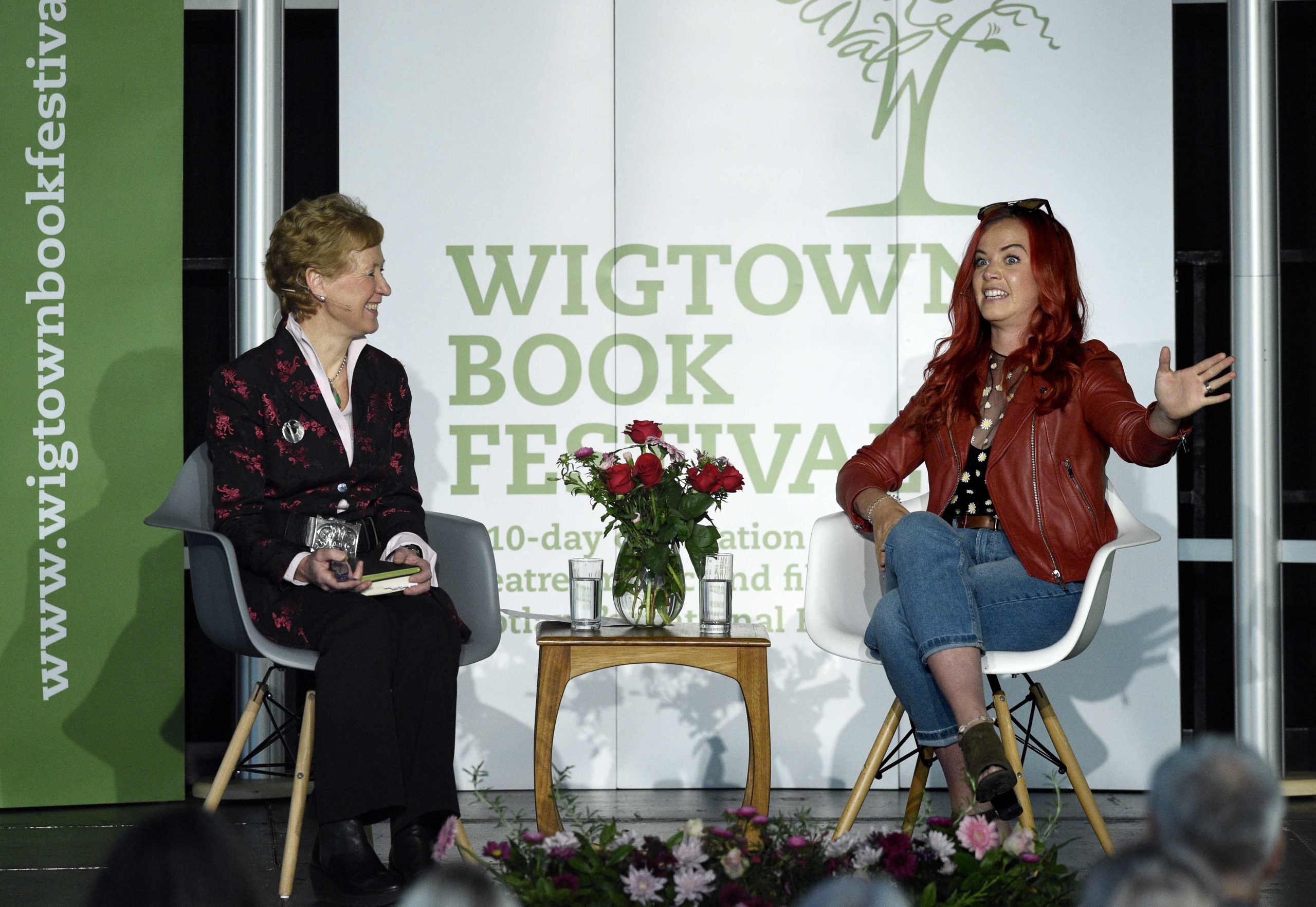 Wigtown Book Festival has got off to a great start with a host of compelling speakers ranging from Deacon Blue frontman Ricky Ross, TV's Red Shepherdess Hannah Jackson (pictured above right) and actor Gerda Stevenson to Astronomer Royal Professor Lord Martin Rees and Scotland's National Chef Gary Maclean.
Audiences took advantage of sunny weekend weather to enjoy the first of more than 200 events taking place at the 10-day (23 September to 2 October) celebration of all things literary in venues across Scotland's National Book Town, in Dumfries and Galloway.
And books are just the beginning at a festival that offers a huge variety of activities for people to take part in.
Music, theatre and visual arts too
On Sunday morning dozens of musicians were gathering to take part in a Fiddlers' Fair in The Gardens an outdoor area in the centre of Wigtown, including members of the fabulous Scottish Fiddle Orchestra, which the night before had played its first concert in the area for a decade.
Adrian Turpin, Wigtown Festival Artistic Director, said: "It's been a fabulous start to the festival. There's been a real sense of joy at being back together again to celebrate literature, stories, storytelling and, beyond that, music, theatre and the visual arts.
"There's been a real buzz in the town and, despite all the challenges people face with the cost of living crisis, an energy and pleasure at being back together to take part in an event that has grown to be so much more than a book festival."
Nobel tribute
Prof. Rees was at the festival to deliver the inaugural James Mirrlees Memorial Lecture, established in memory of the 1996 winner of the Nobel Prize for Economics who was born in nearby Minnigaff and went to school at the Douglas Ewart High School in Newton Stewart.
Earlier in the day Prof. Rees had attended the unveiling of a plaque at Mill Cottage, Minnigaff, where his friend, Sir James, was born in 1936.
Following his lecture the Astronomer Royal attended a reception where he met Helena Cochrane, aged 17, from Wigtown who attends the Douglas Ewart High School and is an amateur astronomer who has her own YouTube astrophotography channel.
Prof. Rees said: "It was a privilege to know James Mirrlees and to be invited to give this lecture and it's also lovely to meet Helena who is part of the up and coming new generation of students studying at his old school."
Helena said: "Martin Rees is an absolutely fascinating man with incredible insights on the which will make me think differently about the future of our world."
Prof. Rees got to know Sir James when they were students at Cambridge and they later became good friends when he was Master of Trinity College where Mirrlees was Professor of Political Economy.
Threats and opportunities for humanity
The lecture, which explored how to deal with the future threats and opportunities facing humanity, was inspired by a talk he heard James Mirrlees give as a young man on what countries should spend now and what they should invest for the future.
It argued for the need to redistribute wealth and resources at a global level and to tackle climate change by doing more to develop sustainable energy sources. Prof. Rees also talked about the benefits science and the potential horrors from its misuse – for example the new technologies which can be used either to defeat future pandemics or to create ultra-virulent viruses.
The week ahead at the festival will see talks by bestselling author Shaun Bythell, sports commentator Andrew Cotter, Outlander star Graham McTavish, YA writer Sue Divin, journalist Chitra Ramaswamy and novelist Robert Harris. · Tickets and full programme www.wigtownbookfestival.com