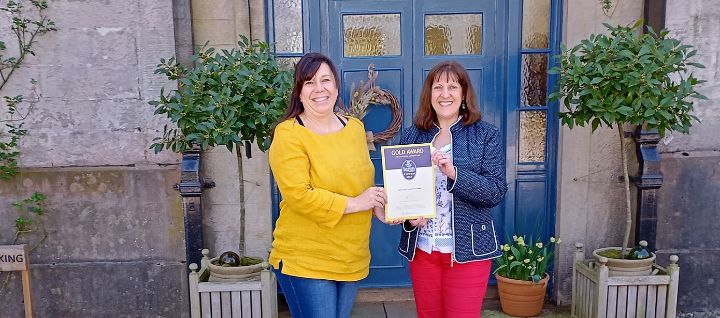 Nithbank Country Estate in Thornhill, has achieved 5 Star Gold B&B, the highest possible award in the world-renowned Quality Assurance grading scheme, the first for an accommodation provider in Dumfries & Galloway.
The country residence is set within an eleven-acre estate, featuring ancient woodland, river frontage and breathtaking views. Located within the Galloway and Southern Ayrshire Biosphere, it has an outstanding commitment to responsible tourism.
Nithbank features as a 'UNESCO National Trail' case study which shines a spotlight on green-accredited businesses that demonstrate UNESCO key values. It is also the only B&B in Dumfries & Galloway to hold a Gold award from Green Tourism.
Quality Assurance award
As many businesses prepare for the summer ahead, our Quality Assurance scheme can help drive up standards across the industry, raising the bar. Our Stars represent world class excellence – helping businesses shine, enabling visitors to make informed choices and driving up investment in quality.
Our 5 Star Gold Quality Assurance award recognises serviced accommodation businesses which achieve the highest levels of excellence.
Businesses that achieve the award demonstrate outstanding hospitality and customer service delivered over an extended period of time and show a clear commitment towards quality and responsible tourism.
Melanie Allen from Nithbank said: "We are delighted to have achieved the prestigious 5 Star Gold Award from VisitScotland. This award demonstrates our commitment to providing a quality luxury experience for guests and also our commitment to consistency in exceptional customer service.
Our many accreditations and awards showcase our determination to create a visitor experience which evidences the provenance of Nithbank as a destination.
We would like to thank VisitScotland for their support throughout this process, since opening just prior to COVID, it has not been an easy journey but we hope in recognition of this award it will provide a much needed boost to our business, we can inspire more visitors and grow our reputation combining 'world -class excellence' in a 'world-class environment".